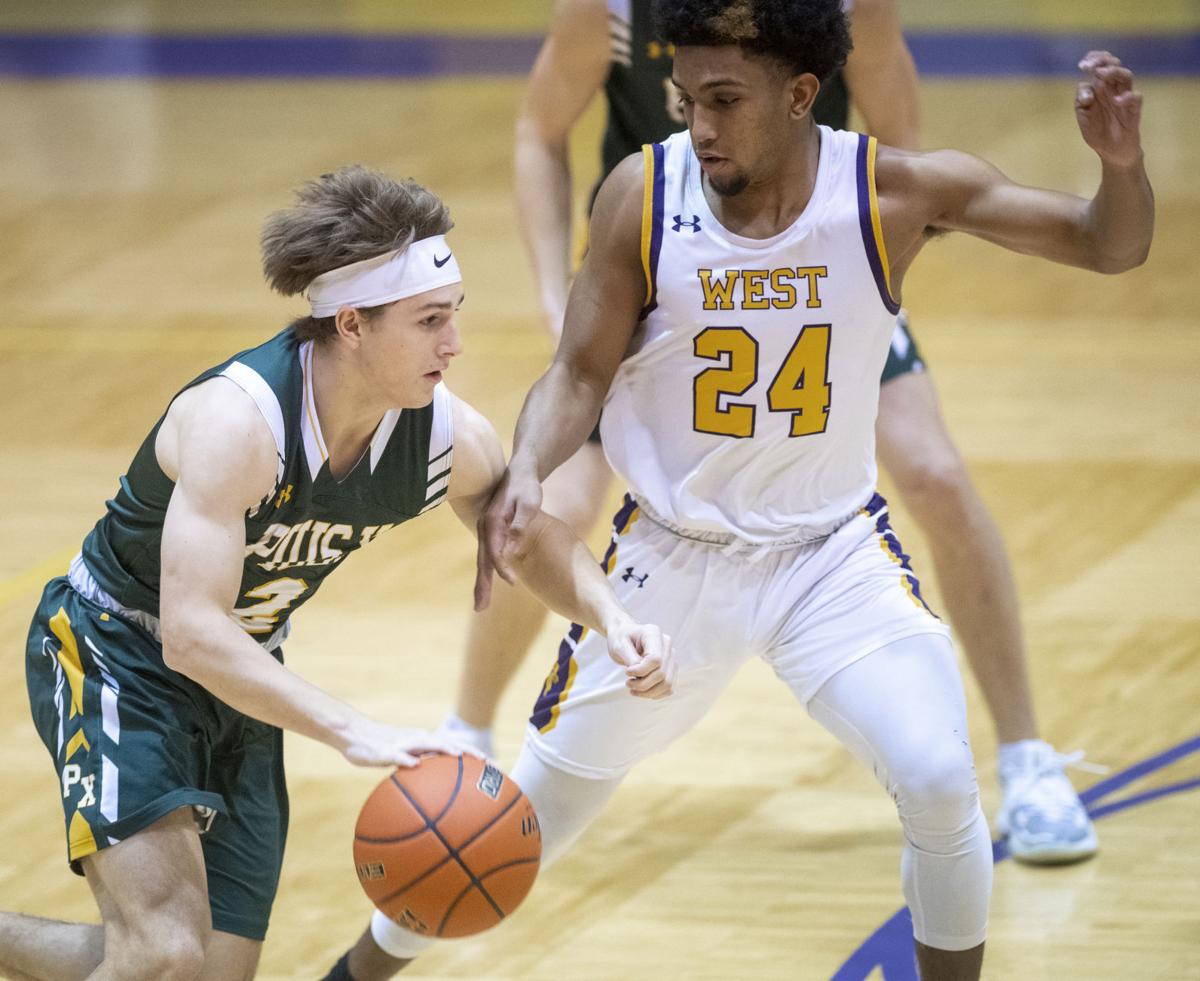 The picture captures what Sam Hoiberg says still might be the top moment of his life.
Just a kid, maybe 11 or 12, Hoiberg is on top of a ladder in Kansas City's Sprint Center with twin brother Charlie and dad, Fred, as Fred Hoiberg twirls a net after his Iowa State Cyclones won the 2015 Big 12 Tournament title with a comeback victory over Kansas.
"I just remember getting up there and looking around and seeing this sea of red and yellow, the Cyclone colors," Sam says. "It was crazy."
So when Sam tweeted out that picture Thursday, along with a message about being able to live a dream by playing college basketball for his dad, it's easy to see there was real meaning behind it.
Indeed, the newest addition to the 2021-22 Nebraska basketball roster will be Sam Hoiberg, who will join his father's squad as a walk-on after a pair of standout seasons at Lincoln Pius X.
Sam averaged 14.9 points, 4.2 rebounds, 3.8 assists and 2.0 steals per game for Pius X. But there wasn't much recruiting going on in the Hoiberg house.
"I actually brought it up to him more," Sam said. "I've just known that this is something that I've wanted to do for a while, so I'm really excited that I'm able to do it."
Sam was Pius X's leading scorer as the Thunderbolts went 18-4, falling to Millard West on a buzzer-beater in the first round of the Class A state tournament. Charlie, averaged 10.6 points per game for the Bolts, with Fred joining his wife, Carol, in the stands whenever he could.
With the COVID-19 pandemic taking away last summer's AAU season, Sam's recruitment had slowed. He had been talking with Boise State, North Dakota State, Colgate, and Missouri-Kansas City, but didn't have a scholarship offer on the table.
Excited to announce I'll be continuing my education and basketball career at the University of Nebraska. Thanks to everyone who has helped get me to this point. Can't wait live my dream of playing for my dad. #GBR pic.twitter.com/X3JPHNTyqi

— Sam Hoiberg (@samhoiberg) March 25, 2021
Turns out he didn't need one. While talking with his dad last week, Sam said the decision to stay home came into focus.
"I was talking to him about this whole recruitment thing. Because I've been talking to some other schools, and I was like, 'I think I just want to play for you,'" Sam said. "And he said he'd love to do that. So that's just kind of how I made the decision."
The 6-foot guard will be NU's third walk-on, joining Jace Piatkowski and Chris McGraw. Another Nebraska walk-on, Bret Porter, entered the transfer portal earlier this month.
Sam will play golf for Pius X this spring while also getting back into the gym to prepare for his college career.
"I'm going to be grinding in the gym pretty much every day, because eventually I want to be able to contribute for the Huskers. And I'm just going to work super-hard to get to that point where I'm good enough," Sam said. "So it's going to be a grind of a spring, but I'm really excited for it."
No doubt he, and his father, are excited for an opportunity to recreate that photo someday, too.
"Both times we (won conference titles at Iowa State) were just amazing experiences," Sam said. "And hopefully we'll be cutting down nets sometime soon at Nebraska, so I'd love to be a part of that"