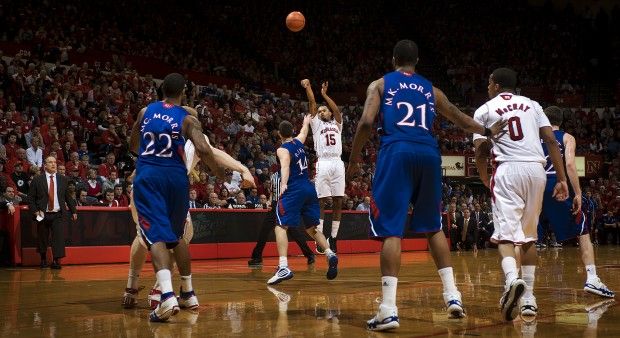 Nebraska is working to renew a Big Eight Conference rivalry and its oldest series in men's basketball.
The Journal Star has confirmed that Nebraska and Kansas have agreed to play a home-and-home series beginning next season, although no contract has yet been signed.
Kansas would become the first team from the former Big Eight or current Big 12 to visit Pinnacle Bank Arena in the 2017-18 season.
First, under terms of the contract, Nebraska would play Kansas at historic Allen Fieldhouse next season.
Nebraska and Kansas have met 242 times, beginning in 1900, with KU leading the all-time series 170-71, including a 31-3 advantage during the Big 12 era. The Jayhawks have won 17 straight against the Huskers.
The last time the teams met, No. 2 Kansas defeated the Doc Sadler-led Huskers 86-66 on Feb. 5, 2011, in Lincoln at the Devaney Sports Center, a game that drew the building's first sellout in three years. That was Nebraska's final season in the Big 12 before joining the Big Ten the following season.
Now, Nebraska has sold out season tickets in each of its three seasons at Pinnacle Bank Arena, the sparkling 15,000-seat venue that anchors the Railyard in the West Haymarket District — none of which existed the last time Kansas' fervent fan base visited Lincoln for a basketball game.
The Huskers' last win against Kansas came in 2004, a 74-55 victory in Lincoln.
Nebraska hasn't defeated Kansas in Lawrence since 1999, when the unranked Huskers won 64-59 against the No. 24 Jayhawks.
In their last game in Allen Fieldhouse, the Huskers couldn't hang on to a 10-point lead in the second half and lost 63-60 to third-ranked Kansas on Jan. 15, 2011.