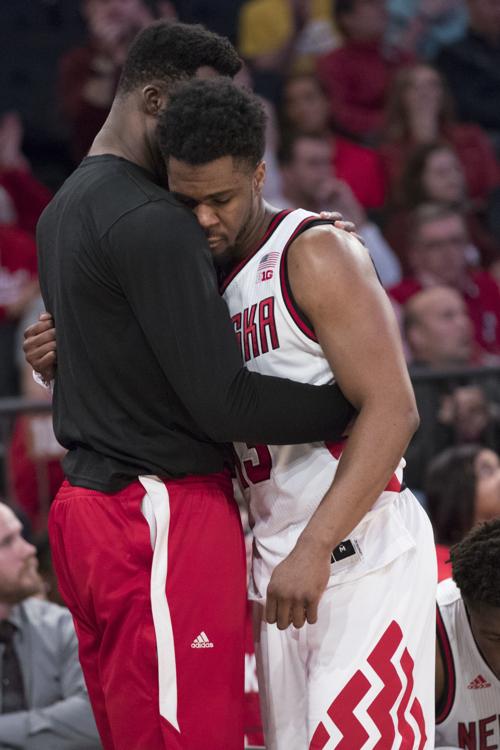 NEW YORK — Glynn Watson sat in a folding chair and stared blankly off into space. 
Evan Taylor was a couple of feet away on the floor, his back up against a cooler.
All around Nebraska's cramped locker room deep in the heart of Madison Square Garden, it looked and sounded like the end of a season.
There are, of course, more games to be played. Whether it be in the NCAA Tournament or the NIT, Nebraska's basketball team will continue on.
Nebraska's campaign to be a part of the field of 68 ended on the court, but Friday the off-the-court stump speeches began in earnest.
"I believe we're an NCAA team. I believe we've done enough. Now, today we weren't at our best and it was a bad time, of course, not to play your best," Nebraska coach Tim Miles said. "But at the same time, what we've done, I don't think one game undoes what we've done all season."
Nebraska is 22-10, and went 13-5 in the Big Ten. No Big Ten team with 12 or more wins has ever been left out of the field. By most historical comparisons, Nebraska has a strong case.
But the bracket isn't picked on historical comparisons.
And the fact of the matter is, no matter how much they yell about it, so-called bracketologists have no say in the selection process, nor do they know how the NCAA Tournament selection committee will think when it convenes to pick the 36 at-large teams for the field.
"They've been throwing dirt in our eyes for weeks. And now they just made it a little harder to breathe," Miles said. "If those guys are making the decision, then we've got a problem. But I don't know that they are."
So the campaign continues.
"It's out of our control now, so we'll just see from here," Watson said. "I don't think there's many teams better than us (in the country). Honestly."
Either way, Nebraska will continue to practice. Miles said he and his assistants put together a workout schedule shortly after the game ended, with assistant coach Michael Lewis calling former Butler coach and current Boston Celtics head man Brad Stevens for advice. Stevens coached at Butler while the Bulldogs were in the Horizon League and had a week off between their conference tournament and the NCAA Tournament.
"I think our mentality should be the same. We've got nine days to get ready to play postseason," sophomore Isaiah Roby said. "We're going to be in one of two tournaments, so either way we've got to be ready to play and beat a good team. So we should have the same mentality either way."
By the numbers: Nebraska is now 3-7 all-time in the Big Ten Tournament. ... With five blocked shots Friday, Isaiah Roby moved into 10th on Nebraska's single-season blocks list, passing Wes Wilkinson. ... Nebraska blocked eight shots as a team and now has 178 for the season, which is the third-most in school history. ... Nebraska's five assists were a season-low. ... James Palmer is now four points away from 10th on Nebraska's single-season scoring list.