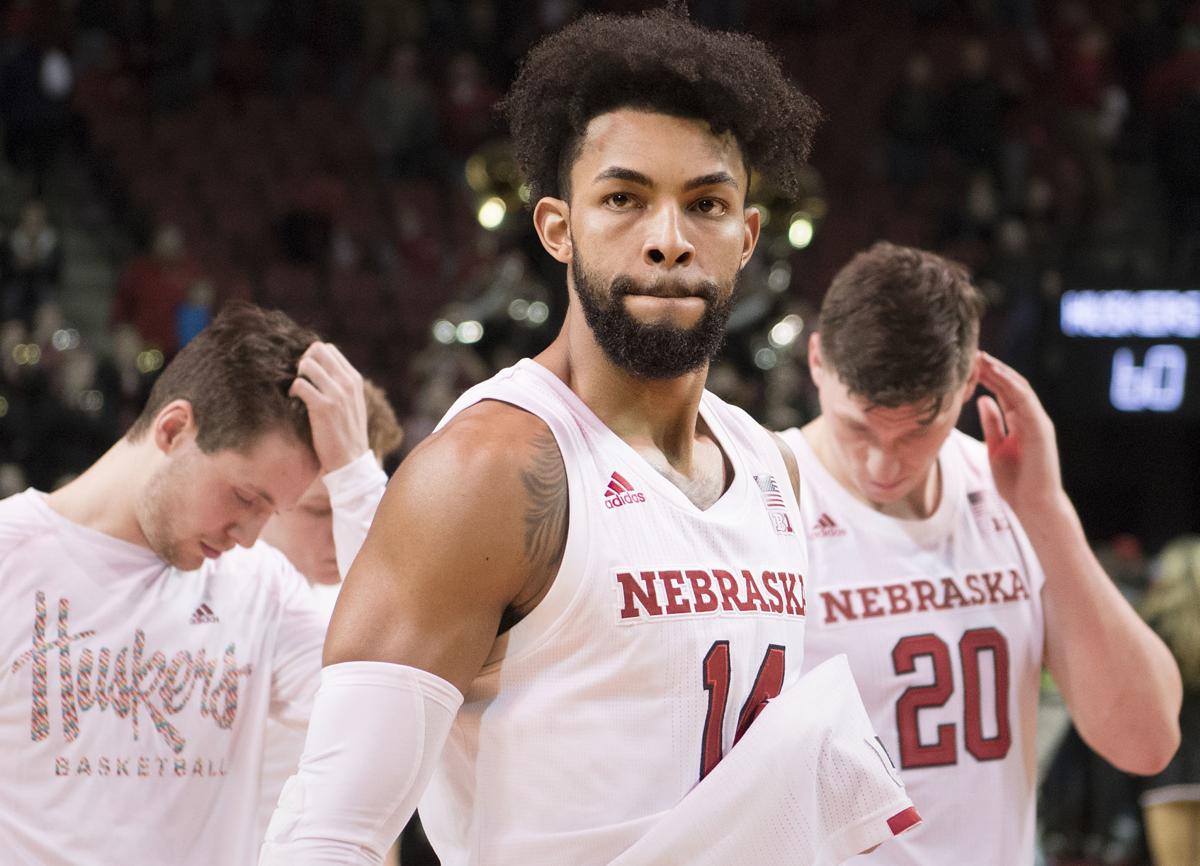 Isaac Copeland's Nebraska career is over.
The senior forward tweeted as much early Saturday evening after suffering a torn anterior cruciate ligament in the Huskers' loss to Ohio State.
Husker nation thank you for welcoming me with open arms. Unfortunately my time here as a player was cut short due to injury. Keep me in your prayers and keep supporting our team ! Love ❤️ #GBR

— isaac copeland (@Isaac_CurlJuice) January 26, 2019
"I am broken-hearted for Isaac," Nebraska coach Tim Miles said in a news release. "He is a young man who had every option available to him last spring, but wanted to come back and help lead the Huskers back to the NCAA Tournament and beyond. He has meant so much to our program and has been a valued leader in the Husker basketball family since arriving on campus two years ago."
Copeland went down at the 19:18 mark of the second half, landing awkwardly under the basket after going up for a dunk and staying down for several moments before limping to the bench.
After being checked out on the sideline and trying to test the knee, Copeland walked to the locker room and returned to the bench several minutes later in full uniform, but did not see any more action.
"In typical Isaac fashion, he was the most vocal player in the huddle even after his injury, encouraging his teammates and showing leadership even though he was unable to play," Miles said in the news release.
Miles said in the minutes after the game that an MRI was scheduled for Saturday afternoon. That MRI apparently came back with the worst possible result for Copeland and the Huskers.
You have free articles remaining.
"We'll know more in the coming hours," Miles said. "It's too bad; it's not a necessary play. Dead ball, we go up, they jump up ... it's too bad."
Indeed, adding insult to injury was that the play happened after an official had blown the play dead while calling Copeland for traveling. Copeland continued on his path to the basket, went up for a dunk, missed and crumpled to the court.
The 6-foot-9 fifth-year senior forward famously worked his way back from back surgery after arriving in Lincoln, when he went under the knife to repair a herniated disc that had short-circuited his time at Georgetown.
He started all 53 games he was eligible for since arriving at Nebraska two seasons ago, and including his two-plus years at Georgetown, has totaled over 1,300 points and 600 rebounds in his career.
Copeland is Nebraska's second-leading scorer at 14.3 points per game on 52 percent shooting, and second-leading rebounder at 5.6 boards per game. He is also second on the team with 18 blocked shots.
The Raleigh, North Carolina, native first came to Lincoln in January 2017 as a transfer from Georgetown, where he originally enrolled as the No. 16-rated player in the nation by ESPN and No. 23 by Rivals coming out of high school in 2014. He is believed to be the first five-star recruit to join the Husker men's basketball program.
Copeland left Georgetown after the 2016 fall semester, just seven games into his junior season, after a herniated disc in his back severely impacted his ability to produce.
He had back surgery in February 2017, was ruled immediately eligible for Nebraska that September and played a key role in leading the Huskers to a 22-10 record.
Copeland earned honorable mention all-Big Ten honors last season after averaging 12.9 points and 6.1 rebounds per game. His scoring, rebounding and blocked shot numbers in 2017-18 were the best of his career.
After the season Copeland, along with James Palmer, entered their names into the NBA Draft process but did not hire agents, and eventually, both decided within a few days of each other in late May to return for one more season.
The decision set in motion an offseason of momentum for the Huskers who came into the 2018-19 season with high expectations locally and nationally.
Now, just more than two years after Copeland first arrived in Lincoln, his time as a Husker is over. And Nebraska, with three straight losses and five defeats in its last seven games, has reached a crossroads in its season.