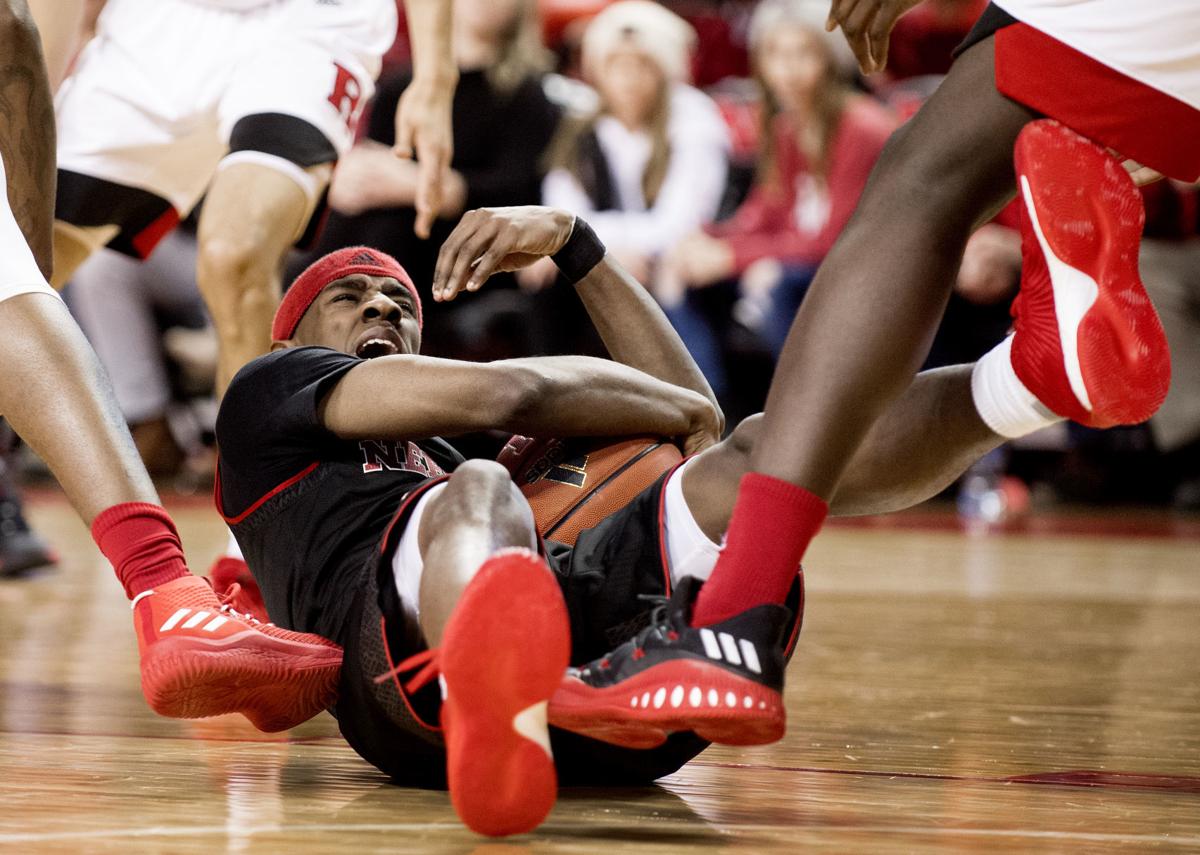 Since starting and playing 12 minutes Jan. 12 in Nebraska's loss at Penn State, graduate transfer forward Duby Okeke had played a total of 13 minutes in Nebraska's next seven games, including a pair of "did not plays."
He returned to the court Saturday, filling his six minutes with highlight-reel blocked shots and giving the Huskers a lift against a physical Rutgers front line.
After stuffing Rutgers' Eugene Omoruyi at the rim on a dunk attempt late in the first half, Okeke even threw the bones Blackshirts-style to the delight of the Pinnacle Bank Arena crowd.
Okeke somewhat sheepishly admitted after the game that he was trying to emulate a celebration by former Detroit Piston Ben Wallace, one of his favorite players, rather than borrow from the football team.
That he was able to smile about the moment said a lot about his value in Nebraska's locker room.
"It would be easy to sulk and pout, and he hasn't. He's still talking in meetings, he's still talking game plan even though his reps are down," Nebraska coach Tim Miles said. "And we've talked: There's still times we're going to need you. Just because you haven't been in the rotation a couple times, you're going to be reincarnated here."
His appearance Saturday resulted in four blocks, four rebounds and two points.
And the points might have been the most impressive part. Coming into the game just 2-for-7 on the season at the free-throw line, Okeke drained a pair from the stripe after being fouled in the second half.
He left the game to chants of "Duuuuuuuby" from the crowd.
"For me, being an older guy, it's just having a mature approach," Okeke said. "If I'm not in the game, try to give energy on the bench, and if I get in the game I get in. But just take the good with the bad no matter what happens."
Pikiell impressed: Rutgers coach Steve Pikiell, who coached Stony Brook to its first-ever NCAA Tournament appearance in 2016, said Nebraska has all the elements of a team capable of getting into the Big Dance.
"Oh, absolutely. They have good veteran guys. They have matchup problems. They can do a lot of different things, and Coach Miles is doing a real good job of coaching them up," Pikiell said. "They have a lot of answers and they've got a veteran guard (Glynn Watson). 
"They have some of those characteristics that you need. You need your veteran guards to be good down the stretch. They have a few go-to players, they shoot the ball well enough and they've got great length."
By the numbers: Nebraska improved to 13-1 at home this season, the team's best mark since going 15-1 in PBA's inaugural season. The Huskers have a chance to set a wins mark with three remaining home games. … The Huskers have won their past three conference home games by double digits, the first time that's happened since the 1997-98 season, when Nebraska downed Colorado, Oklahoma and Iowa State by double digits in Big 12 play. … Watson is seven points from joining the 1,000-point club after scoring 11 points Saturday.