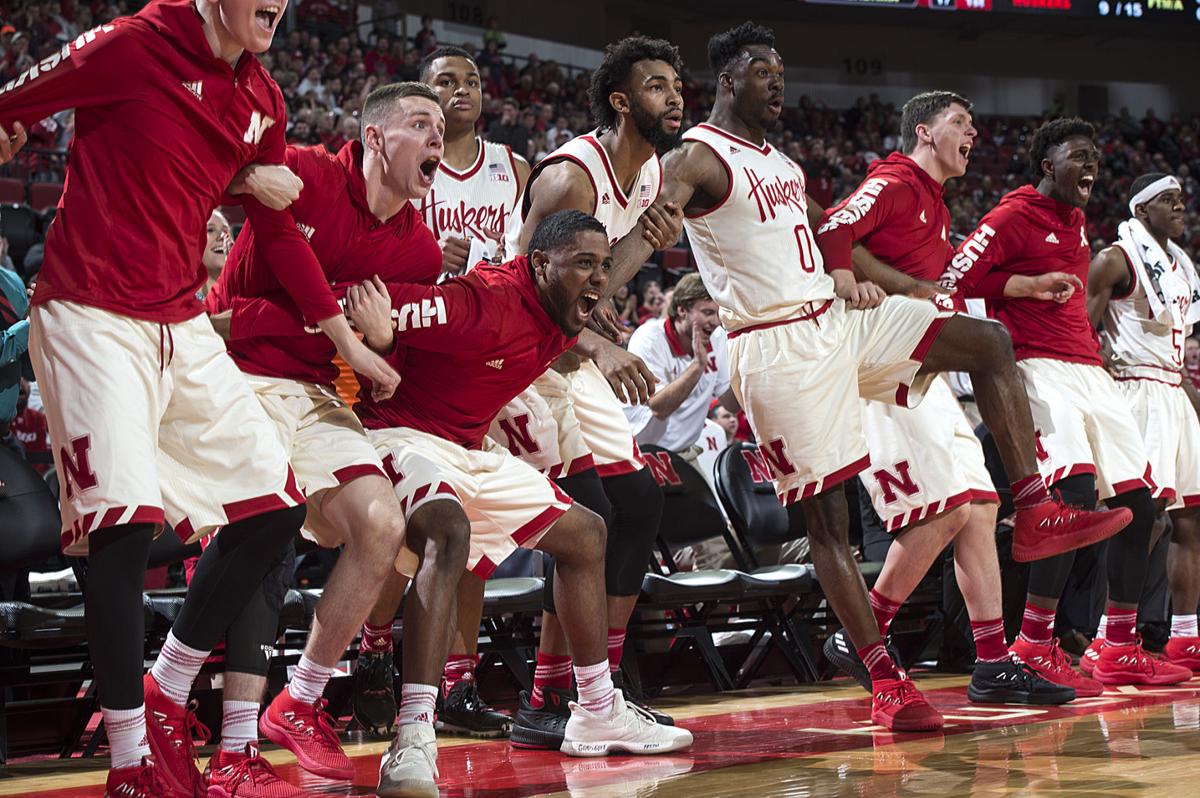 Santa paid a visit to Nebraska's locker room after the Huskers knocked off Delaware State Friday.
He came bearing a big gift for Nebraska's walk-on big man.
Gothenburg native Tanner Borchardt was the recipient, finding out Friday he'd been placed on scholarship after the Huskers' win over Delaware State.
"What a blessing," the 6-foot-8, 265-pounder said.
Nebraska had an open scholarship for the spring semester, and Borchardt's work since rejoining the team last February paid off, his coach said.
"Tanner's helped us in games. He's changed his body, and put himself into a situation where I feel confident when we do need him — now, we've been playing smaller, but the Big Ten is a different beast too," Nebraska coach Tim Miles said. "But we're proud of him and happy to have him on scholarship and ease the load a little big for the family."
Borchardt, a touted football recruit with offers from Wyoming, Colorado State and Ohio, among others, chose instead to come to Lincoln and made the basketball team after trying out as a freshman. 
You have free articles remaining.
He left the team after the 2015-16 season, but returned midway through the 2016-17 season to give the Huskers some depth in practice.
"You know, it's such a blessing to be in this position, to leave the team and get the chance to come back," Borchardt said. "I thank Coach Miles again. He's blessed me with many opportunities and I thank him for that."
Ice in his veins: Freshman Thorir Thorbjarnarson made the most of his four minutes Friday, knocking down a pair of three-pointers to finish with a career-high six points.
He couldn't have picked a better night to do it. The only Icelandic player on a power conference roster had eight family members from his home country in Lincoln to watch the game.
"That was important for me. So to be able to get him in the game, and then him to make those two threes was pretty cool stuff," Miles said. "And that second one was deep. I thought I was going to be in the way. But it was a neat night that way."
Sharing is caring: Nebraska piled up a season-high 24 assists on 31 field goals Friday, the most in Miles' six seasons at the helm. The total was the most for a Husker team since NU finished with 24 helpers against Rhode Island Nov. 20, 2011.
And it was bench players who led the way. Anton Gill had six assists while Thomas Allen and Isaiah Roby each had four. All five Husker starters had at least one assist.
Career nights: Gill's six assists were a career-high, doubling his previous best. Allen's 14 points were a career best, bettering the 13 he had against Kansas.
By the numbers: Nebraska broke the 80-point barrier for the sixth time this season and improved to 6-0 in such games. ... The Huskers' 13 three-pointers were spread among seven players. ... Friday marked the first time this season Nebraska has shot better than 50 percent from the field in back-to-back games. The Huskers fired at a 51 percent clip against UTSA and hit 52 percent against Delaware State.