Isaiah Roby has had better nights.
At least for the first 38 minutes or so against Seton Hall on Wednesday night, the talented junior was a nonfactor. Glued to the bench because of foul trouble, Roby watched his teammates at first hold off, then pull away from Seton Hall.
But the junior got his licks in at the end.
His one-handed catch and jam off a lob from Glynn Watson provided the exclamation point and gave the Pinnacle Bank Arena crowd one more reason to let loose. And his three-pointer on NU's second-to-last possession got the Huskers to the 80-point plateau.
"I didn't even see Roby until he just appeared up there," NU coach Tim Miles said of the lob play. "I'm like, 'Whoa.'"
Miles would prefer his power forward to stay out of foul trouble, of course. But the final minutes once again showed the tantalizing potential Roby possesses.
Responding to a ripping: James Palmer was late contesting a three-pointer on one Nebraska defensive possession that ended with Seton Hall's Jared Rhoden knocking in the long bucket.
That earned a very public butt-chewing from Tim Miles, who got into his star swingman the entire trip down the court.
Palmer responded by swatting Rhoden's next attempt, on Seton Hall's next trip down the court, into the courtside seats.
"I'm like, 'You can dominate the game when you just put your mind to it,'" Miles said. "And he can, on both ends of the floor. You've just got to remind him what side of the floor he's on sometimes."
Bench production: Foul trouble perhaps necessitated some of it, but Nebraska's inexperienced bench got plenty of minutes Wednesday, and responded.
Tanner Borchardt, Amir Harris, Brady Heiman and Nana Akenten combined for five points, 16 rebounds and just three turnovers. Borchardt and Heiman did much of the work spelling Roby.
Defensive adjustment: The advantage to having an experienced front court allowed Nebraska's coaches to scheme up an unconventional defense to slow Seton Hall's offense in the second half.
Isaac Copeland was moved to the middle of the lane, and the Huskers began switching out on Seton Hall's pick and roll, which clogged things up in the middle.
The Pirates shot 33 percent in the second half.
"We have smart bigs, which changes everything. Because now you can scheme it up," Miles said. "And most guys might not be able to make that play. But we said, 'Cope, do it. This is how we're going to switch it out.' And they handled it really well — didn't even give up an open look. So I thought that was really important."
Century club: The victory was No. 100 for Tim Miles as Nebraska's head coach. He is the fifth Husker coach to reach the mark, joining Doc Sadler, Moe Iba, Joe Cipriano and Danny Nee.
"Let's not stop there," the coach said when asked about the milestone.
By the numbers: Nebraska has won 14 straight games in Pinnacle Bank Arena. … The Huskers have scored 80 or more points in each of their first three games for the first time since the 1992-93 season. … NU's first three opponents have combined to shoot 6-for-48 from three-point range (12.5 percent). … Seton Hall shot 36 percent from the field, marking the 29th consecutive game Nebraska has held its opponent to 50 percent shooting or less.
Nebraska men's hoops vs. Seton Hall, 11/14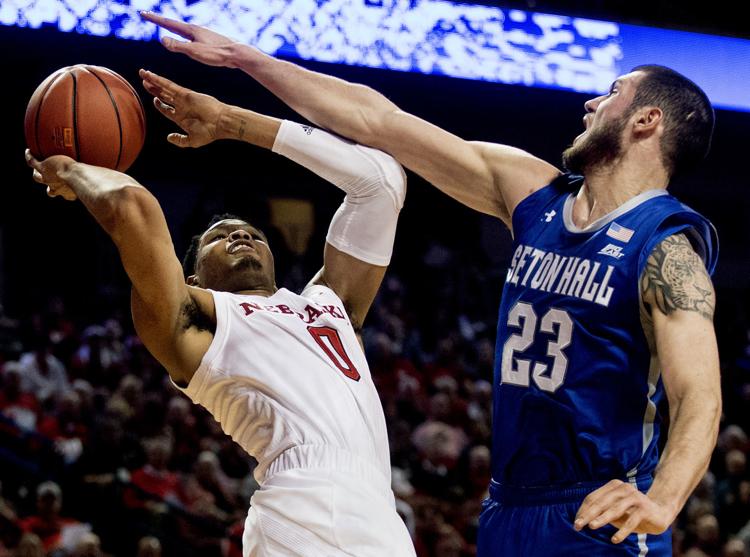 Nebraska men's hoops vs. Seton Hall, 11/14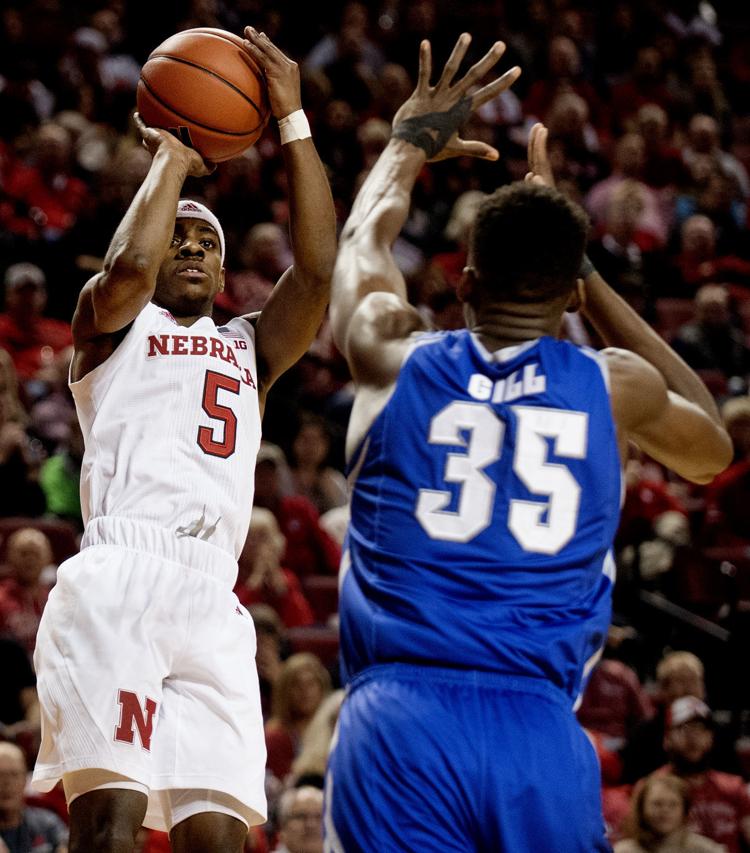 Nebraska men's hoops vs. Seton Hall, 11/14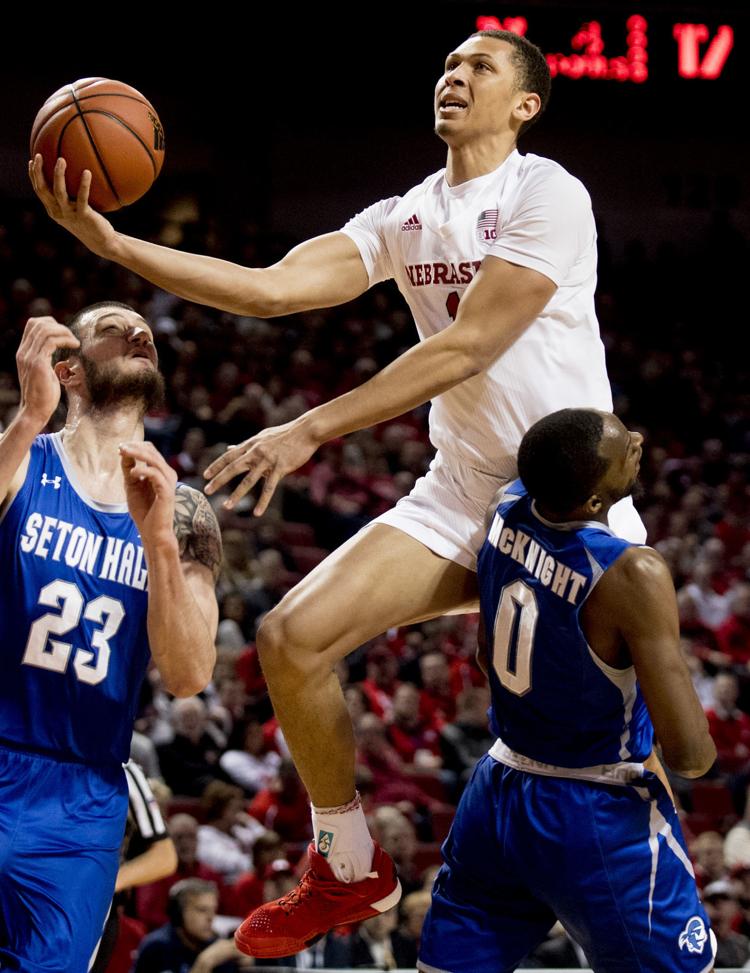 Nebraska men's hoops vs. Seton Hall, 11/14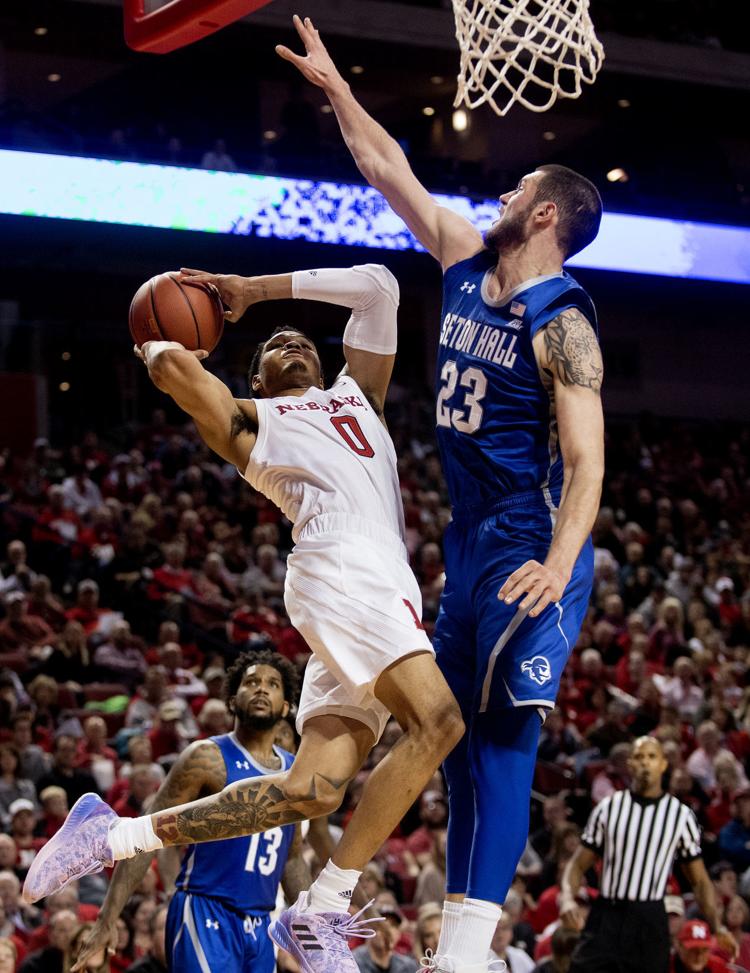 Nebraska men's hoops vs. Seton Hall, 11/14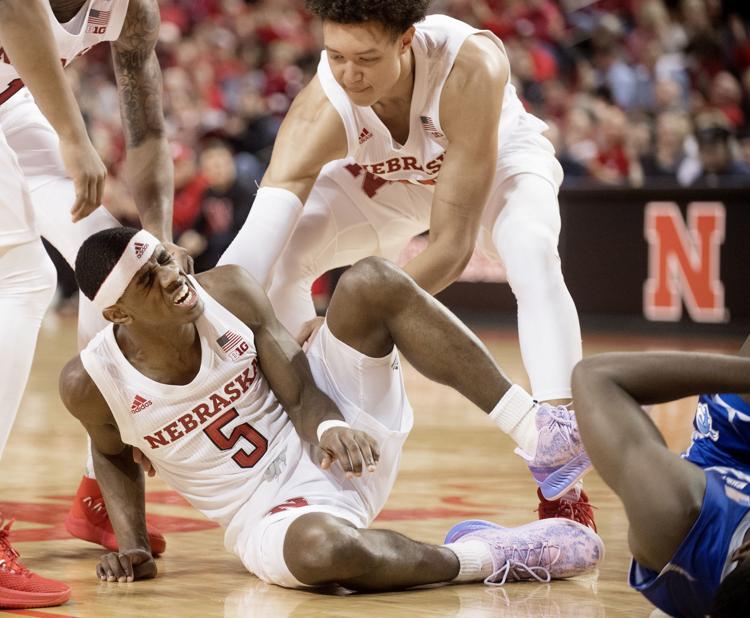 Nebraska men's hoops vs. Seton Hall, 11/14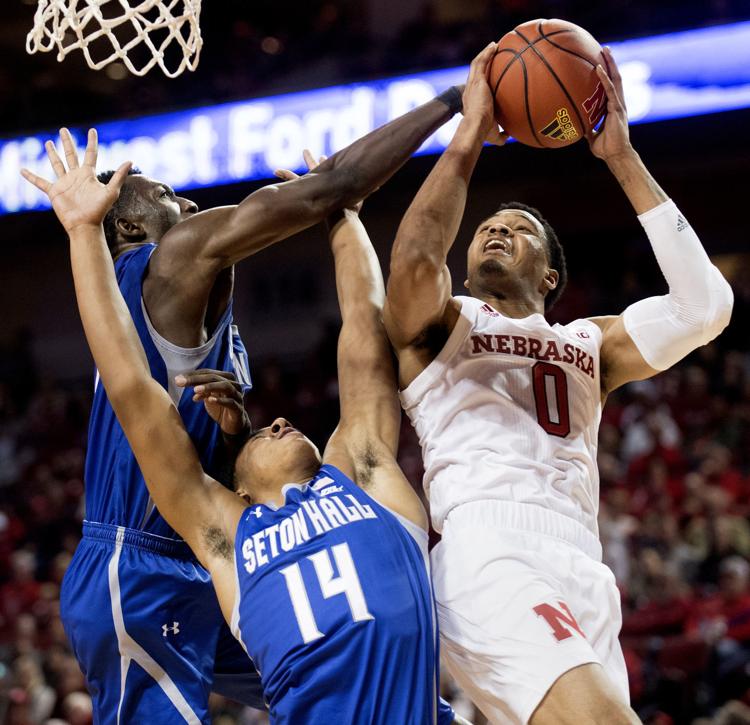 Nebraska men's hoops vs. Seton Hall, 11/14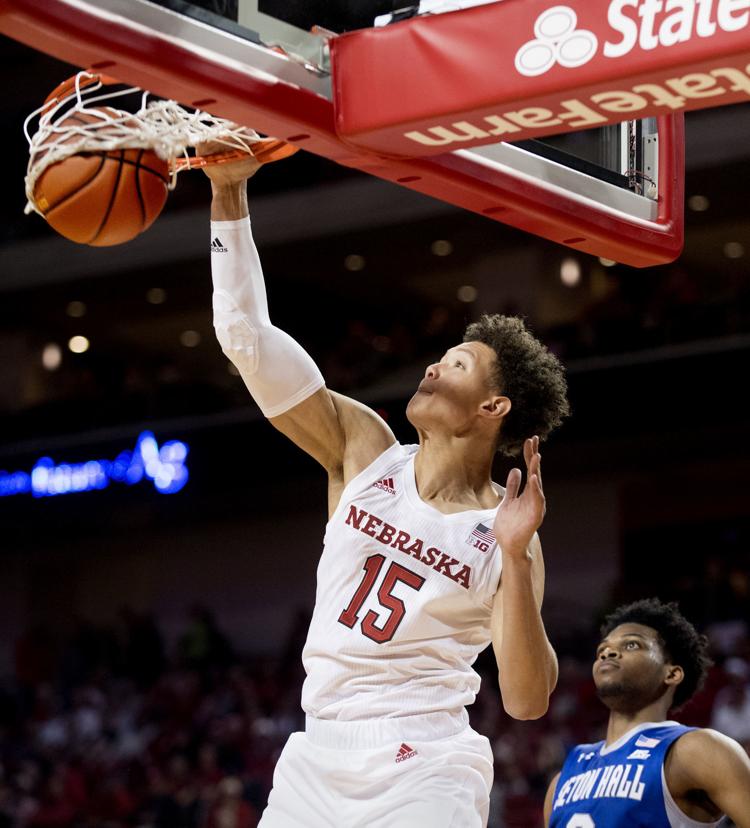 Nebraska men's hoops vs. Seton Hall, 11/14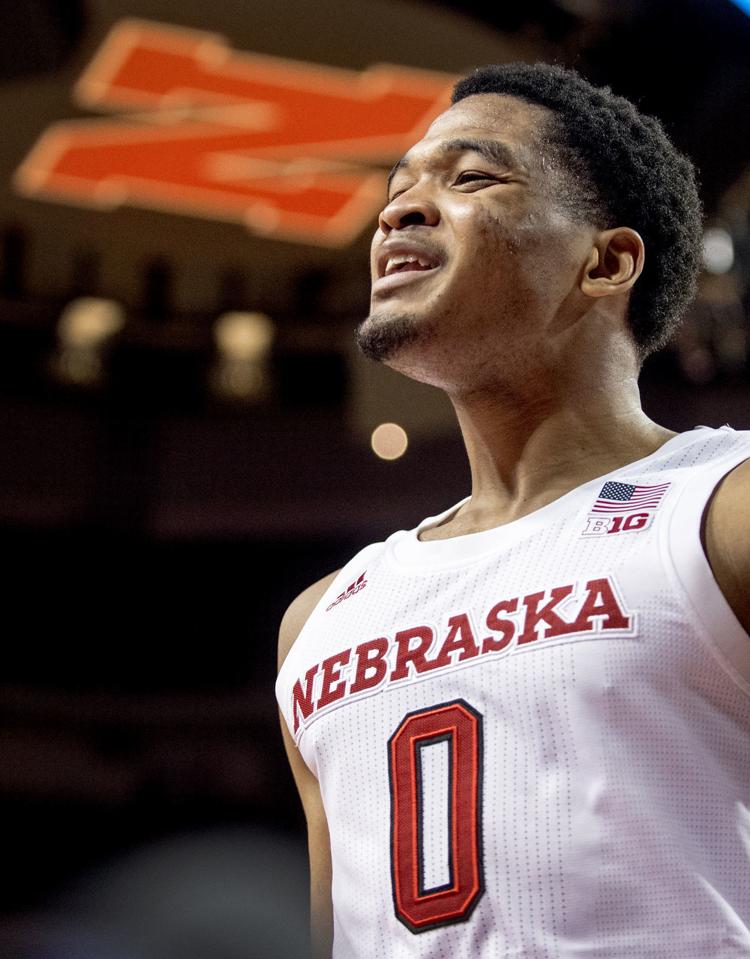 Nebraska men's hoops vs. Seton Hall, 11/14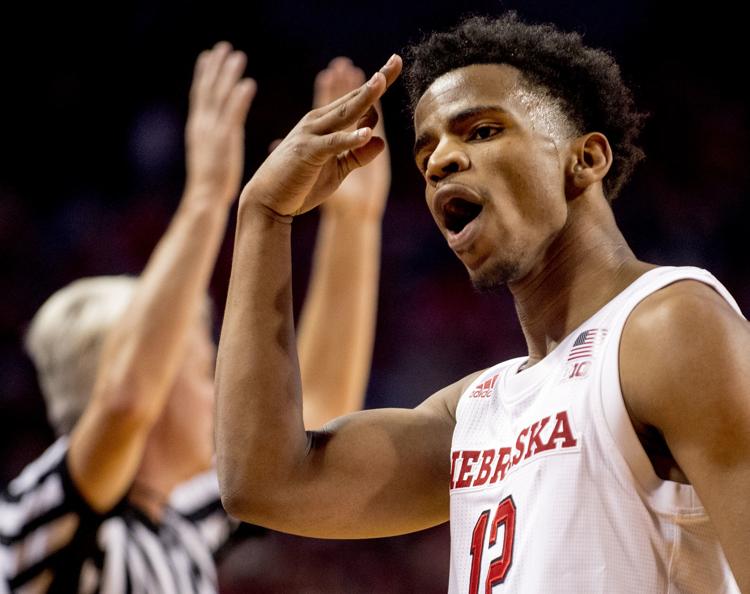 Nebraska men's hoops vs. Seton Hall, 11/14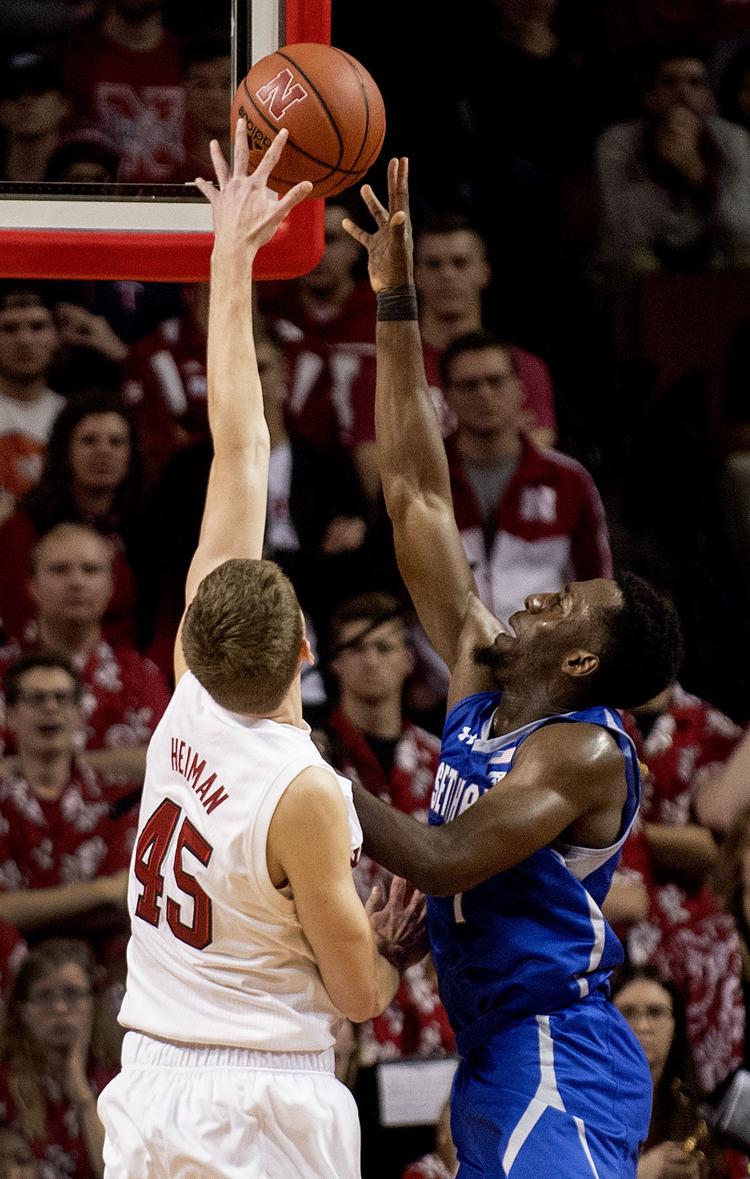 Nebraska men's hoops vs. Seton Hall, 11/14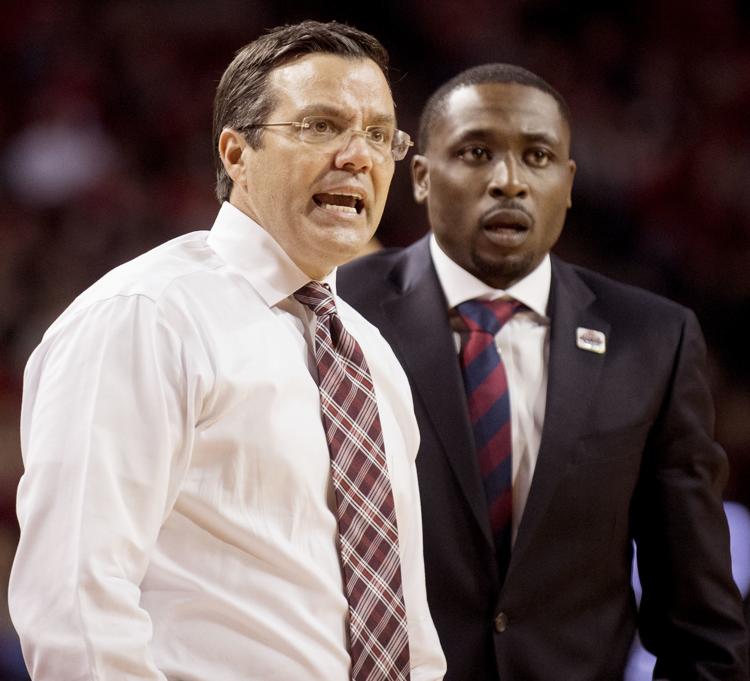 Nebraska men's hoops vs. Seton Hall, 11/14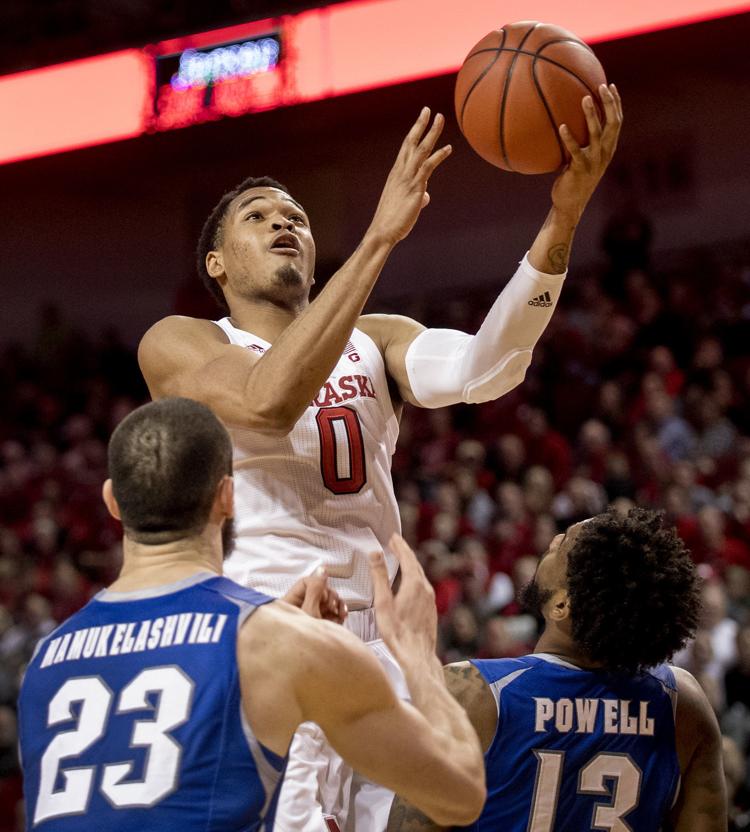 Nebraska men's hoops vs. Seton Hall, 11/14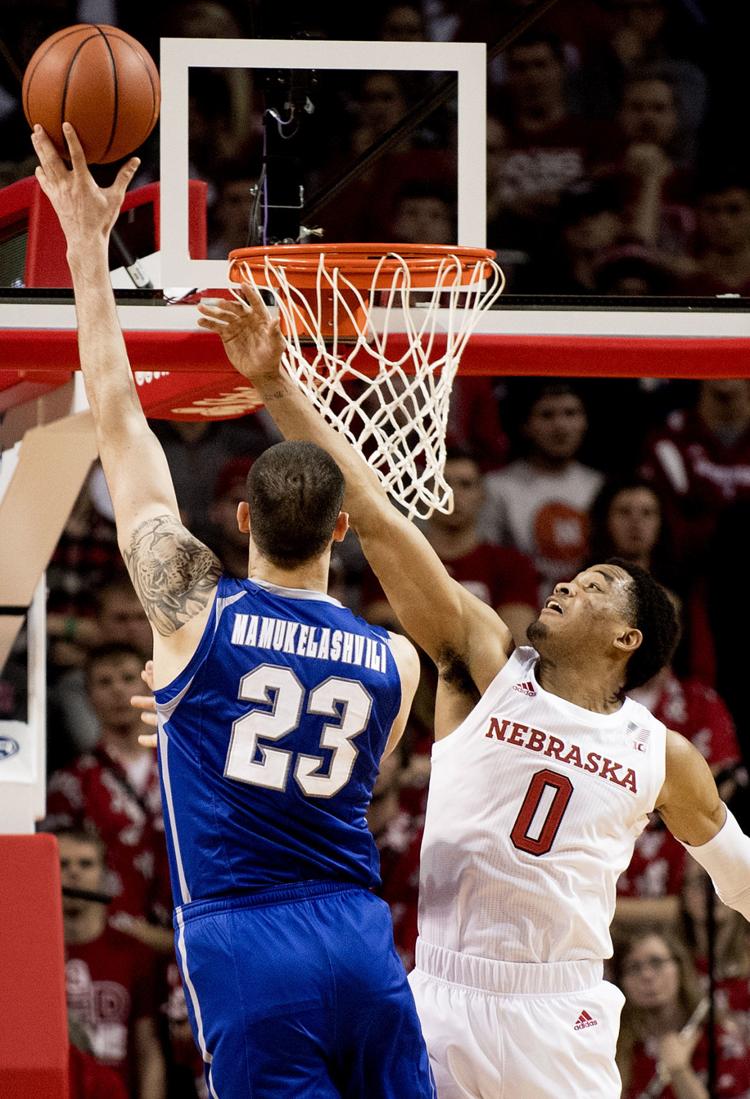 Nebraska men's hoops vs. Seton Hall, 11/14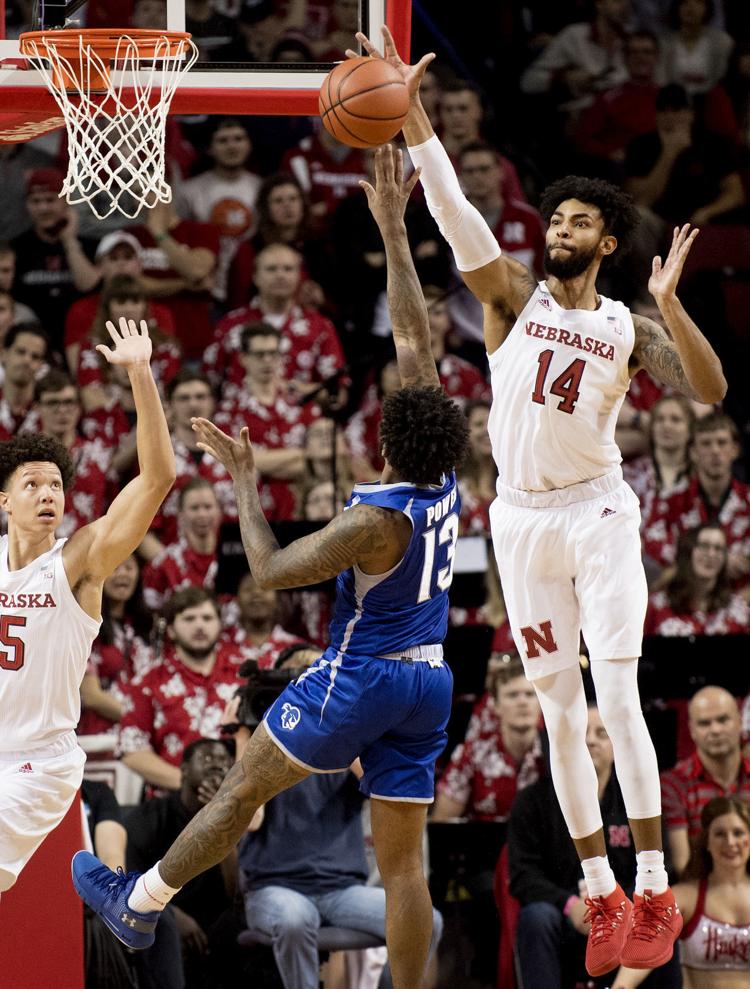 Nebraska men's hoops vs. Seton Hall, 11/14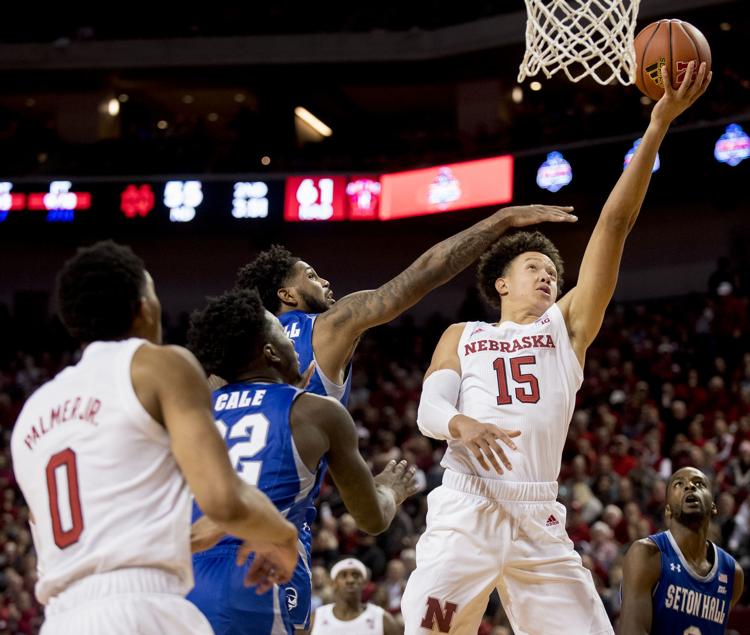 Nebraska men's hoops vs. Seton Hall, 11/14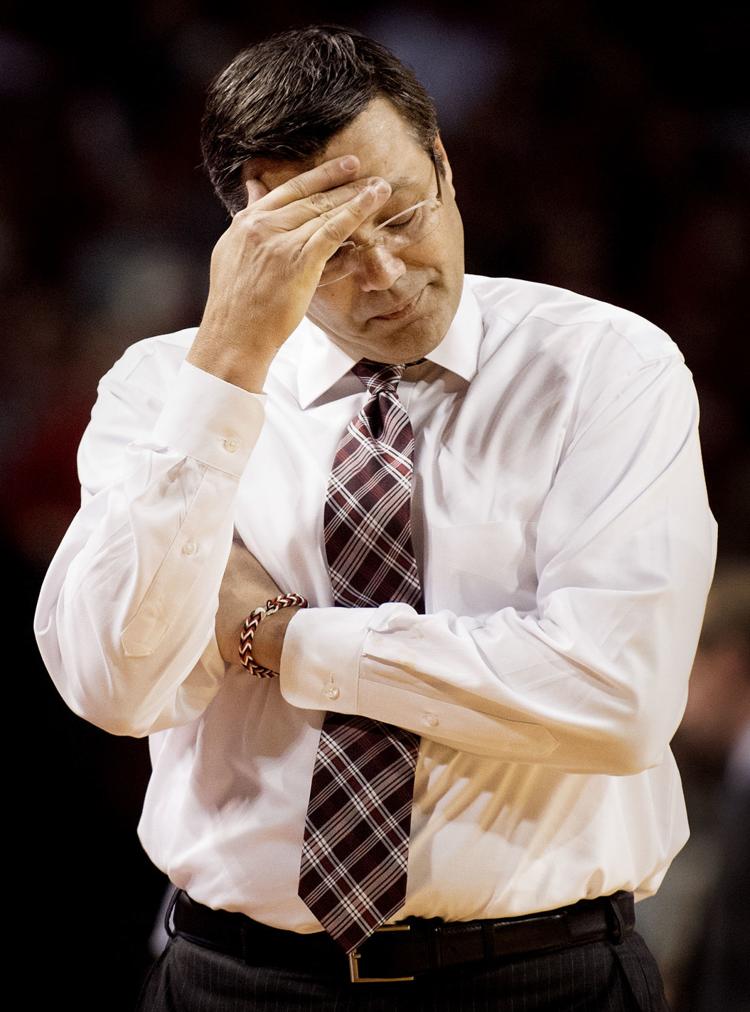 Nebraska men's hoops vs. Seton Hall, 11/14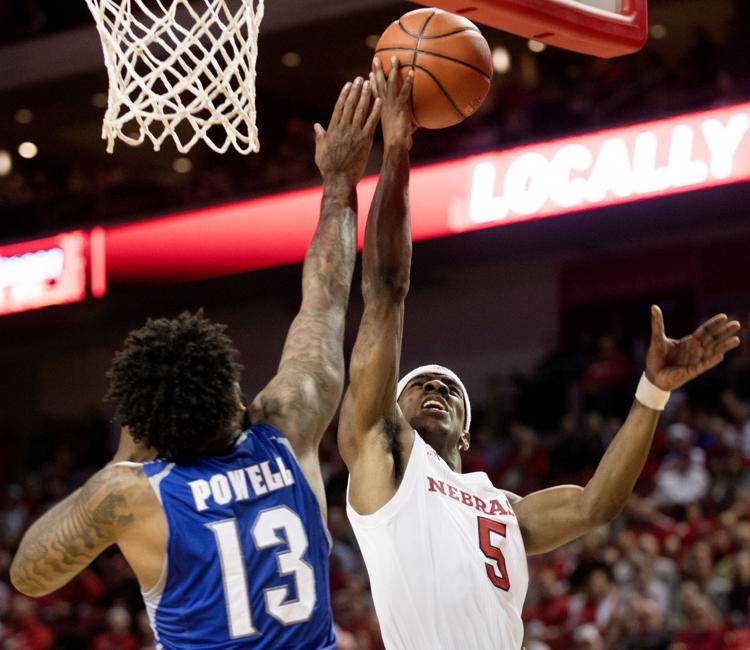 Nebraska men's hoops vs. Seton Hall, 11/14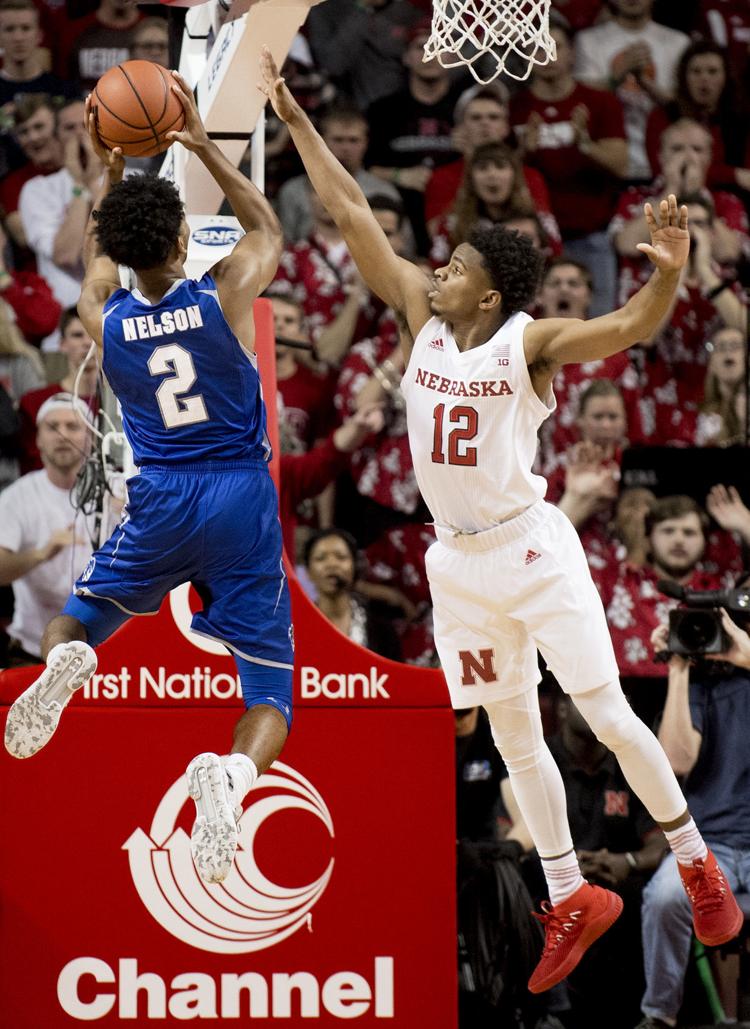 Nebraska men's hoops vs. Seton Hall, 11/14