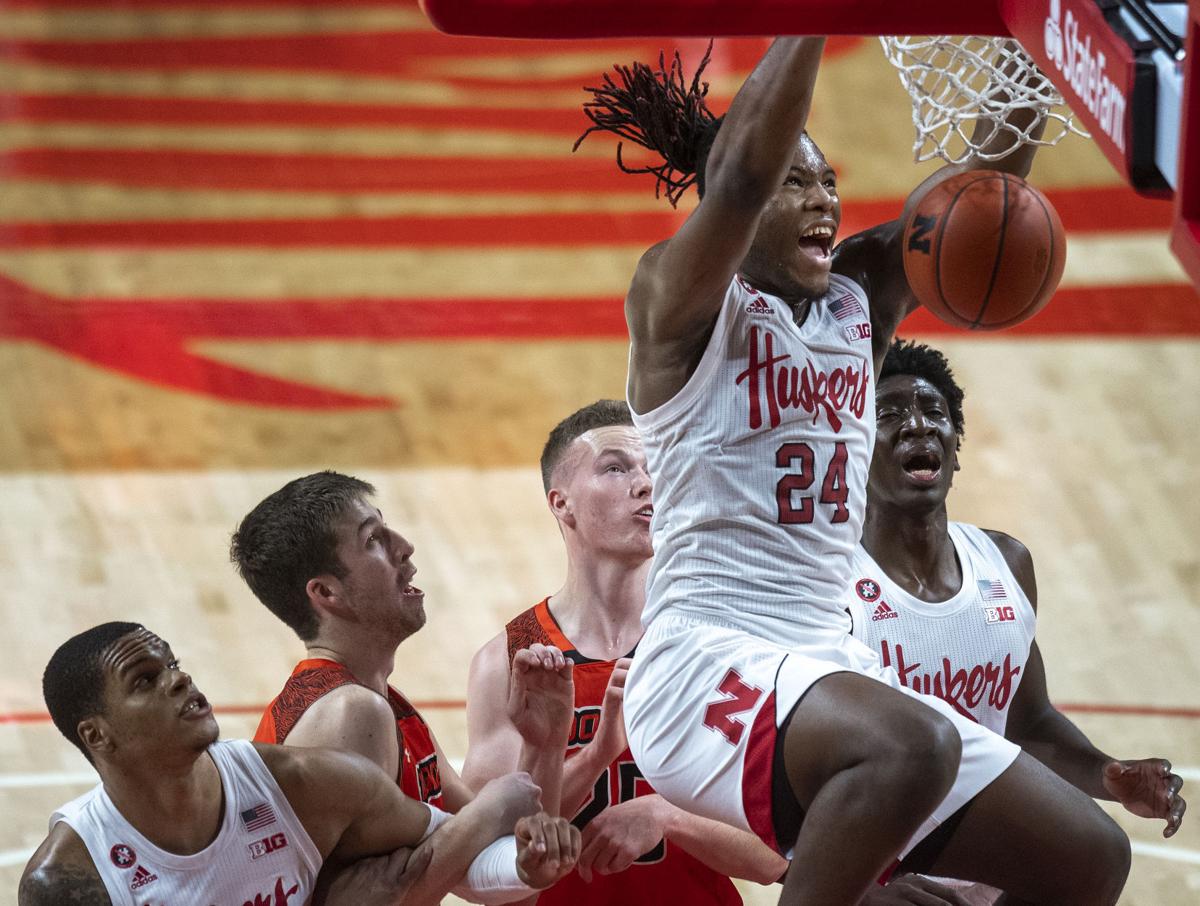 The Nebraska men's basketball team is losing its French connection.
Sophomore forward Yvan Ouedraogo is entering the transfer portal, a source told the Journal Star, after spending two seasons in Lincoln.
The 6-foot-8, 245-pounder Ouedraogo saw his playing time decrease as the 2020-21 season went on, first when transfer forward Derrick Walker became eligible, and then with the emergence of 6-11 freshman Eduardo Andre.
"I want to personally thank Coach (Fred) Hoiberg and the coaching staff, my teammates, the University faculty members the Husker fans for welcoming me with open arms, and cheering for me every time I stepped on the court," Ouedraogo wrote on social media Monday afternoon. "I am saddened that this chapter of my life is coming to a close, yet am excited for what the future has in store for me."
Ouedraogo averaged 3.4 points and 3.7 rebounds per game this season. He didn't play in four of Nebraska's final five games, and played double-digit minutes in a game just once over the final month of the season.
Ouedraogo arrived in Lincoln as a 17-year-old freshman from Bordeaux, France, and was immediately thrown into the fire as Nebraska's starting center in 2019-20.
He performed admirably in that role, averaging 5.7 points and a team-best 6.3 rebounds per game to rank third among Big Ten freshmen in rebounding while going up against some of the best big men in the country on a nightly basis.
He set or tied three Nebraska freshman records: single-season rebounds, double-doubles and single-game rebounds. He had 19 rebounds in Nebraska's regular-season finale against Northwestern.
Ouedraogo often received praise from NU's coaching staff for his defensive prowess and physicality in the paint. But he also struggled offensively, especially when it came to finishing around the basket and at the free-throw line.
While back home in France during the COVID-19 pandemic, Ouedraogo shed 15 pounds in order to become more explosive. He was one of two scholarship players, along with Thorir Thorbjarnarson, who returned for NU in 2020-21 after seeing playing time the previous season.
However, the experience didn't lead to improved production. He finished this season shooting 42% from the field and 39% at the line. As a freshman he shot 41% from the field and 48% at the line.
For comparison, Andre finished the season at 65% from the field, although on about half the attempts, and 45% at the line. Walker became a critical piece of NU's rotation, averaging 5.9 points and 4.7 rebounds while shooting 60% from the floor and 45% at the line. Over NU's last five games, Walker averaged 8.4 points and 6.0 rebounds.