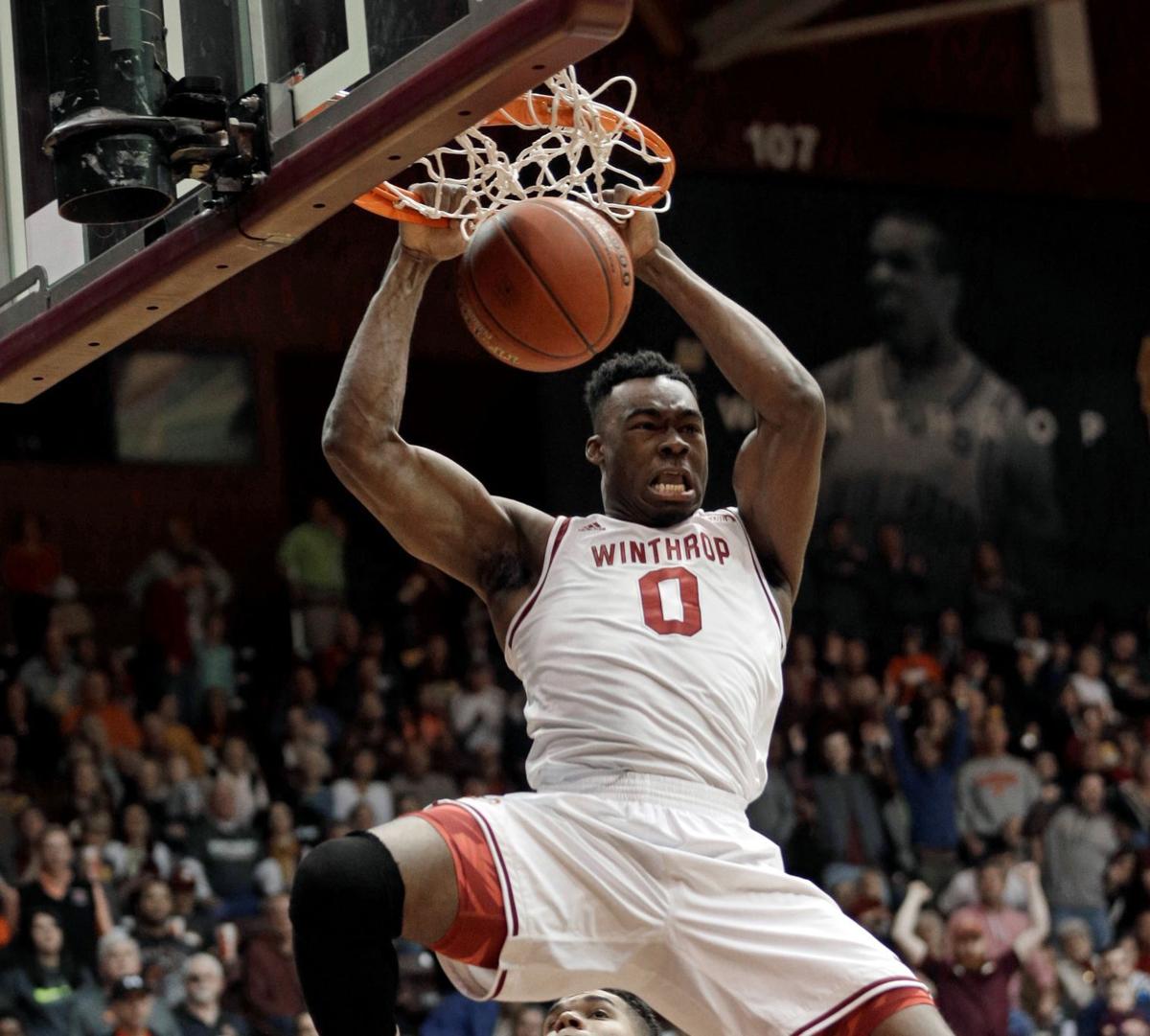 Needing a shooter and a big man to bolster its roster going into next season, the Nebraska men's basketball team hit its mark the last three days.
The latest addition came Sunday afternoon, when 6-foot-8 center Duby Okeke, a graduate transfer from Winthrop of the Big South Conference, announced on his Instagram account that he was committed to the Huskers.
Okeke (pronounced Okay-kay) will graduate in May with a degree in sociology and be immediately eligible for the 2017-18 season.
His commitment comes two days after four-star guard Thomas Allen, Nebraska's top target this offseason and one of the top three-point shooters available nationally, committed Friday.
Okeke doesn't have the offensive pedigree of Allen — the Jonesboro, Georgia, native averaged 4.1 points per game in his career at Winthrop, and was known mostly for his disregard for basketball rims when it came to throwing down vicious dunks. 
He also shot a staggering 27 percent (15-for-56) from the free-throw line in 2016-17 and is a 42 percent career shooter at the stripe
But Okeke gives the Huskers a skill they sorely need after the departures of Ed Morrow and Michael Jacobson.
Possessing a 7-foot, 4-inch wingspan on his 230-pound frame, Okeke blocked a Winthrop-record 165 shots in three seasons. He also holds Winthrop's record for blocks in a season with 72 in 2015-16.
He'll also be called upon to help fill the rebounding void left by Morrow and Jacobson, and gives the Huskers a strong defender to pair with 6-foot-11 sophomore-to-be Jordy Tshimanga inside.
"Just give lots of energy; kind of like a guy that can change the game defensively and get rebounds," Okeke said of what Husker coaches envision him being. "Just be a powerful, athletic player."
Okeke said he also visited Clemson, and was planning to visit both Ball State and Stetson. Those last two visits were cancelled after he saw what Lincoln had to offer.
Score a victory for Pinnacle Bank Arena and the Hendricks practice facility there. Okeke said NU's facilities helped sway his decision, as did the positive energy given off by head coach Tim Miles and assistant Jim Molinari.
Okeke, who missed his freshman season at Winthrop with a leg injury, has only played organized basketball since his freshman year of high school. He also fractured his left (nonshooting) wrist in early December 2015. He started all but nine games of Winthrop's 26-7 season in 2016-17 that ended with a loss to Butler in the first round of the NCAA Tournament.
Nebraska now has two open scholarships remaining for next season. Princeton graduate transfer Hans Brase, a 6-foot-8 forward, is expected to visit Lincoln this week.