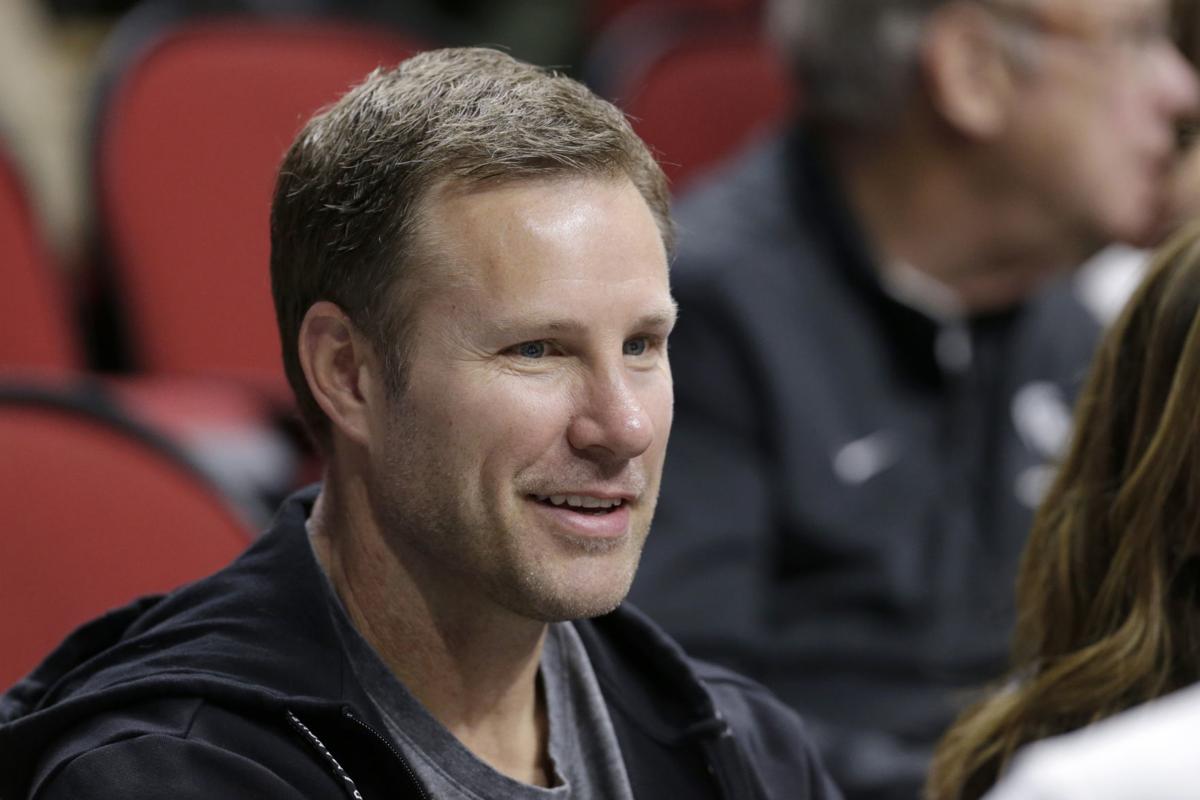 Now that the minor detail of hiring a head coach is out of the way, Nebraska basketball can begin to turn its attention to just what kind of roster Fred Hoiberg and his yet-to-be-announced staff will put together on their first trip through the recruiting cycle in Lincoln.
There will be many, many moving parts between Tuesday's introductory press conference and the start of practice early next fall. But there are a couple things to be deduced from Hoiberg's roster construction at Iowa State and Nebraska's current lineup.
First, forget Hoiberg's now-infamous line from a couple years ago about "(expletive) hating recruiting.
"There were a lot of things I didn't like about recruiting and a lot of things that sometimes are out of your control when you're recruiting," Hoiberg told the Ames Tribune in February. "The things I did enjoy about recruiting were building relationships with the kid and building a relationship with the family. I liked that a lot. I felt like I was pretty good at it. We had some really high-level players here (at ISU) as transfers and also as four-year guys."
Iowa State did take in 14 transfers during Hoiberg's five years in Ames. It became a calling card of sorts for the Cyclones, who infused players such as Royce White, Chris Babb, Korie Lucious, Abdel Nader and others into existing ISU rosters and turned the conglomeration into a cohesive unit.
But while Hoiberg became known for using transfers to build out his Iowa State rosters, he and his staff's work in getting prep players to Ames resulted in some of the most decorated players in Cyclones history.
Start with forward Georges Niang, who played four years for the Cyclones and scored 2,228 career points, the second-most ever at Iowa State. Niang is in his third season with the Utah Jazz. His 6-foot-8, 230-pound frame is nearly identical to current Nebraska forward Isaiah Roby.
Another four-year forward, Melvin Ejim, scored more than 1,600 points in four seasons under Hoiberg, and is second on Iowa State's all-time rebounding list.
And guard Monte Morris is considered one of the best players in ISU history: more than 1,700 career points and a 4.65 career assist-to-turnover ratio that is the best in NCAA history. Morris has four of the top seven single-season assist-to-turnover ratios that have been recorded by the NCAA (since 2008).
You have free articles remaining.
Morris currently plays for the Denver Nuggets and is enjoying a breakout season in his second year in the league.
Hoiberg's ability to get players to the NBA -- and his connections in the league -- won't do anything to hurt his efforts to get guys to Lincoln. 
"His NBA knowledge, his connections in the league are huge. My wanting to get to that level, to be able to play with a coach like that and in an NBA system, that attracts me," said 2020 Nebraska recruit D'Andre Davis of Indianapolis. "And the Sweet 16, that's something that I want to play in, so him being a coach that can get Nebraska there attracts me."
As currently constructed, Nebraska's roster has two open scholarships for next season, a three-man recruiting class signed, and one transfer eligible after his sit-out season.
NU is also losing its four-year point guard, its high-scoring wing and a critical front-court piece to graduation. Its best NBA prospect, Isaiah Roby, has submitted his name to test the professional waters without hiring an agent, and the starting shooting guard, Thomas Allen, has entered his name into the NCAA transfer portal.
Roby testing the NBA waters isn't unexpected. He did something similar after his sophomore season, submitting his name to the NBA's undergraduate advisory committee but not working out for any teams.
He has until May 29 to decide whether to return to school or turn professional. Last year, both Isaac Copeland and James Palmer took their decisions down to the finals days — Palmer on May 25 and Copeland on May 27.
Now, go back and read the first few paragraphs above when thinking about what Nebraska needs most for next season — a point guard to run Hoiberg's uptempo attack, and more depth in the front court.
If Hoiberg's history in the college game is any indication, Nebraska could put those pieces in place sooner rather than later.