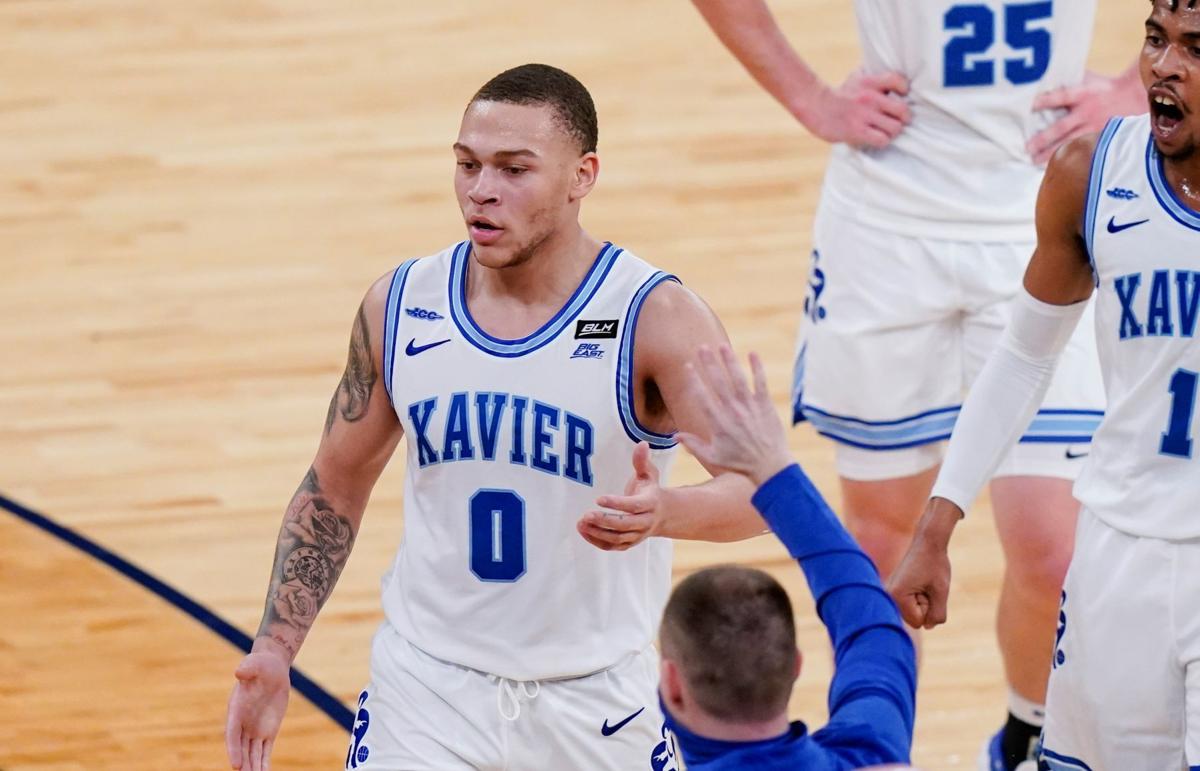 The Nebraska men's basketball roster officially grew by two Wednesday when commits C.J. Wilcher and Oleg Kojenets signed their national letters of intent on the first day of the spring signing period.
Wilcher, a transfer from Xavier, originally announced his commitment on March 26. He was recruited by NU assistant Matt Abdelmassih at both St. John's and Nebraska before signing with the Musketeers and playing his freshman season in the Big East. He has four years of eligibility remaining.
"You can never have enough shooting, and C.J. is an elite-level shooter," Nebraska coach Fred Hoiberg said in a news release. "He was one of the best shooters nationally in the class of 2020, but his game is much more than that. He has good size on the perimeter and uses it to create space and has an aggressive mindset. He played significant minutes at Xavier and that experience will help him in the transition to the Big Ten."
Wilcher averaged 3.3 points and 1.1 rebounds while playing in 15 games for Xavier last season, shooting 44% from the floor and 39% from three-point range. 
The 6-foot-5, 195-pound guard was a consensus four-star recruit out of high school, and is expected to be an immediate-impact addition for NU.
"I feel like I can learn a lot from (Hoiberg) to prepare me for the next step in my career. I think I fit well in the system. He was a shooter when he played, and he gets shots for his guys, and I think I fit well in that," Wilcher told the Journal Star after he committed. "He also lets guys play through mistakes and be able to make plays for other guys as well as themselves. I think that fits my game."
While his statistics at Xavier don't jump off the page, Wilcher was at his most productive in the Musketeers' final two games of the season. He got his only start of the year in Xavier's regular-season finale March 6 against Marquette, and finished with 10 points while going 4-for-9 from the field and 2-for-5 from three-point range in 32 minutes.
Four days later, Wilcher played 20 minutes off the bench in Xavier's loss to Butler at the Big East Tournament, scoring seven points.
Kojenets, who quietly committed April 5, will provide depth in Nebraska's frontcourt behind returners Derrick Walker and Eduardo Andre. 
A 7-foot, 220-pound forward from Lithuania, Kojenets spent his senior year at Western Reserve Academy in Ohio, though his team played just nine games in a coronavirus-shortened season.
"I think Oleg has a lot of physical tools and is someone we think can develop in our program," Hoiberg said. "He is a crafty player with good hands and the ability to score around the basket. Oleg has a natural feel for the game, as both his parents played at a high level. His combination of size, skill and basketball IQ is a great foundation to work with as he begins his Husker career."
The son of two college basketball players, Kojenets averaged 6.8 points and 4.0 rebounds while playing in the U18 2020 Adidas Next Generation Tournament. At the 2019 FIBU U16 European Championships, Kojenets averaged 9.1 points, 6.3 rebounds and 1.7 blocked shots per game while shooting 49% from the field.
Kojenets' parents both plated collegiately at UNC Wilmington. His father played in 114 career games, including the 2000 NCAA Tournament, before a long professional career overseas. His mother still ranks third in school history for blocked shots in a season and career, and holds the school record with 10 blocked shots in a game.
The additions mean Nebraska, as of Wednesday, has two open scholarships remaining for the 2021-22 season.