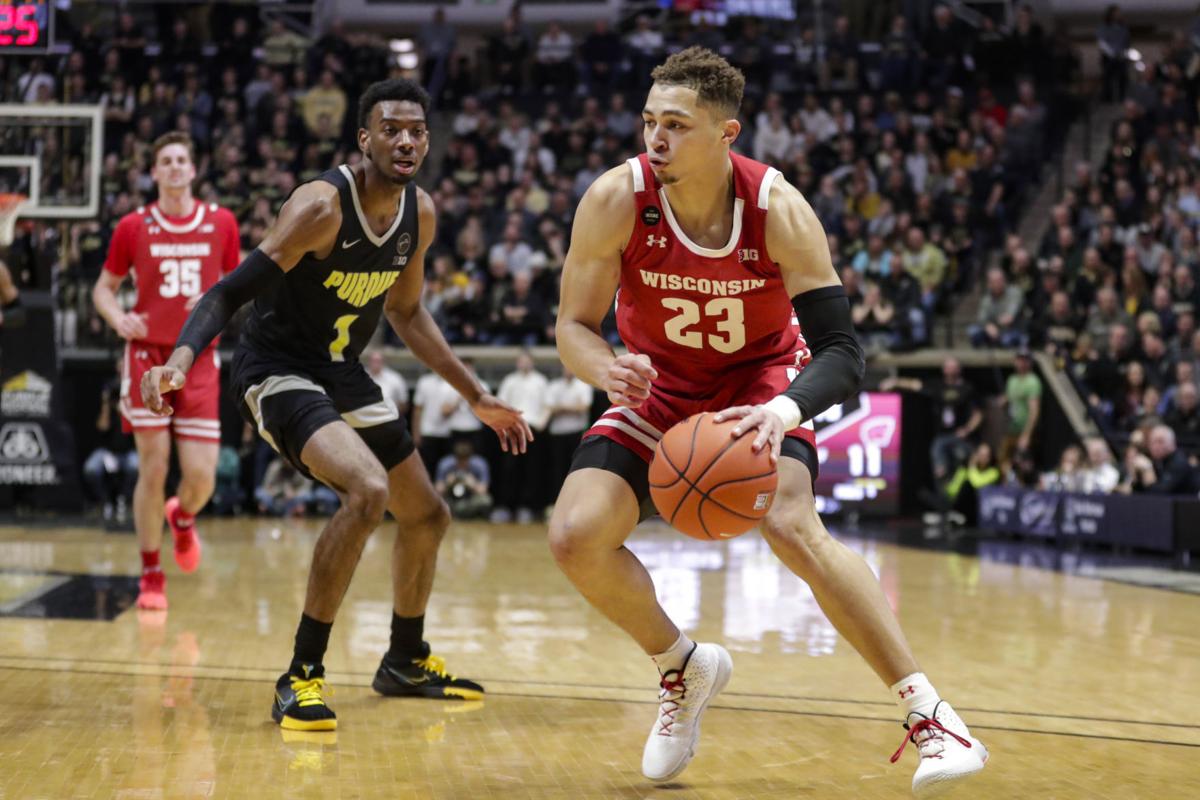 Not that they didn't already have a pretty good idea, but the Nebraska men's basketball coaching staff got an up-close look last season at just what the Huskers needed on their roster to compete in the Big Ten.
And judging from Fred Hoiberg's comments on the first day of the spring signing period, the Husker filled a lot of those needs.
"With what you look at in the Big Ten, you have to have size, you have to have physicality," Hoiberg said Wednesday night on "Sports Night." "And I think we're getting all that with this group."
Yes, the remake of the Nebraska basketball roster got real Wednesday. By noon, the Huskers had received signed letters of intent from all five transfers expected to come to Lincoln — guards Kobe Webster, Kobe King and Trey McGowens, wing Teddy Allen and forward Lat Mayen.
Those five have so far combined for 2,847 points, 807 rebounds, 536 assists and 242 steals in their college careers. As of Wednesday, Allen, Mayen and Webster are immediately eligible, with King expected to apply for an immediate eligibility waiver.
"I'm really, really excited about this group of players," Hoiberg said. "It's a group that's very versatile. It's going to allow us to play a lot of different lineups, a lot of different ways. It's going to give us great depth; it's got experience; it's got positional size."
The first player to officially sign was the last player to commit. Pittsburgh transfer Trey McGowens was announced by NU shortly after 10 a.m. Wednesday.
McGowens currently has to sit out next season to satisfy NCAA transfer rules, though that could change if legislation allowing a one-time immediate eligibility transfer is passed.
A 6-foot-4 point guard, McGowens averaged 11.5 points per game in two seasons at Pittsburgh. 
"Trey was a two-year starter in the ACC who understands what it takes to compete and flourish at this level," Nebraska coach Fred Hoiberg said in a video announcing McGowens' signing. "He is a dynamic player who uses his athleticism to make an impact on both ends of the court.
"Trey is a high-character kid who will make an immediate impact on our program."
Shortly after McGowens entered the fold, the most intriguing member of Nebraska's class became official.
Teddy Allen, a former Nebraska Gatorade player of the year who had stints at West Virginia, Wichita State and Western Nebraska Community College, signed his NLI just before 10:30 a.m.
"He is a big, physical wing who rebounds his position very well. Offensively, he is an efficient player who possesses an elite ability to score the basketball in a variety of ways," Hoiberg said. "Teddy brings high-major college experience and NCAA Tournament experience during his time at West Virginia. His ability to play multiple positions in our lineup will give us an opportunity to take advantage of his unique and versatile skill set."
Allen, who is immediately eligible with two seasons to play for NU, led the nation in scoring this season, averaging more than 31 points per game.
Western Illinois transfer Webster kept the train rolling, with his commitment coming shortly after 10:30.
A three-year starter at Western Illinois, Webster averaged more than 17 points per game each of the past two seasons, and will likely slide into the point guard role at Nebraska.
Webster graduated in three years, and will come to Lincoln as a grad transfer with one year of eligibility.
"He brings elite leadership skills and showed that he can run a team as a three-year starter at Western Illinois," Hoiberg said. "He fits very well in our system because of his perimeter shooting and his ability to play both guard positions."
A second Kobe entered the fray when Wisconsin transfer King was announced just before 11 a.m.
King was Wisconsin's leading scorer this season before announcing in January he was leaving the program. He averaged 10.0 points and 2.8 rebounds in 19 games this season for the Badgers, and his scoring averaged jumped to 12.6 points per game in nine Big Ten games.
King is expected to apply for a waiver for immediate eligibility, and has two seasons of eligibility remaining.
"He is a tough, versatile guard who can score in a variety of ways and is a very good finisher at the rim. Kobe is a hard-nosed defender and can guard multiple positions," Hoiberg said. "He knows how to win and what it takes to be successful in the Big Ten Conference. Kobe has a great work ethic and will continue to enhance his overall game."
The final piece of the class fell into place shortly before noon as Mayen signed.
Mayen, who redshirted in his first season at TCU before an injury-shortened second season, spent last year at Chipola College in Florida.
The 205-pounder averaged 11.8 points and 8.4 rebounds per game this season, shooting 47% from the field and 38% from three-point range.
"His skill set is tailor-made for how we want to play, as he is a 6-foot-9 forward who can crash the glass and spread the floor with is ability to hit three-point shots," Hoiberg said. "He plays extremely hard and his experience will help our younger players."
Meet the five Huskers that are transferring to Nebraska