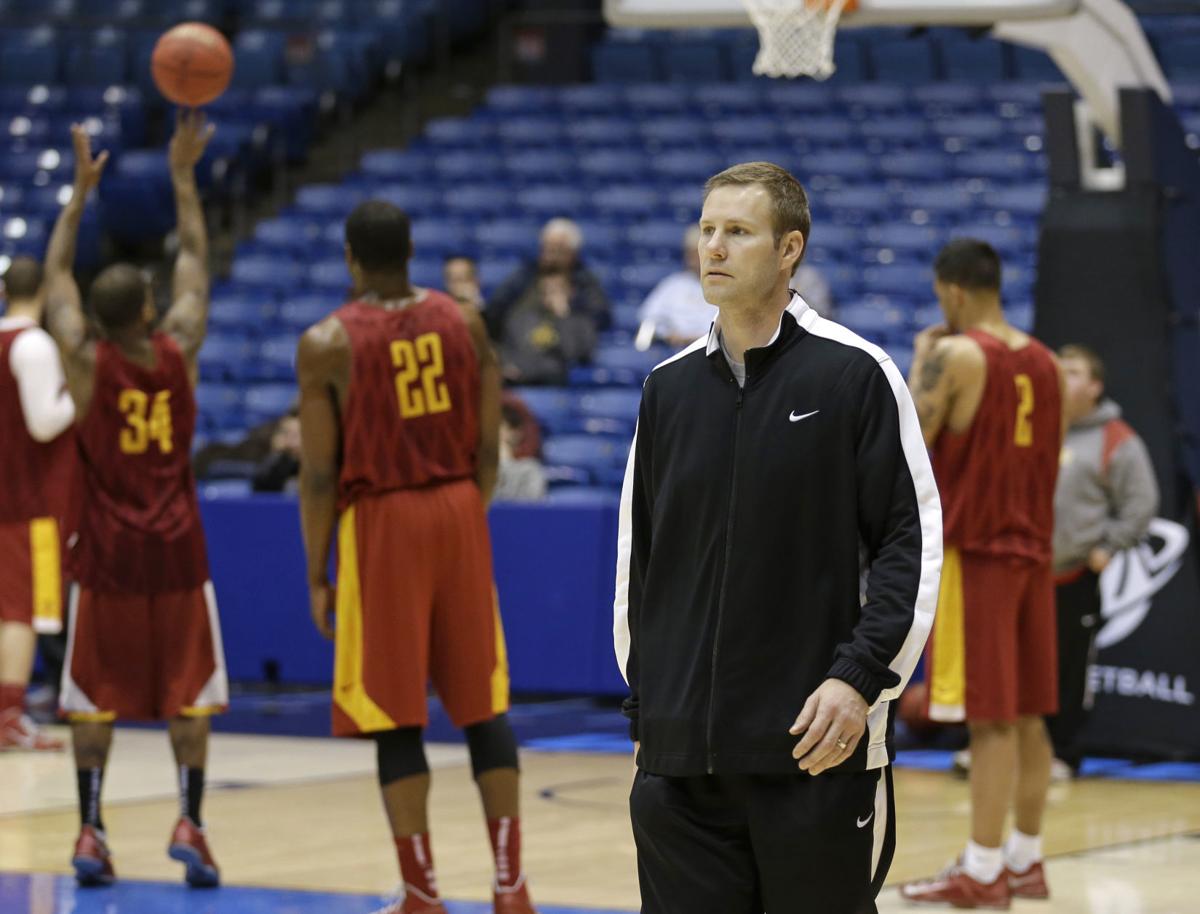 Thomas Allen has seen some stuff.
Nebraska's sophomore guard committed to his hometown North Carolina State Wolfpack back in 2016 before then-coach Mark Gottfried was fired and Allen reopened his recruitment.
Then he signed with Nebraska and played one season before his primary recruiter at NU, Kenya Hunter, left for a position at UConn.
Now, the head coach he's played for the past two seasons, Tim Miles, has been fired as well.
Allen is a thoughtful, smart guy. He entered his name into the NCAA transfer portal to explore his options while waiting to see who Nebraska hired as its next hoops coach. Why not? He's seen enough unknowns in his career that exploring what else is out there can't hurt.
That means the former Iowa State and Chicago Bulls coach will bring his high-octane offense to Lincoln.
It would seem to fit a player of Allen's talents. With the roster currently constructed as it is, Allen would be the team's second-leading returning scorer (8.7 points per game) and its top returning three-point shooter (36 percent).
At its core, Hoiberg's offense isn't all that different from what Scott Frost is running over at Memorial Stadium — push the tempo, spread the defense across the playing surface, distribute the ball to attack favorable one-on-one matchups and be unafraid to take deep shots on a regular basis.
Over his final three seasons at Iowa State (2012-13 to 2014-15), the Cyclones ranked third, fifth and 14th nationally in points per game. Those three teams combined to score fewer than 70 points just eight times in 105 games.
They averaged 79.4, 83 and 77.8 points per game in those three seasons.
If it seems like it's been awhile since Nebraska has come close to those numbers, that's because it has.
The Huskers haven't averaged 80 points per game in nearly a quarter-century, doing it last in 1995-96. NU hasn't averaged more than 72.9 per game since, and that came in 1996-97.
You have free articles remaining.
NU averaged fewer than 70 per game for 11 straight seasons from 2004-05 through 2014-15, and has averaged fewer than 70 in 16 out of the past 21 seasons. In Tim Miles' first season with a depleted roster, the Huskers only scored 58 per game.
For comparison, this season's Nebraska team, as skilled as any Husker squad since the mid-1990s, scored fewer than 70 points 16 times in 36 games while ranking 195th in points per game, 31st in adjusted offensive efficiency and 204th in tempo.
Even as Hoiberg reshaped Iowa State's roster his first two seasons, his offenses still rated ahead of the current Nebraska team in tempo and points per game while having 10 and 13 games of fewer than 70 points, respectively, in 2010-11 and 2011-12.
Using KenPom's advanced statistics, Hoiberg's final three Iowa State teams ranked eighth, ninth and 12th in offensive efficiency, and 30th, 12th and 10th in tempo.
Add it all up, and Hoiberg's Iowa State teams put up staggering numbers, especially compared with Nebraska's slow-it-down teams of the same period.
Combing through the mountains of data at sports-reference.com reveals how Hoiberg's teams scored: all the three-pointers and easy twos they could get.
In Hoiberg's five seasons in Ames, Iowa State attempted 4,023 three-pointers. That total ranked fourth in the nation and first among power conference schools in that time frame.
Even the "let it fly" Creighton teams of the same era couldn't keep up, attempting 227 fewer threes in those five seasons.
Iowa State's five-year run under Hoiberg concluded with the following national ranks: 22nd in three-point shooting percentage, 18th in field-goal percentage, 14th in two-point shooting percentage, 10th in field goals attempted, and fifth in shots made.
Nebraska in that stretch was 333rd in three-point percentage, 240th in field-goal percentage, 157th in two-point percentage and 300th in field goals attempted. That final number is last among power conference teams.
So not only did the Huskers limit their attempts, they didn't make them when they took them.
Things improved in Miles' seven seasons, but just slightly: 310th in three-point percentage (fourth-worst among power conference schools); tied for 289th in field-goal percentage (fifth-worst among power schools); tied for 287th in two-point percentage (fourth-worst among power schools); and 164th in field goals attempted.
Nebraska's best ranking this season in any of those categories was 23rd, in field goals attempted. NU was outside the top 100 in every shooting category, and outside the top 200 in three-point percentage (214th), two-point percentage (254th) and field-goal percentage (253rd).
Change is coming. To the sideline, certainly. But the style of basketball Nebraska plays beginning next season figures to look nothing like Husker fans have seen in nearly 30 years.