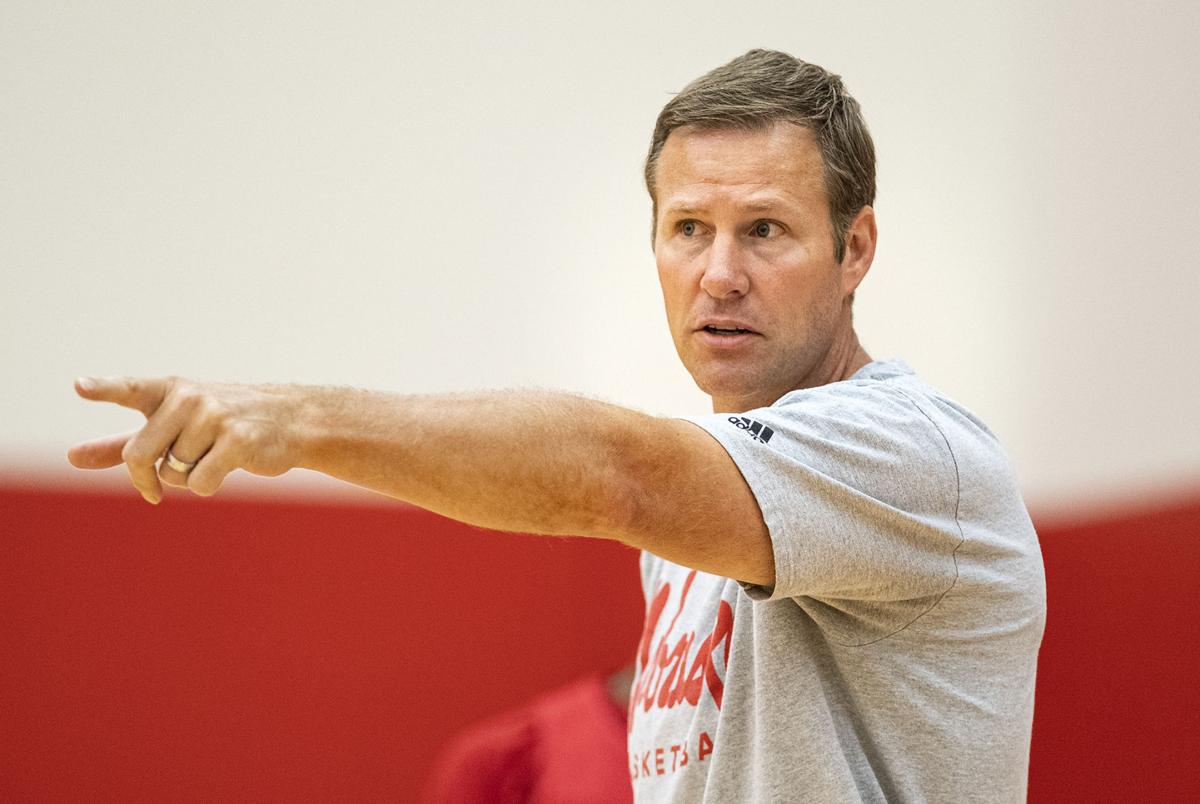 College basketball season is 42 days away from tipping off, and Nebraska will take the practice floor Wednesday not yet knowing who its opponent will be when Nov. 25 rolls around.
That's life in 2020. But it's also another unknown in a world full of them as Fred Hoiberg works to shape his second team in Lincoln.
"Our big thing right now is worrying about what we can control, and that's preparing our team as if we're going to start playing games on the 25th," Hoiberg said Tuesday in a Zoom call with reporters.
Most of the talk surrounding Nebraska's schedule has centered on an event that hasn't even been officially announced by the potential host school.
Reports over the past several weeks have linked at least 10 teams, including Nebraska, to a multi-team event (MTE) in Lincoln. One of those teams, Oklahoma State, even went so far as to put out an official news release saying it would be playing in the event, which the Cowboys dubbed the "Golden Window."
But Hoiberg on Tuesday wasn't ready to share details of any potential "bubble" in Lincoln because, well, there are too many unknowns still to be sorted out.
"As of right now there's just not a lot I can talk about, just because we're still working with the Big Ten on exactly what our schedule will look like," Hoiberg said. "Obviously we're preparing to play the whole 27 games."
That number is the key. NCAA Division I teams can play 27 games only if they play in an MTE. If they don't, the maximum games allowed is 25. 
Hoiberg made it clear he wants 27. He also made it clear that everything comes down to what the Big Ten decides its teams can do with their schedules.
"If the Big Ten tells us otherwise, then obviously we'll adjust," Hoiberg said. "But we just feel we have to get out in front of it and try to prepare as if we're going to play a 27-game schedule."
Other teams rumored to be a part of the field, which could potentially grow as large as 16 teams, are LSU, Nevada, Northern Iowa, Cleveland State, Illinois State, San Francisco, Western Kentucky and Colorado State.
That's a quality field, and one that would almost certainly give NU three solid nonconference matchups before any type of Big Ten play gets started.
The big issue is getting to that point.
"I know new information is coming in daily. And we do have calls every week with the Big Ten as far as our coaches being together," Hoiberg said. "And I'm confident that we'll get good direction. When exactly that will come, I don't know, but there's a lot of subcommittees out there as well.
"So once everything is put together, they will give us our schedule, and we'll do the best we can."
The Big Ten has played a 20-game league schedule since the 2018-19 season. If that stays in place, the Huskers would have to find seven opponents to get to their full allotment. 
There's a school up Interstate 80 in Creighton that would seem to be a good candidate. There's another to-be-named opponent in the ACC/Big Ten Challenge.
That leaves five games, perhaps against a number of teams already in Lincoln for a potential MTE, to make things work.
Be the first to know
Get local news delivered to your inbox!