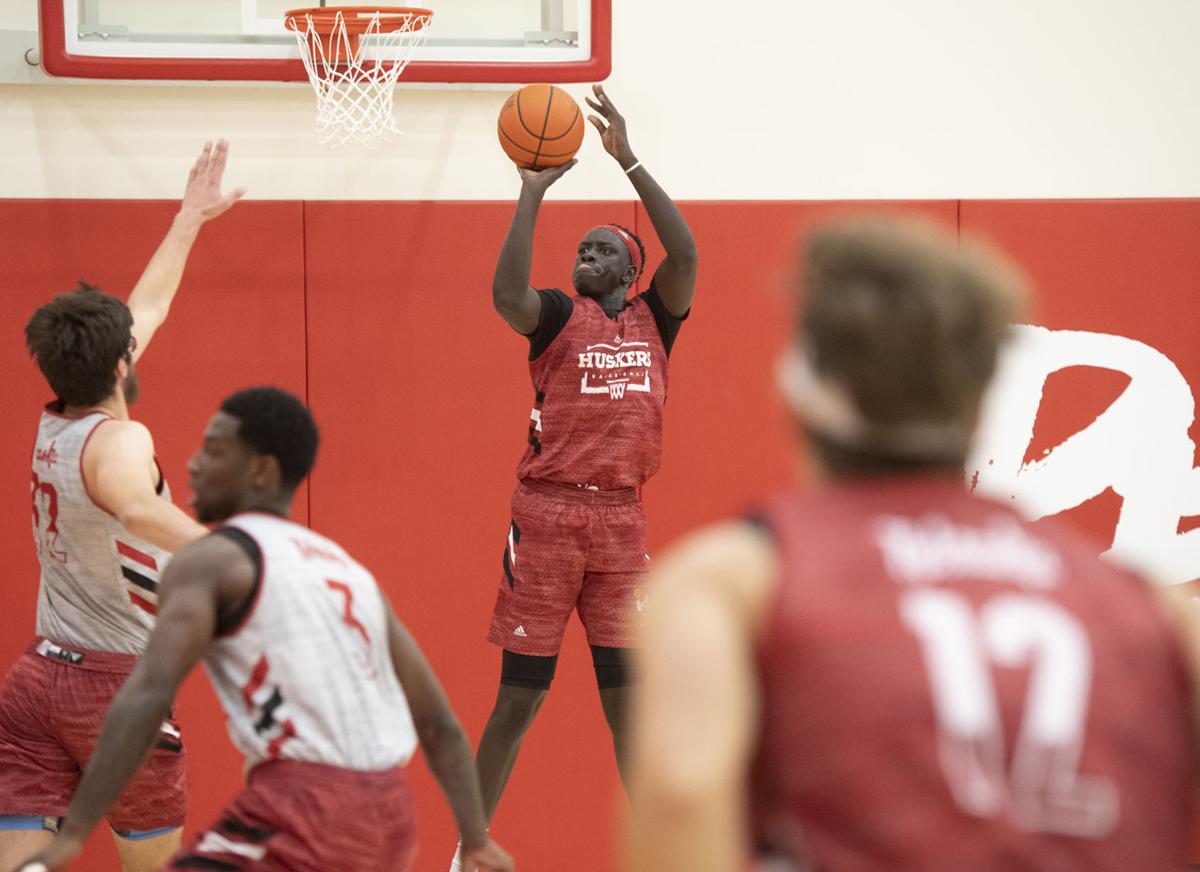 The Nebraska men's basketball team needed all the time together it could get before this season started to mesh its roster and make up for a lost 2020-21 season.
But a 42-day preseason practice schedule, after a summer spent in the practice facility, can take a toll on even the most ardent lovers of the game.
"Our guys are so sick and tired of beating on each other," NU coach Fred Hoiberg said Tuesday. "And we've spent so much time together — which obviously is a good thing. We didn't have the luxury of spending the amount of time last year that we do this year.
"So there's so much time that you're spending together, and the rules are, we can only play against each other until the exhibitions start."
Nebraska's players aren't bickering, or tired of each other, or anything like that. There aren't any culture fires Hoiberg and his staff are trying to put out.
But it's still a full week until the Huskers host Peru State in the season's first exhibition game at Pinnacle Bank Arena. It's still three weeks until the regular-season opener against Western Illinois. There's a lot of time for NU's players to still walk in to the Hendricks Training Complex and lace up the sneakers next to each other.
"I'm excited, man. I'm tired of going against my own teammates. A lot of times you're just ready to face somebody else," junior forward Lat Mayen said. "It's definitely a grind, you feel me? 
"You've just got to be consistent. It's a job at the end of the day — you've got to come in and perform, regardless. You just got to be consistent every day."
Consistency of performance is rather high, maybe at the top, of Hoiberg's to-do list this fall. Pushing through the grind of the offseason is maybe the best possible test where a player's mindset of consistency is.
"Back in the old days, when I played, it was pickup all summer, pickup in the fall, October 15 hit, and man, we were so excited for that first practice," Hoiberg said. "But now there's so much time, that first practice rolls around, the guys walk in dragging a little bit just because of the time we spent together.
"So you just have to try to keep it fresh, try to keep it as competitive as possible and hope your guys respond and take steps in the right direction every day, which I think we have."
Wilhelm Breidenbach, a laid-back freshman from California, agreed that the six weeks' worth of workouts could be long but also spun things positively.
"It's not too bad. You've really got to stay focused, obviously. So much time without a game and things like that, it kind of makes it a grind, I guess," Breidenbach said. "But we all know it's for our own good; we all have plenty of time to get better still. So we just treat it as that, and go as hard as we can."
Mayen at full health: Mayen sat out much of the summer rehabbing a back injury as the Huskers began their offseason workouts. As a veteran of the system, Hoiberg said, there was no reason for the 6-foot-8 forward to push his recovery and potentially cause a lingering issue.
Now fully healthy, Mayen said the time on the sideline allowed him to view the game in a different light.
Often praised as one of the team's hardest workers, Mayen was forced to watch, and learn from a new angle.
"It helped a lot, just being able to sit back a little bit, watch the guys over the summer, and really just focus on my weaknesses," Mayen said. "Sitting out and watching everybody play and watching everything from the side, you kind of see it a little different. So that definitely helped a lot."