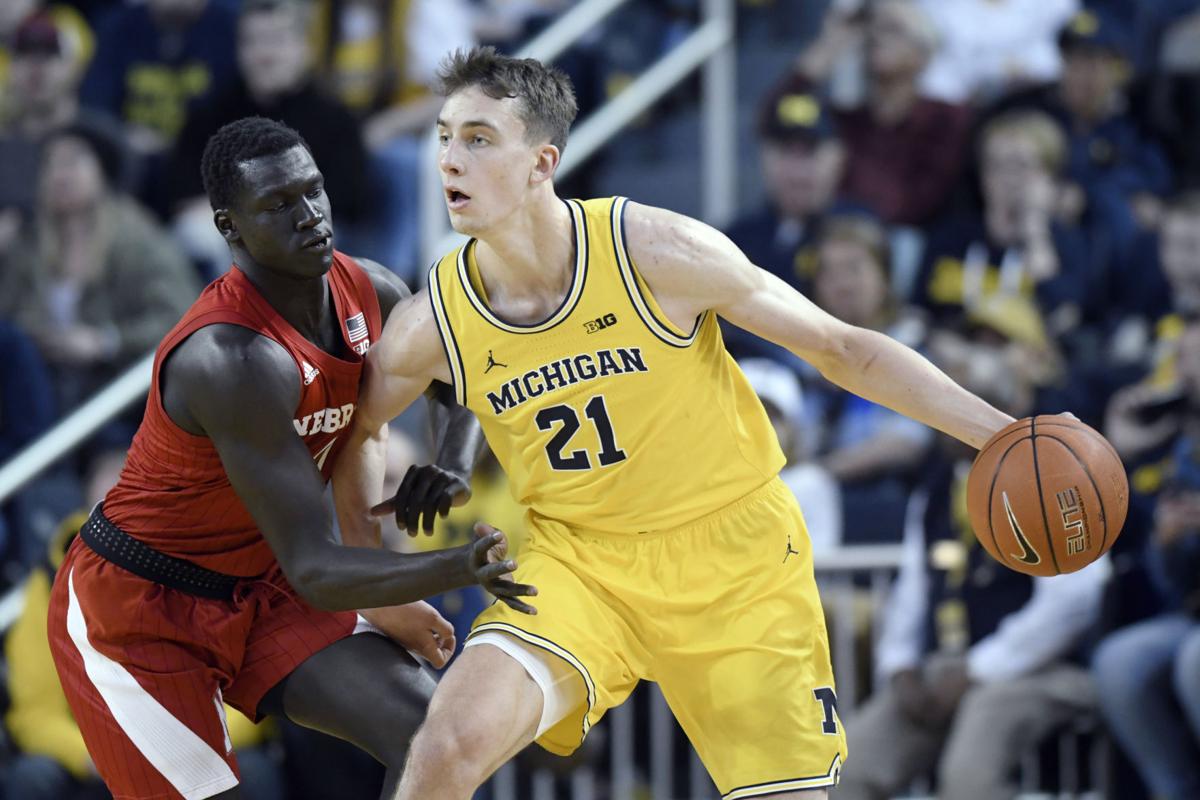 At long last, most of the Nebraska men's basketball team's schedule became public Wednesday.
Over the course of about four hours Wednesday afternoon and into the evening, the Big Ten released its conference schedule for each team, South Dakota announced it was coming to Lincoln for a nonconference game, and the Golden Window Classic at Pinnacle Bank Arena revealed the schedule for next week's event.
Nebraska will open Big Ten play Dec. 21 at Wisconsin as part of a 20-game league slate.
The schedule features two sets of "collapsible byes" during the weeks of Jan. 18-21 and Jan. 25-28, along with Feb. 22-25 and March 1-5, to allow flexibility should games need to be rescheduled. There will also be four games played on Christmas Day, including Nebraska's home game against Michigan.
Nebraska will play seven conference foes twice: Wisconsin, Michigan State, Purdue, Illinois, Minnesota, Maryland and Penn State. The Huskers will play single games against Indiana, Rutgers and Michigan at home, and against Iowa, Northwestern and Ohio State on the road.
It's the Big Ten, which means the slate of games is a gantlet. In all, the Huskers will play 10 conference games against teams ranked in the Associated Press preseason top 25.
NU's first four conference games are against No. 7 Wisconsin, No. 25 Michigan, No. 23 Ohio State and No. 13 Michigan State. The first unranked team NU will play is Purdue, a traditional power in the league.
Here is Nebraska's full conference schedule: Dec. 21, at Wisconsin; Dec. 25, vs. Michigan; Dec. 30, at Ohio State; Jan. 2, Michigan State; Jan. 5, at Purdue; Jan. 10, Indiana; Jan. 13, Illinois; Jan. 16, at Maryland; Jan. 20, Minnesota; Jan. 24, at Iowa; Jan. 30, Penn State; Feb. 3, at Michigan State; Feb. 7 or 8, at Minnesota; Feb. 11, Wisconsin; Feb. 14, at Penn State; Feb. 17, Maryland; Feb. 20, Purdue; Feb. 24, at Illinois; Feb. 28, Rutgers; March 6 or 7, at Northwestern.
Nebraska's nonconference slate also took more steps toward revealing itself Wednesday, with the unveiling of the Golden Window Classic schedule and South Dakota announcing it was playing the Huskers in Lincoln on Dec. 1.
As for the Golden Window Classic, Nebraska will play Saint Louis at 1 p.m. Thanksgiving Day, Nov. 26, and will take on San Francisco on Nov. 28 in its portion of the multi-team event. Other teams in the event are LSU, Western Kentucky, Nevada and Chadron State. The Eagles came on after Northern Iowa opted out of the event to play in the Bad Boy Mowers Classic in South Dakota.
Chadron State will play Nevada and San Francisco in the event. The Golden Window Classic opens Nov. 25 with LSU taking on San Francisco and Western Kentucky facing Nevada.
Other games in the event are LSU vs. Western Kentucky Nov. 26 and LSU vs. Saint Louis Nov. 28.
The Huskers' game against South Dakota will feature plenty of local connections. The Coyotes' roster includes former NU forward Brady Heiman and former Nebraska-Kearney guard Kanon Koster. And Nebraska walk-on legend Johnny Trueblood is a graduate assistant for USD.
South Dakota's addition to the schedule gives Nebraska four known nonconference games. NU is expected to open the season with a home game against McNeese State, which lists the Huskers as its opponent on Nov. 25. That game is not part of the Golden Window Classic. 
And, Husker coach Fred Hoiberg said Monday he was "confident" his team would also play Creighton, which would get NU to five of a possible seven nonconference games.
All of that came after a source told the Journal Star early Wednesday Nebraska's multi-team event would go forward with six teams after Northern Iowa and Illinois State both withdrew from the event over the past week.
Illinois State coach Dan Muller told The Bloomington (Illinois) Pantagraph on Tuesday that the Redbirds would instead open their season at Ohio State on Nov. 25 rather than playing games in Lincoln. 
Just another day in the world of pandemic sports scheduling.
Husker head coach Fred Hoiberg through the years