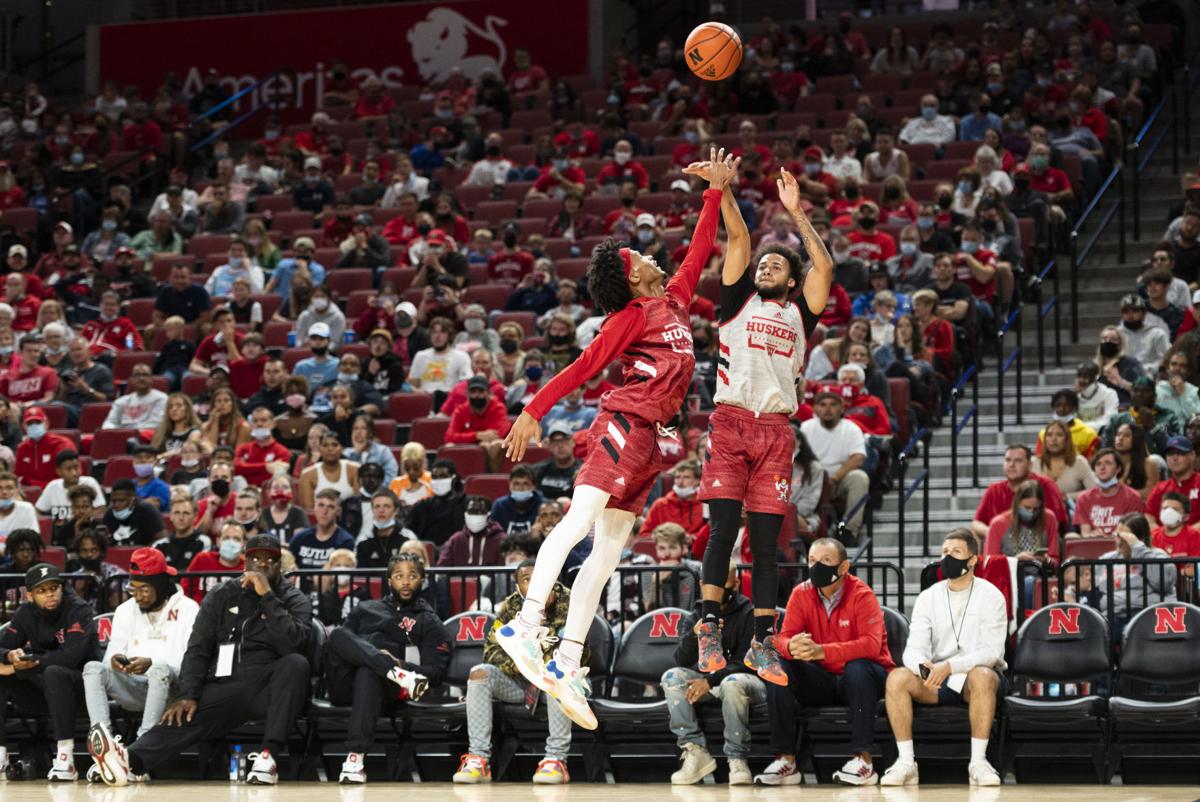 Only time will tell what this version of the Nebraska men's basketball team will be.
But the Huskers sure look like they're going to be fun.
Keisei Tominaga and Alonzo Verge Jr. had the Pinnacle Bank Arena crowd in the palms of their hands, and most everyone got their chance to join the party as NU welcomed fans back to PBA for the first time since March of 2020 at Opening Night with Husker Hoops.
NU women's coach Amy Williams told the crowd of roughly 6,500 she had tears in her eyes seeing fans back in The Vault for the first time in more than a year and a half.
"I have chills, having this phenomenal fan base back here in Pinnacle Bank Arena," Williams told the crowd before her team scrimmaged.
The men's team was introduced after the women's scrimmage, with freshman Bryce McGowens coming out last. The cheer for the five-star was rivaled only by that for Tominaga, the Japanese import who has impressed in workouts.
"This is one of the more welcome sights I've ever seen, to have the fans back in Pinnacle Bank Arena," NU coach Fred Hoiberg said. "You are absolutely going to love this team. It's a fun team, we have upgraded at every position. I promise you: this is going to be a team that is fun to cheer for."
For one night, with defense optional, the Huskers lived up to Hoiberg's promise.
Verge got cooking early, with nine points in the first seven minutes. In one sequence, he sent Kobe Webster stumbling after a crossover, hit the jumper, stole the ball from Webster on the other end, and got it ahead to Bryce McGowens, who tossed the ball off the backboard for his older brother Trey to finish.
Then Tominaga took his turn.
He hit a three from the First National Bank Logo about 26 feet from the basket for his first points. A few minutes later, he kept Verge in front of him as Verge tried to victimize another teammate, then came down and hit a three, and hit another one possession later to bring the crowd to its feet.
He pulled up from the Panhandle in the Nebraska silhouette at midcourt and drained one. He threw down a dunk late in the scrimmage.
Afterwards he did a television interview for the Japanese media.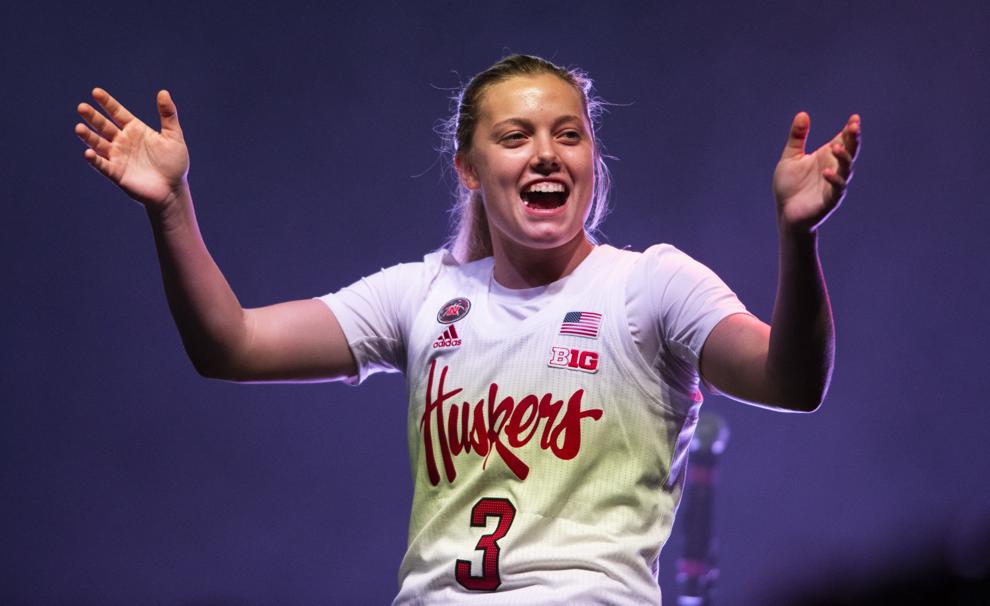 Tominaga's White team beat Verge's Red squad 69-55 in the 20-minute workout, with everyone but Lat Mayen, who watched from the bench, getting in on the action. Mayen sat as he continues to deal with a back issue.
For all but Webster, it was their first time playing in PBA with fans in the building. It was a similar story on the women's side, where 13 of Williams' 16 players seeing fans in the building for the first time.
Friday was a celebration, both for the return of basketball for two programs that should be improved this season, and the fans who filled much of the lower bowl on a busy Friday night to watch them.
The night began with CBS Sports college basketball insider Jon Rothstein emceeing the event.
"Finally," Rothstein said, borrowing a line from pro wrestler turned actor Dwayne "The Rock" Johnson, "college basketball has come back to Lincoln, Nebraska."
Rothstein can be prone to a bit of hyperbole from time to time. But he also watched Nebraska practice behind closed doors earlier Friday, and delivered a message to the crowd.
"I can tell you, from what I saw earlier today, and what you will see in a little while, Nebraska has the tools to have a dog in the fight," Rothstein said.
Rapper G Herbo arrived just as the men began warming up, taking a seat courtside with his entourage. He later performed for the crowd, joined on stage by members of both hoops squads.
By that point, the entertainment was well underway. Webster made a half-court shot in warmups. Tominaga made one while sitting in the courtside seats.
And those in PBA were happy to watch.