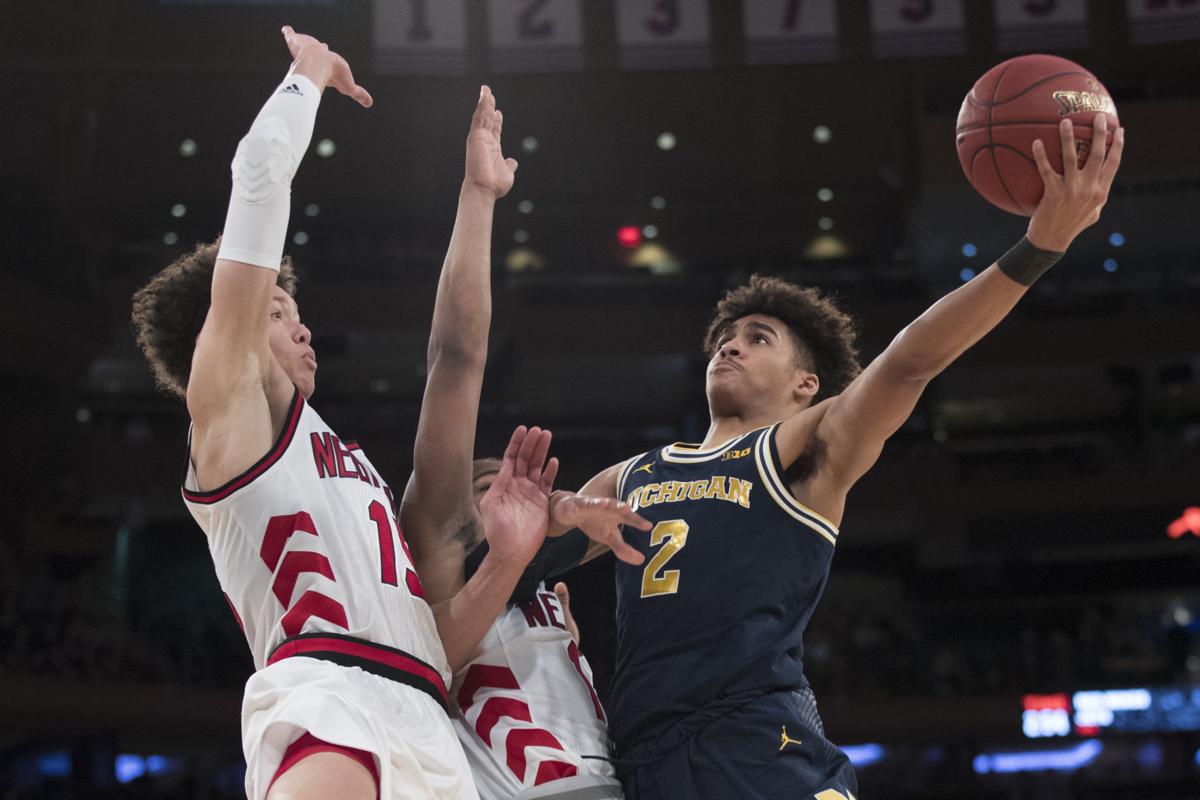 NEW YORK — The Nebraska men's basketball team came to New York City like a lot of dreamers do: full of big plans and ready to make a go of it in the big city.
The Huskers left like a lot of those people do, too — with their hopes swallowed up. 
In what has become an all-to-familiar theme, Nebraska came up short in a moment it could ill afford to have such a performance.
And not just short. Short in a manner that had supporters shaking their heads.
Nebraska led 9-5 early on Friday. Then the Huskers missed 19 of their next 20 shots as Michigan took control; a statistic that sounds even more outlandish after the fact. Then, NU got back within seven to start the second half before the Wolverines bombed away against the Big Ten's best three-point defense to re-establish their dominance.
"We had that little spree to start the game; everybody's having fun and high-fiving. Then Michigan locks in, and we get really sensitive offensively," Husker coach Tim Miles said after the game. "And you saw that in our guys' body language. The frustration set in."
This isn't the first time this season Nebraska couldn't deliver in a big spot.
The 73-72 loss to Kansas stands out, of course. The Huskers left a slumping Svi Mykhailiuk open in the corner with less than 30 seconds to go, and the Jayhawk senior buried the game-winning three.
Nebraska went into Creighton, played the Bluejays tougher than they have in years, then saw Glynn Watson go to the bench with a phantom fifth foul in the closing minutes of a one-possession game and lost by 10.
At Ohio State, Nebraska delivered one of its best defensive performances of the season, got an all-time performance from James Palmer, who scored 34 points, but missed key free throws down the stretch of a 64-59 loss.
Win just one of those three, and Nebraska's position this week is far less precarious. Win two, and the Huskers are worry-free.
Find a way to beat Michigan on Friday, and the narrative changes completely.
"If we win, we're in, I think," Miles said. "You'd sweep a five-seed (in the Big Ten), you'd have a former Quad 1 win with Minnesota. I think we'd be a lock, almost. But now we have to wait it out, and we will."
The whole thing looks a lot like four years ago.
Like this season, that Huskers team won eight of its last 10 games going into the Big Ten Tournament to earn the No. 4 seed and a double-bye to the tournament quarterfinals.
Nebraska then led Ohio State 48-30 with 13:45 left before blowing the 18-point advantage and losing 71-67.
A trip to the NCAA Tournament followed, where the Huskers went 9:07 without a field goal in the first half against Baylor, scored a season-low 16 points in the first 20 minutes, and saw Miles ejected by referee Karl Hess in a bizarre — to say the least — situation in which the Nebraska coach had gone to the scorer's table to note the shot clock wasn't working.
It remains the first and only time Miles has been ejected from a game in more than 20 years as a college head coach.
Baylor won that game 74-60 to send Nebraska to 0-7 all-time in NCAA Tournament games, with those defeats coming in all sorts of disappointing ways. The Huskers haven't been close to the Dance since until this season.
Whether the Huskers get a chance to atone for all those NCAA Tournament misses remains to be seen.
The best Nebraska can do now is campaign, and hope.
"I hope (the selection committee) takes into consideration our record, some of the wins we had, and also some of the situations we got put in," sophomore Isaiah Roby said. "The Big Ten, you can say it was down, but I think it was just really competitive. Even the bottom teams, they're taking every team to the wire. So I think having the record we did in this conference was a great accomplishment."