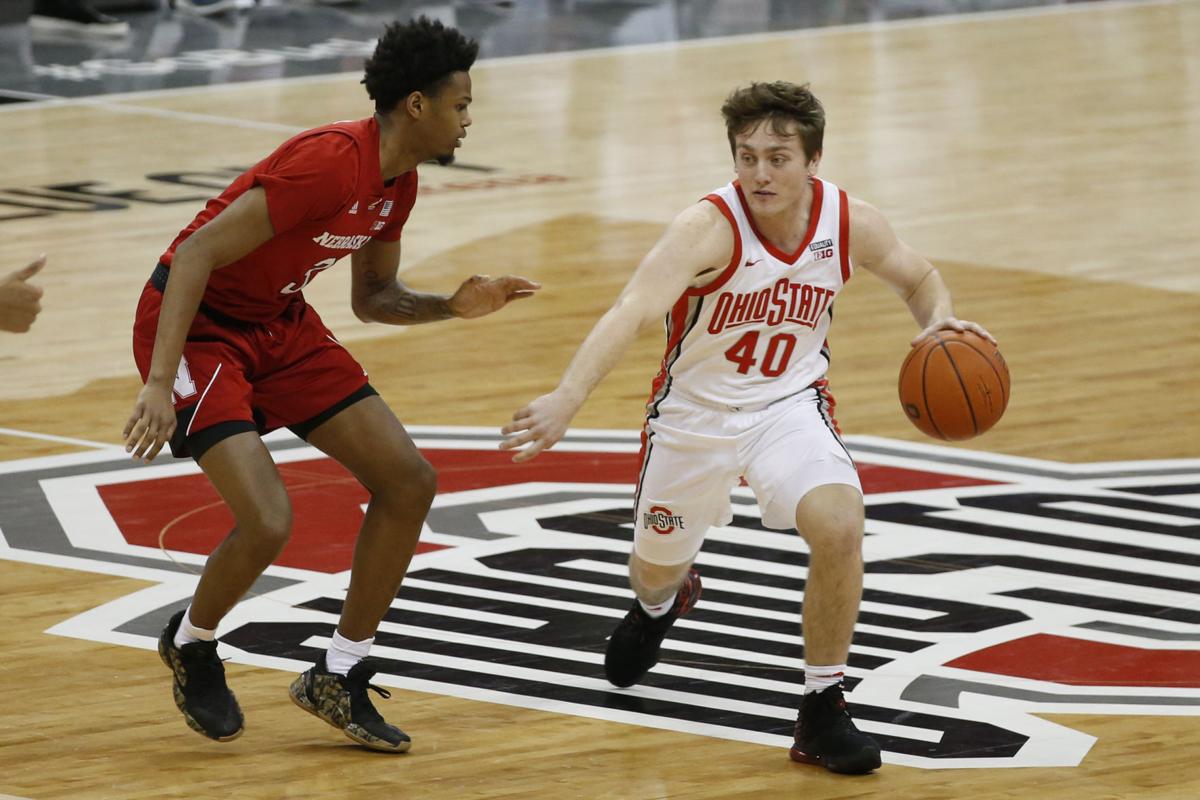 It's going to be a fascinating next six weeks, both in terms of what Big Ten teams make a run for the league title, and what Big Ten teams actually play all their league games. Get ready for some scheduling madness.
1. Michigan (13-1, 8-1 Big Ten)
The Wolverines bounced back from a loss at Minnesota with two more double-digit wins. There are two teams in the nation that own top-10 offenses and defenses according to KenPom: Baylor (No. 3 offense, No. 1 defense) and the Wolverines (No. 7 offense, No. 6 defense). As of this week, Michigan is a bona fide national title contender. The Wolverines, however, are on hiatus until at least February amid a shutdown of all Michigan athletics due to coronavirus concerns.
2. Ohio State (12-4, 6-4)
The only thing keeping the Buckeyes from a five-game winning streak is losing a six-point lead with three minutes left in a two-point loss to Purdue. Ohio State has done much of its recent work while dealing with multiple injuries, and only figures to get more dangerous as it gets healthier.
Up next: vs. Penn State Wed.; vs. Michigan State Sun.
3. Iowa (12-3, 6-2)
Went stone cold in the second half of a loss to Indiana, finishing 5-for-23 from three-point range and failing to score 70 points for the first time this season. After a similar shooting performance against Nebraska last season, the Hawkeyes went on to win six of their next seven.
Up next: at Illinois Fri.
4. Wisconsin (12-4, 6-3)
If the Badgers aren't shooting it well from three-point range, they're pretty meh offensively for a team that returned so much experience from last season. See their last four games, where they've shot 25%, 37%, 24% and 32% while going 2-2 after a 10-2 start.
Up next: at Maryland Wed.; at Penn State Sat.
5. Purdue (11-6, 6-4)
Got smacked by Michigan, which is happening to a lot of teams these days, but this is still one of the hottest teams in the conference. The Boilermakers have three players shooting better than 40% from three-point range with at least 37 attempts.
Up next: vs. Minnesota Sat.; at Maryland Feb. 2.
6. Illinois (10-5, 6-3)
He's been overshadowed a little bit by the league's dominant big men, but Illini guard Ayo Dosunmu has been outstanding after deciding to come back for one more year: 21.7 points per game on 49% shooting, and playing a team-high 34 minutes per game for one of the top squads in the country.
Up next: vs. Iowa Fri.; at Indiana Feb. 2.
7. Minnesota (11-5, 4-5)
Scored just 49 points against Maryland last week in losing its first home game of the season. Despite being 2-4 in its past six games, Minnesota remains ranked in The Associated Press Top 25 poll (No. 21 this week). That's partially due to the quality wins the Gophers have, and partially due to the ridiculous strength of the conference.
Up next: at Purdue Sat.; at Rutgers Feb. 4.
8. Rutgers (8-6, 4-6)
Got a desperately needed win against Indiana on the road Sunday, and now a chance to build momentum with games against a Michigan State team coming off a COVID-19 pause, a Northwestern crew that has lost seven in a row, and a Minnesota squad that really struggles away from home.
Up next: vs. Michigan State Thu.; at Northwestern Sun.
9. Indiana (9-7, 4-5)
Followed up maybe the best win of the Archie Miller era, a 12-point win at Iowa, by losing at home to a Rutgers team that had lost five in a row. The Hoosiers are a NCAA Tournament team, but that inconsistency will likely keep them from earning a single-digit seed.
Up next: at Iowa Thu.; vs. Rutgers Sun.
10. Maryland (9-7, 3-6)
Eric Ayala is quietly putting together an elite shooting season for the Terps. The senior guard is hitting 63% of his two-pointers, 35% of his threes, and 82% of his free throws while leading Maryland in scoring. Maryland is going to have an interesting postseason case if it can get to eight or nine league wins.
Up next: vs. Wisconsin Wed., vs. Purdue Feb. 2.
11. Michigan State (8-4, 2-4)
The Spartans appear ready to return to action after a COVID-19 pause that's kept them sidelined since Jan. 8. Tom Izzo said Monday he had 10 players at practice earlier that day, and that Thursday's game at Rutgers was still on as scheduled.
Up next: at Rutgers Thu.; at Ohio State Sun.
12. Penn State (5-6, 2-5)
Two straight wins for the Nittany Lions, and they came at the end of a stretch of four games in seven days. Impressive resilience for a team that had previously lost five in a row. Now a run of four games in 10 days starting Wednesday as PSU tries to get back on schedule.
Up next: at Ohio State Wed.; vs. Wisconsin Sat.
13. Northwestern (6-8, 3-7)
Saturday's defeat at Penn State marked the first time in seven games the Wildcats hadn't lost by double digits, which is ... something. It's been a disappointing stretch for a team that returned a lot of young players and started 3-0 in the league.
Up next: vs. Rutgers Sun.
14. Nebraska (4-8, 0-5)
Nebraska expects to be back on the floor Feb. 3 at Michigan State. From there, it's going to be a race to see if the Huskers can make up the six games they lost to their COVID-19 pause. NU has 32 days from that Michigan State game to the March 7 season finale at Northwestern. Get ready for a lot of hoops.
Up next: at Michigan State Feb. 3.
Meet the 2020-21 Nebraska men's basketball team