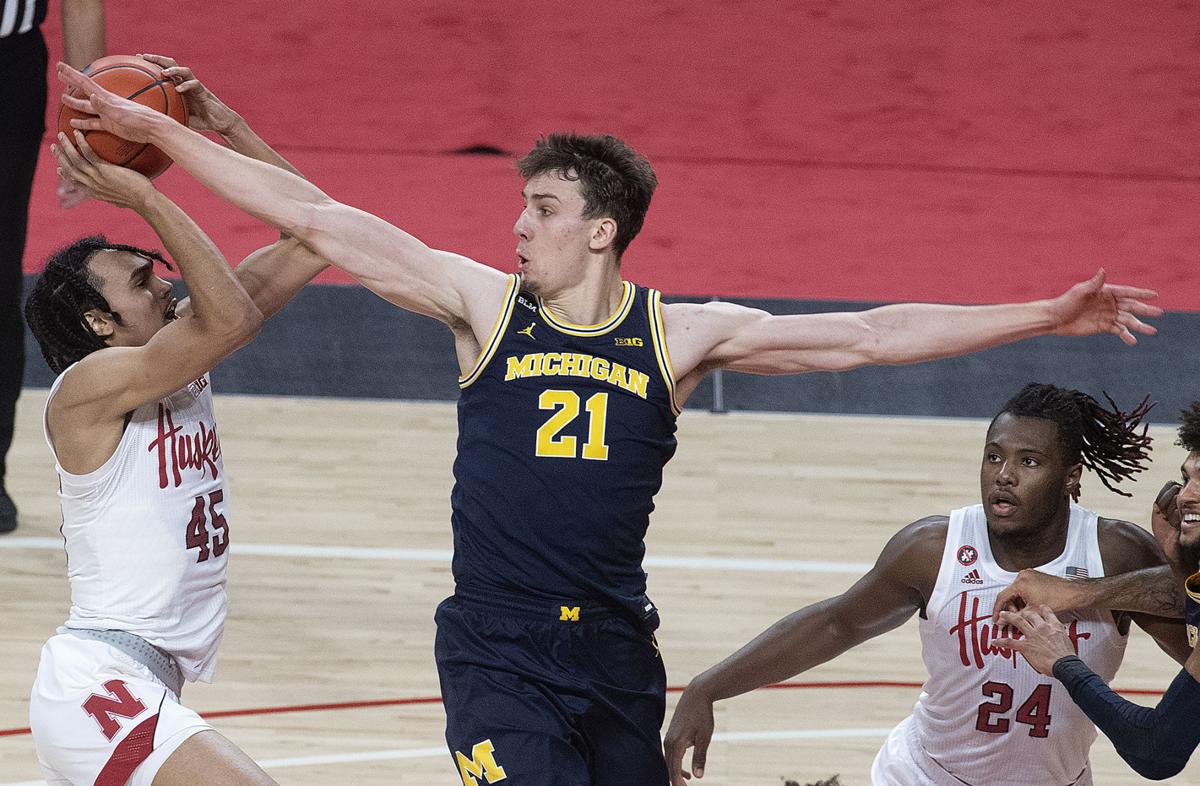 As expected, the Big Ten has been a bear as we reach the quarter pole in the league schedule. There's still plenty to be decided as teams enter the real grind.
1. Michigan (10-0, 5-0 Big Ten)
Not only are the Wolverines unbeaten in the league, but they've also won each of their last four games by double figures. Wisconsin on Tuesday represents Michigan's toughest test so far.
Up next: vs. Wisconsin Tue.; at Minnesota Sat.
2. Iowa (11-2, 5-1)
Since losing to Minnesota in overtime, the Hawkeyes have won their last four by an average of 13.5 points. That includes a 15-point revenge win over the Gophers on Sunday. Luka Garza has been dominant all season.
Up next: vs. Michigan State Thu.; at Northwestern Jan. 18.
3. Wisconsin (10-2, 4-1)
The Badgers are just so solid and consistent, which will go a long way in a deep league with tons of parity. Their ceiling might not be as high as an Iowa or an Illinois, but they'll be in just about every game right down to the end.
Up next: at Michigan Tue.; at Rutgers Fri.
4. Illinois (9-4, 5-2)
Three of Illinois' four losses this season have come by three points, including both in league play. Not all that far from being a top-five team in the national polls. There aren't a lot of weaknesses anywhere on the roster.
Up next: at Nebraska Wed.; vs. Ohio State Sat.
5. Ohio State (9-3, 3-3)
Two of Ohio State's three Big Ten wins have come against league darling Rutgers, with the other against Nebraska, so the jury is still out on just where this team fits in the conference hierarchy. Buckeyes have leaned hard on their defense so far.
Up next: vs. Northwestern Wed.; at Illinois Sat.
6. Rutgers (7-4, 3-4)
The shine has come off the Scarlet Knights a bit with three straight losses, including two by double figures. This is still one of the best teams in the league, and Ron Harper Jr. is having an All-America caliber season.
Up next: at Penn State Tue.; vs. Wisconsin Fri.
7. Indiana (8-5, 3-3)
Up next: vs. Purdue Thu.; at Michigan State Sun.
8. Purdue (8-5, 3-3)
Trevion Williams has emerged as yet another dominant big man in a league full of them, but the Boilermakers need more around him. Another team that can make it hard for any opponent on any night.
Up next: at Indiana Thu.; vs. Penn State Sun.
9. Michigan State (8-4, 2-4)
This is not exactly a vintage Spartans team. Michigan State is good enough to beat Rutgers by 23, but inconsistent enough to lose to Minnesota by 25. Tom Izzo has work to do to help his team avoid missing the NCAA Tournament.
Up next: at Iowa Thu.; vs. Indiana Sun.
10. Maryland (7-6, 2-5)
Maryland's two conference wins: at Wisconsin and at Illinois. There might not be a better indication of Big Ten's depth than that odd nugget.
Up next: vs. Nebraska Sat.
11. Minnesota (10-4, 3-4)
Marcus Carr, when he's going good, is enough to keep Minnesota competitive most nights. The gap between the Gophers' good and their bad might be the widest in the conference.
Up next: vs. Michigan Sat.
12. Northwestern (6-4, 3-3)
The Wildcats' 3-0 start to conference play has evaporated as the reality of the grind has set in. Northwestern's most recent three games have been losses by 15, 19 and 25 points.
Up next: at Ohio State Wed.
13. Penn State (3-4, 0-3)
The Nittany Lions haven't played since Dec. 30 as the program has paused because of COVID-19 issues. Penn State has played just seven games this season.
Up next: vs. Rutgers Tue.; at Purdue Sun.
14. Nebraska (4-8, 0-5)
Up next: at Maryland Sat.; vs. Minnesota Jan. 20