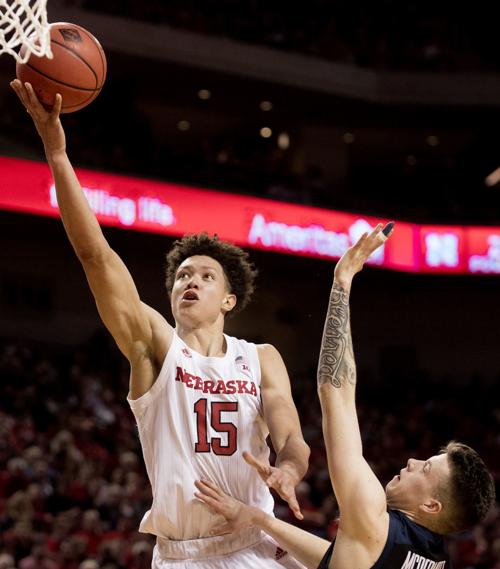 A drought 20 years in the making will very likely end Thursday night.
And the man who brought the player who almost certainly will be Nebraska's first NBA Draft pick in 20 years will be watching closely.
Tim Miles and Isaiah Roby will be forever linked in the annals of Husker hoops history. Miles as the coach who saw Roby's potential when the forward was just a baby-faced kid coming off his sophomore season of high school ball; and Roby as the player with athletic gifts rarely seen on Nebraska's basketball teams of the last 25 or so years.
"He's always had good skill, and he's always had a great feel for the game and very fluid, and made really good plays. And when I saw him, it was just one of those things where, you sit there and you say, 'Wow. I think this kid has a chance to be, just physically, he's got a chance to be really special,'" Miles said Tuesday.
"Then when you meet him and understand his story and his family and how great they are, and his level of integrity and all those things that go with him, those things that make him so endearing to everybody, that's when I think you say, 'Listen, this guy's got a real chance.'"
Roby's chance is very real. He's worked out for nearly a dozen NBA teams, and parlayed a strong performance at the NBA Draft Combine into increased interest. Most draft projections have the 6-foot-9, 230-pound forward being picked anywhere from 36th to 46th overall, with a chance to sneak into the bottom of the first round.
He's worked out twice for two of the league's most successful franchises in recent years — the Warriors and the Spurs. The 76ers have had him in, as have the Bucks, Bulls, Timberwolves, Hornets, Cavaliers, Nets, Thunder and Kings.
Should he be picked Thursday night — the draft starts at 6 p.m. on ESPN — he would be the first Husker taken since Venson Hamilton in 1999. Injuries short-circuited Hamilton's NBA career before it got started — he never made it to the league. 
Should Roby step on an NBA court next season, he would be the first Husker to play in an NBA game since Mikki Moore in 2012.
If chosen, Roby would be just the fifth Nebraska player drafted since the draft went to two rounds in 1989. The other four are Hamilton, Tyronn Lue (1998), Eric Piatkowski (1994) and Rich King (1991).
"I knew (Nebraska's draft history) from the time Nebraska started recruiting me," Roby told the Journal Star last month after announcing his decision to forgo his senior year at Nebraska. "I heard people telling me, 'If you want to go to the NBA, Nebraska's not the right school; they don't have a track record of putting guys in it.' So I kind of always had that.
"That's something I was excited about, and that challenge was something Coach Miles sold me on, leaving my mark on this program, and I think I did a good job of that."
Miles, who said he's talked to Roby about once a week throughout the pre-draft process, agreed that Roby made an impact at NU. Going to a pair of NITs instead of making the NCAA Tournament during Roby's time in Lincoln was the most disappointing part of the last three seasons, he said.
"But at the same time, I think when you look at his impact on Nebraska basketball, and now, hopefully, his impact on professional basketball, people are going to know his name and his character and his integrity for a long, long, long time," Miles said. "He's one of those guys, I think, that people will always refer back to."
Briefly
* While he isn't expected to be drafted Thursday, James Palmer is harboring his own NBA dreams.
The high-scoring Husker guard, who graduated this spring, has worked out for eight teams (Minnesota, Dallas, Philadelphia, Charlotte, Portland, Memphis, Golden State and Los Angeles Lakers) over the last three weeks.
If he isn't drafted, there's a good chance Palmer would get a shot in the NBA Summer League. Recent Huskers to make appearances there include Tai Webster, Shavon Shields, Andrew White and Terran Petteway.
Fellow seniors Glynn Watson and Isaac Copeland are also hoping to catch on with a professional club. Watson worked out for Sacramento earlier in June, while Copeland continues his rehab from a torn ACL suffered in January.
* Nebraska will take on Washington State in the first round of the Cayman Islands Classic in November. The Huskers will play three games Nov. 25-27 in Grand Cayman.
NU and the Cougars will face off at 6:30 p.m. on Nov. 25 in the final game of the opening day. The Huskers will play either George Mason or Old Dominion in their second game.
Nebraska and Washington State haven't met in men's basketball since the 1998-99 season.
Other teams in the event are Loyola-Chicago, South Florida, Colorado State and New Mexico State.
Be the first to know
Get local news delivered to your inbox!