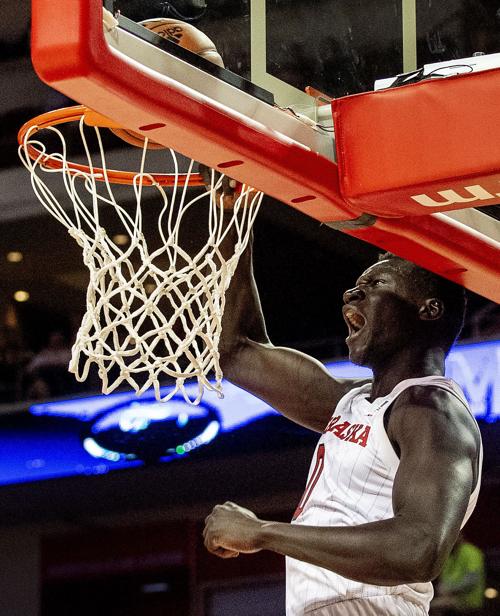 Nebraska sophomore forward Akol Arop and freshman guard Elijah Wood will both transfer from Nebraska, a source confirmed to the Journal Star on Monday evening.
Nebraska coach Fred Hoiberg confirmed the players' departures Monday evening.
"Everyone in our program appreciates Akol, Yvan and Elijah's contributions to our program, especially over the past year during the pandemic," Hoiberg said in a news release. "I have enjoyed coaching all of them and will support them as they finish the spring semester and begin the process of looking at other schools. I wish them the best in the future."
Arop, a Creighton Prep graduate, didn't play in 2020-21 after undergoing a procedure on his knee in the preseason.
That came one season after Arop was never able to find a consistent place in Nebraska's rotation. He played in 21 of Nebraska's 31 games in 2019-20, and didn't see significant minutes until late in that season.
With a roster loaded with depth on the wings, Arop's chances for playing time this season would have been slim even if he had been healthy. And Nebraska is adding a pair of top-100 recruits to the mix next season that would have made it even more difficult for Arop to get on the floor.
Wood was the final player added to Nebraska's roster before the start of this season, joining the Huskers in June 2020 just hours after Wisconsin transfer Kobe King decommitted from NU.
The 6-foot-5 guard out of Hargrave Military Academy in Virginia had originally signed with Rhode Island in November 2019 as a 2020 recruit, then withdrew that commitment and was going to reclassify to 2021 until King's departure opened up an opportunity at Nebraska.
Wood saw limited playing time, appearing in 13 games in 2020-21 and scoring a total of 10 points to go with five rebounds. He had a season-high eight points against Doane.
Arop's playing time jumped dramatically late in 2019-20 as Nebraska dealt with injuries and suspensions that knocked the roster down to seven available scholarship players.
He set a season-high in minutes played in each of the final three games of the season, playing 20 minutes at Michigan (where he had career highs of five points and six rebounds), 21 at Minnesota and 23 against Indiana in the Big Ten Tournament.
Those three games accounted for more than half of his 114 total minutes played, nearly half of his 22 total points, and 43% of his total rebounds.
Arop originally committed to former Husker coach Tim Miles in October 2018, just before the start of his senior season at Creighton Prep. He went on to be named the Nebraska Gatorade player of the year in 2018-19.
The 6-6, 190-pounder then met with Fred Hoiberg shortly after the coach was hired in April 2019, and reaffirmed his commitment.
Arop came to Lincoln after averaging 19.4 points on 62% shooting to go with 10.9 rebounds and 2.6 shots per game as a senior for Creighton Prep.