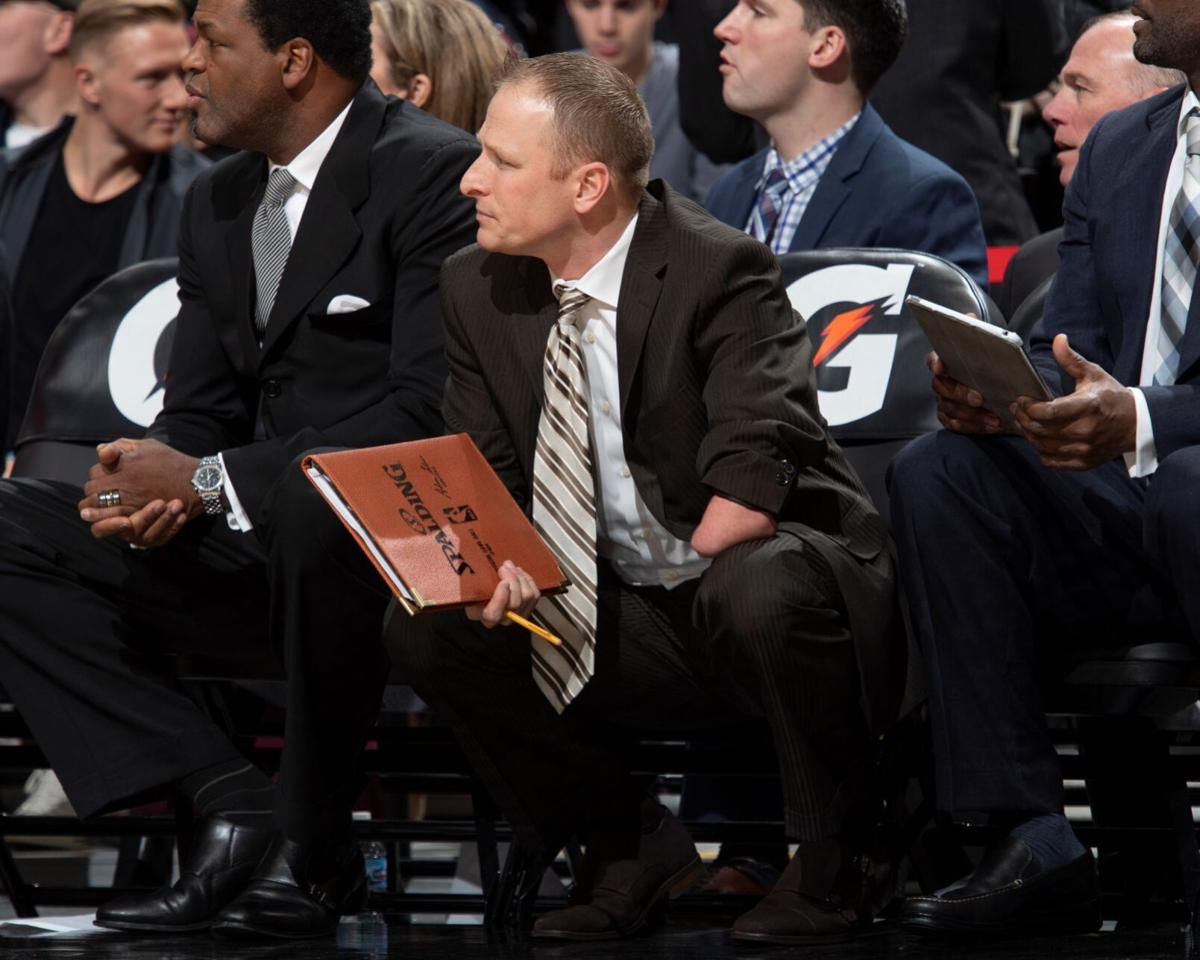 When it came time for Fred Hoiberg to reset his staff, he didn't have to look far.
The Nebraska men's basketball team announced Tuesday that Nate Loenser, who worked for Hoiberg at both Iowa State and the Chicago Bulls, has joined the team as an assistant coach.
Loenser will be a full-time assistant while Doc Sadler, the former NU head coach who has been on Fred Hoiberg's staff for the past two seasons, will shift into the special assistant to the head coach role vacated by Bobby Lutz when Lutz left Nebraska to pursue other coaching opportunities. Sadler's $320,000 salary will remain unchanged on a contract that runs through April of 2022.
This will be Loenser's third time working on one of Hoiberg's coaching staffs. His contract is a two-year deal that will pay him $200,000 this year and $300,000 in 2022.
"I think we both knew if there was ever a situation where he had an opening on his staff, that we would both be interested in that," Loenser said Tuesday night on "Sports Nightly." "And the dominoes had kind of all fallen from there."
Loenser, who signed his contract on March 26, has been working with Nebraska's players for a week as the team begins to make its way through offseason workouts.
"I believe that he is the best player development guy I have worked with," Hoiberg said in a news release. "He was a valuable member of our staff that won a pair of Big 12 Tournament titles in Ames. … He has earned the respect of players around the (NBA) because of his ability to relate with players, and to help them reach their goals."
Known for his offensive acumen and ability to develop players, Loenser spent five seasons with the Bulls, working as an assistant under Hoiberg and Jim Boylen. He was also the head coach of the Bulls' G League team, the Windy City Bulls, in 2016-17.
While with the Bulls, Loenser worked with 2021 NBA All-Star Zach LaVine, among others.
"Nate was my guy. He's a great, sincere guy who helped me a lot with my game — both on the court and off," LaVine said in a statement. "He's very into his job and takes it extremely serious, and will do anything for the program and for the players. I'm very happy for him. You guys are getting a good one."
Loenser first joined Hoiberg's Iowa State staff in 2013 as a graduate assistant, and worked in a variety of roles for the Cyclones, including as ISU's director of player development in 2014-15.
"We've been together at Iowa State and with the Bulls. So the comfort level that I have with him is already — it's a seamless transition. I understand how he works, how he thinks. I think I'm able to fill in some gaps for him," Loenser said. "And I know his terminology, I know his system, I know all those things, so that's a seamless transition right there."
Loenser also spent six seasons at Southern Mississippi under Larry Eustachy, and was a high school coach in Iowa before joining Hoiberg's staff in 2013.
A native of Cedar Falls, Iowa, Loenser attended the same high school as Nebraska football great Trev Alberts, who was in the same class as his older brother. Loenser had an older sister who lived in Lincoln for several years, and visited the city several times in high school and college. 
Now, he'll coach here, with a career of experiences to draw from.
"Treating people the right way, working hard, being diligent, showing up day to day, showing professional work habits — didn't matter if you were working with a sixth grader all the way up to a $20 or $30 million player. Ultimately it comes down to, do you know what you're talking about," Loenser said. "And if that person sees results, then they believe in you and they trust that you have their best interests (in mind), then it all translates."
Meet the 2021-22 newcomers for the Husker men's basketball team