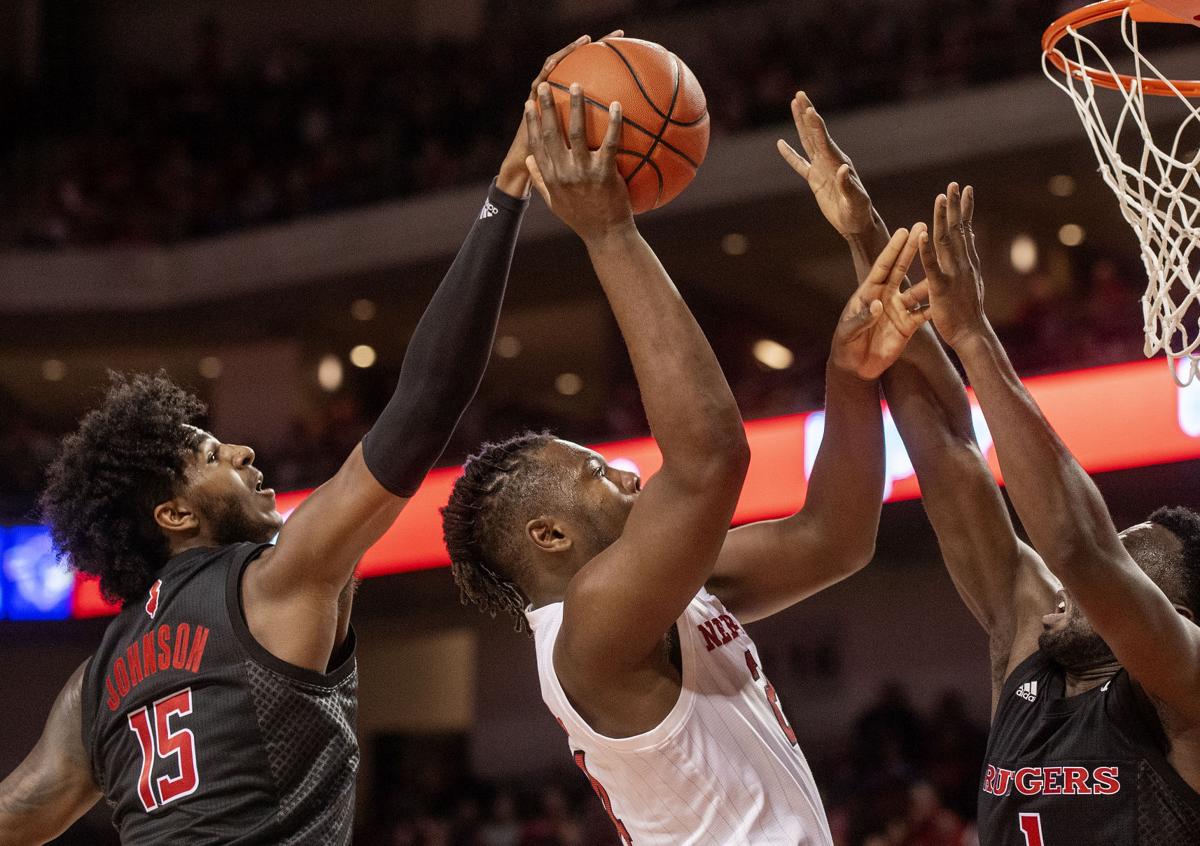 There have been precious few views into the workouts of the remade Nebraska men's basketball team this fall — and for good reason.
But one of those glimpses provided a look at just how different this 2020-21 team could be.
In a photo posted on the team's social media accounts a little more than a week ago, sophomore forward Yvan Ouedraogo, freshman forward Eduardo Andre and junior forward Derrick Walker meet at the rim with Ouedraogo's massive hands wrapped around the ball.
The 6-foot-9, 245-pound Ouedraogo is bracketed on one side by Andre and his 7-5 wingspan, and on the other by Walker's 6-8, 232-pound frame.
For a team that last season could count only Ouedraogo among its true post players eligible to play, the photo is an illustration of the improved depth both in Nebraska's frontcourt, and overall.
"He's still young, obviously, as an 18-year-old going into Year 2. But having Derrick, that will be eligible for us this year; the length of Eduardo — and I've seen great improvement with Eduardo every day," Nebraska coach Fred Hoiberg said. "So that presents different challenges from what (Yvan) would go through on a daily battle in practice last year, just to have that length to go up against that will simulate a lot of what he's going to face in the Big Ten."
Ouedraogo started 30 games as a 17-year-old freshman last season, largely out of necessity. The Huskers simply didn't have anyone else with his size available to play.
Walker was available to go up against Ouedraogo in practices, but NU's post depth was still limited.
Now there are options, both for games and to foster competition in practice.
"I would say it helps me because last year I was the only true big on the team. This year we have Derrick and Eduardo, who are also big as well and working hard," Ouedraogo said. "It helps me, and it's also closer to reality, you know, because in the Big Ten the bigs are really big, they're athletic, they're really good. So having some good players at practice to play against is definitely helping me."
Ouedraogo was thrown in the deep end of the pool last season, going against some of the best bigs in the country. He's likely set for a similar role this season. And now NU has reinforcements.
"You just look at the size of our team this year compared to where we were a year ago, the physicality of this group, the athleticism of this group, I think we're in a better spot," Hoiberg said. "The league's going to be a monster again, obviously. I think it's going to be the best league in the country again. But we are certainly on the right path on going out and competing and giving ourselves a chance to win every time we step on the floor."
For a team that won seven games last season while making the transition to a new coaching staff, having the depth to have a chance to win every time out would certainly be considered a step in the right direction.
"I would say it makes it easier, but we can't forget last year. I feel like last year was a (good) experience, too. We lost a lot of games; it was tough, but it was also a lot of experience," Ouedraogo said. "And even though me and Thor (Thorbjarnarson) are the only two returners, we've got Dalano (Banton), Shamiel (Stevenson) and Derrick who saw it, too. So we're just using last year as a fuel. With everything that happened last year, we just want to make sure it's not happening this year."
Meet this year's Nebraska men's basketball team
Be the first to know
Get local news delivered to your inbox!