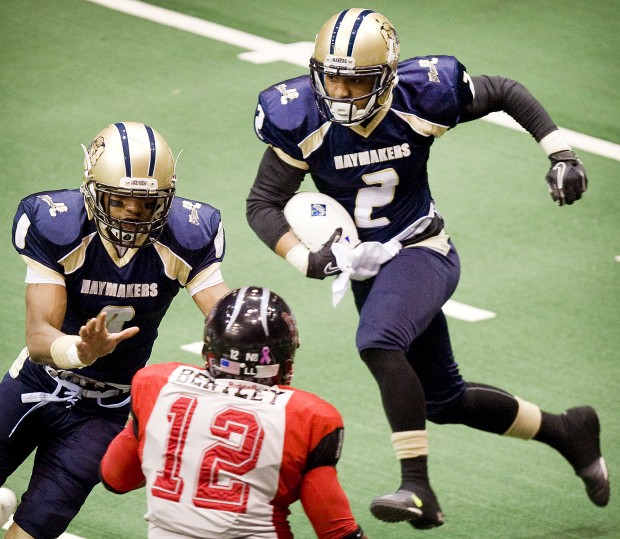 Many of us remember Cortney Grixby as a steadying presence during Bill Callahan's oft-tumultuous four-year run as Nebraska's head football coach (2004-07).
Grixby lettered each of those seasons, and in fact started the final three. The 5-foot-9 Omahan used his outstanding athleticism -- he was ultra-quick and an outstanding leaper -- and competitiveness to make up for his lack of size.
He also was a very intelligent player.
He is still putting those attributes to good use, now for the Lincoln Haymakers of the Champions Professional Indoor Football League. He played a lead role in the team's 48-39 triumph over the Bloomington (Minn.) Edge on Friday night at Pershing Center in downtown Lincoln.
Grixby returned the opening kickoff 46 yards to the Bloomington 4-yard line, setting up ex-Husker standout running back Marlon Lucky's touchdown on a run to the left. Grixby again showed his quickness in the fourth quarter when he returned a short 56-yard Edge field-goal attempt for a touchdown.
"Cortney is probably the most explosive player in the league," Lincoln coach Dave Brumagen told our Alex Lantz for his game story. "He is a threat to score anytime, anywhere on the field when he gets his hands on the ball, as we saw tonight."
Grixby, a defensive back, was also a key piece to a successful defense that held the Edge to 171 yards and forced two turnovers.
After opening the season with a win, Lincoln (3-4) dropped four in a row but now has a two-game win streak with five games left in the regular season.
According to his Twitter account, Grixby is now a youth sports coordinator at a YMCA in Omaha. Great to see his name back in the headlines.