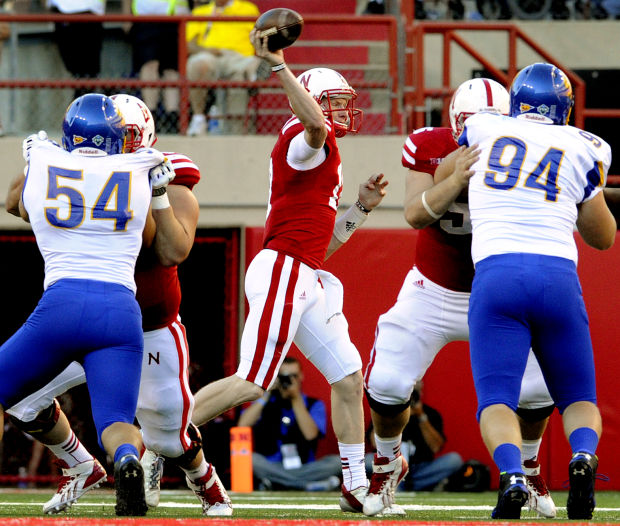 You are hereby known as "Glennon." That is the name Ameer Abdullah has bestowed on quarterback Ryker Fyfe.
"He looks kind of like (Sean) Glennon, the quarterback at Tampa Bay," the senior running back said. "He's tall like him. He throws (in a style) like Dan Marino, kind of side-armed sometimes. He's really, really talented."
The walk-on Fyfe has become a noteworthy figure in this spring camp, doing what's necessary to put himself in the conversation for the backup job. He's right there with Johnny Stanton, sometimes even seeming a nose ahead.
As Sipple wrote this morning, Tommy Armstrong has done well this spring at taking charge as The Man running the show, seeming to create some distance between the others.
And it's hard to know exactly which quarterback the coaches would turn to as the second guy if a game were tomorrow. That question is also not worth wasting too much breath on just yet with the season still five months away.
But you have to give the 6-foot-2, 210-pound Fyfe this: We're nine practices in and reporters are asking Ameer Abdullah questions about him.
The Grand Island grad was particularly sharp when given a chance to lead the No. 1 offense against the top-unit defense during Monday's practice. Fyfe led an impressive drive, checking into the right plays to keep the defense off guard, making smart passes and finishing things off by scoring a touchdown with his legs.
"That's something you want to see because football is a violent game sometimes," Abdullah said. "The top quarterback goes down, you got to have somebody come in. Just to see him operate at such a comfortable level really gives us a good head-start going into the season."
No reminders are needed around these parts about the importance of depth at quarterback just a few months after the Huskers used three different QBs to work their way through the season. And the fact that one of those quarterbacks was former walk-on quarterback Ron Kellogg III perhaps adds an extra kick of inspriation to Fyfe.
While Abdullah said the quarterback has a quiet way about him off the field, a fierce competitive side is evident in Fyfe..
Fyfe said earlier this spring he did strongly consider attending Nebraska-Kearney, and South Dakota State also was prominent in the picture. But this competition in Lincoln was alluring to him.
"I just decided I wanted to play at the highest level and give it a chance," Fyfe said. "I mean, that's what I've been doing my whole life … And I knew financially it wasn't a big problem.
"I thought I'd give it a shot after Taylor (Martinez) leaves, and see if I can get that starting job. The big deal was trying to play at the highest level."
Can't know if you never attempt. A solid spring and a nickname from Ameer is a good place to begin.