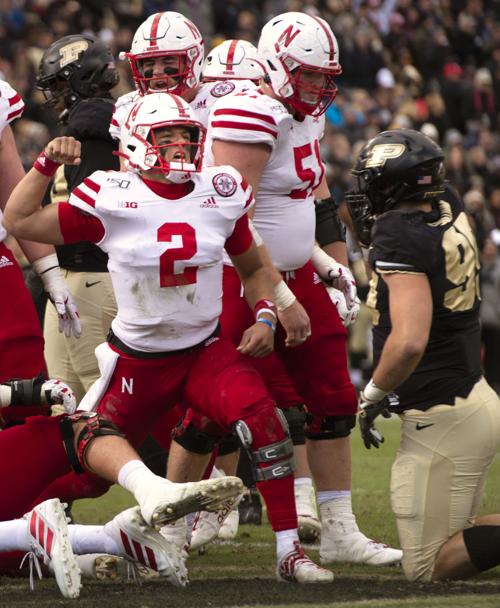 A year ago against Wisconsin, Nebraska quarterback Adrian Martinez rolled up a career-best 441 total yards of offense.
Martinez completed 24-of-42 for 384 yards and two touchdowns and added 57 plus another score on the ground.
One year later, the 6-foot-2, 225-pound sophomore is trying to shrug off a season of mostly inconsistent — but at times still very productive — play as a Wisconsin defense that's substantially improved statistically comes to Lincoln on Saturday.
Martinez made a few glaring mistakes in a loss two weeks ago at Purdue, though he also led two go-ahead scoring drives in the fourth quarter. That's the player quarterbacks coach Mario Verduzco expects to see against the Badgers.
You have free articles remaining.
"Just that he's decisive and he gets after it and doesn't hesitate," Verduzco said. "I suspect he won't. I thought he ran the ball down in the goal line area really well (against Purdue). When you make the decision to do XYZ, go do it. Don't second-guess yourself or question yourself after you make the decision. When you guys saw him play last year he was like that, and he's had those moments (this year) where he's kind of questioned himself. Don't do that. Let it rip." 
One of the central questions regarding Martinez this fall is why he looked so decisive as a freshman and now, with more experience under his belt, at times looks like he's either not making quick choices or is thinking too much about them.
"It might just be due to the fact that it's his second year and he has this idea in his head that he has to be perfect," Verduzco said. "Just play. Just play. We've done all the work we need to do from week to week and so on and so forth and then when it's game day, just go play, man, and have some fun."
Martinez on Monday put the blame squarely on his shoulders for the loss at Purdue, just as he did in the moments after that game ended.
"He's like that every week come hell or high water," Verduzco said. "It's just a matter of understanding what we've always talked about. It's a collective when things are going good and it's a collective when things are not going so good. Obviously he feels like he needs to take the brunt of that, which is part of our responsibility. Again, you get your X amount of hours to mourn and then let's get excited for the next challenge."