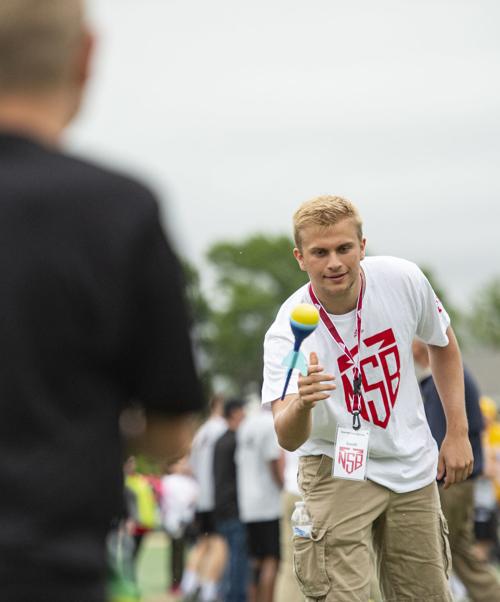 Garrett Snodgrass is a busy guy these days.
The three-sport York standout transitioned from the end of his track – and, thus, high school – career immediately into being a linebacker for the University of Nebraska.
"It happened really fast. I got done with state track and then the next day I moved to Lincoln," Snodgrass said Tuesday afternoon as he and dozens of the best high school football players in the state prepare to take part in the Shrine Bowl on Saturday in Kearney. "The day after my last high school event, I went to my first college event, so it was just like that. … I've been having a good time, but it's been really busy and it's a lot of stuff to process."
You have free articles remaining.
Indeed it is. Snodgrass, though, says his first week as an inside linebacker has been eye-opening in a good way.
"It's been a really good week. I'm not surprised or anything, but the support that all my teammates have already given me – I mean, I met a lot of the guys down there for the first time this week and they've already been just amazing teammates, holding everybody accountable and everything," the 6-foot-3, 215-pounder said. "I'm really confident after my first week that I'll be able to be comfortable there. That's a credit to my teammates and they've been doing a great job of making everyone comfortable."
While inside linebackers coach Barrett Ruud can only have so much contact with his players this time of year – and coaches were out on the road recruiting extensively until this week – Snodgrass said he's already spent a lot of time working with his specific position group.
"We're together a lot. (Senior Mohamed Barry) does a really good job of getting us all together and all doing the right things, whether it's getting a little extra work in after a workout or we're watching extra film or whatever," Snodgrass said. "He gets us all together to watch film or go over a certain defense or whatever. He does a great job of keeping us all together and getting better as a group collectively."
We'll have plenty more from Snodgrass, who is playing one final game for his dad, Glen, the South team's head coach, this weekend in the Shrine Bowl, as the game gets closer.