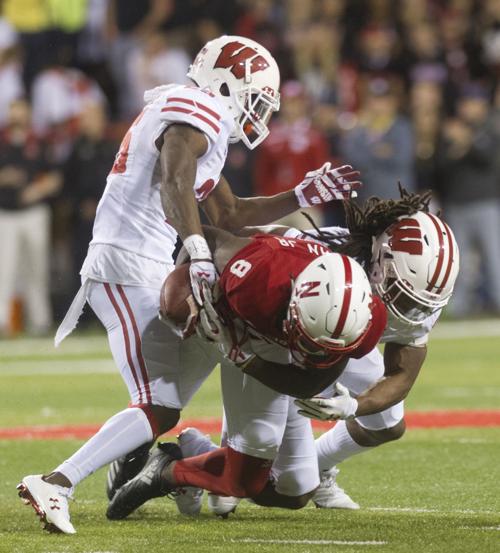 Nebraska football writer Parker Gabriel offers his extra points from Nebraska's 38-17 loss to Wisconsin on Saturday night at Memorial Stadium.
Turning point: Alex Hornibrook hit Quintez Cephus for 31 yards on third-and-4 to extend UW's first drive after the Huskers tied the game on Antonio Williams' interception return.
It moved the Badgers to the NU 24, and four plays later the visitors took the lead for good.
It was over when: UW cornerback Derrick Tindal stripped Stanley Morgan after a 15-yard catch with 8 minutes, 55 seconds remaining. The Badgers were already up two scores and punched in their final touchdown after 10 grinding plays covered 40 yards.
Quotable: Nebraska head coach Mike Riley, recounting the Badgers' fourth quarter in which they ran the ball on all 22 plays and held it for 13:16.
"I don't have to explain that to anybody. You know what that looked like."
Game ball: Jonathan Taylor. How could it be anybody else? He rushed for 249 yards and a pair of scores. Through his first five collegiate games, Taylor has 767 yards and nine touchdowns.
Notable performance: Aaron Williams. He had the interception return for a touchdown that sparked more than 100 decibels of noise on the field. He had a team-best 11 tackles. He came out of the game at one point after a crushing collision with Taylor. He throws his body around week in and week out.
Deep connection: Tanner Lee threw one of his better balls of the season to Morgan on the 80-yard touchdown in the second quarter. UW rushed three and dropped eight, but Morgan worked his deep crossing route behind Badgers outside linebacker Andrew Van Ginkel. Lee layered the ball in — without putting too much air under the ball — to hit Morgan along the sideline. He turned on the jets and covered the last 55 down the right sideline.
Numbers for the road
104: Seconds Nebraska possessed the ball in the fourth quarter.
2: Penalties on first-half-punt return plays for the Huskers, costing the hosts field position on a pair of otherwise productive returns.
1: Sacks allowed by the Huskers against a pass rush that entered averaging four per game.
4: Straight home games this fall in which the Huskers have given up at least seven nonoffensive points.