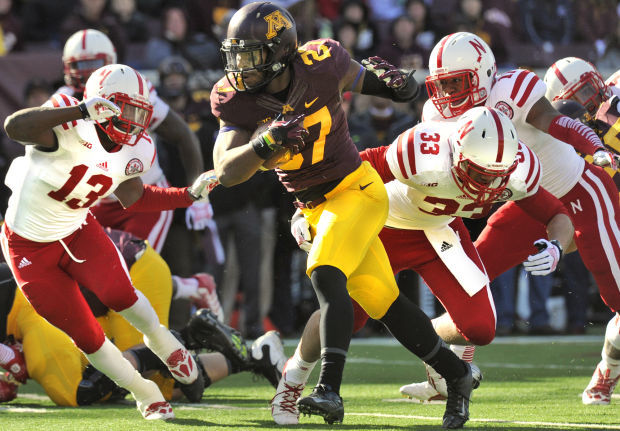 We know Minnesota banged out 271 rushing yards against Nebraska.
Fascinating stuff for football junkies.
Minnesota obviously used different formations to keep Nebraska off-balance. Of its 54 rushes, 49 were by design (excluding sacks and quarterback scrambles) for 253 yards.
Minnesota was most successful running out of the shotgun with one running back. The Golden Gophers recorded 102 yards on just 10 carries, their highest yards per carry (10.2) of any formation they used Saturday.
However, it was the pre-snap motion in this formation that continuously gave Nebraska trouble. Of the 10 rushes, six were by wide receivers in motion who received the ball on a sweep. Those plays went for an average of 10.3 yards. Minnesota's longest run of the game came on a fake to a wide receiver in motion, which was kept by quarterback Philip Nelson on his way to a 23-yard gain late in the second quarter.
Ah, the dreaded "jet sweep."
Nebraska fans hear the term and flash back to a nightmarish game last December in Indianapolis.
Only Minnesota ran it differently than Wisconsin, according to Bo Pelini.
"(Minnesota) was doing something that was a lot different from what Wisconsin was doing (in last year's Big Ten Championship Game)," the Nebraska coach said Monday. "We've seen jet sweep this year and we've played it pretty well. We've done really well against it for the most part of the year."
But Nebraska often was out of position Saturday, Bo acknowledged.
"In one respect, (the Gophers) gave it to us out of a formation that they hadn't done before," he said. "We weren't able to apply our rules. Once we got it corrected and showed it to (our players) and explained it to them, we hit it in the backfield. Everybody has a responsibility. One guy out of position will cause you to struggle."
Be the first to know
Get local news delivered to your inbox!