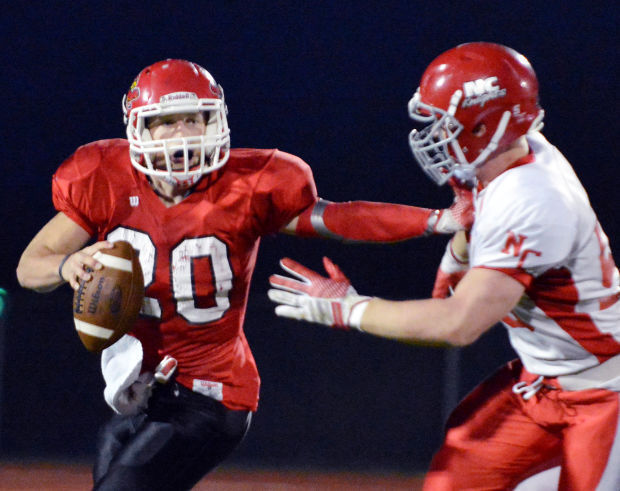 In his opening press conference, Husker coach Mike Riley made it clear he understands the importance of Nebraska football's walk-on program.
"I think, historically, it's been one of the neat things about Nebraska football," Riley said. "The tradition of so many walk-on players and contributions they've made to the program. Believe me, I am all for it."
A few names who will be part of Riley's first walk-on class at Nebraska are beginning to emerge. One of them is Wyatt Mazour, who was the Journal Star's Super State quarterback in 2014.
The versatile prospect from Boone Central/Newman Grove, and his coach Arnie Johnson, confirmed he'd walk on.  (Here are Mazour's Hudl highlights.)
Likely considered a running back or defensive back at the next level, Mazour rushed for 1,628 yards and 25 touchdowns as as senior, threw for 1,868 yards, had 485 yards in kick returns, 138 yards in punt returns and 58 interception return yards for a total of 4,177 yards.
As his coach Johnson once told the Journal Star: "He just mesmerizes you. He's really quick and can change directions like no other. He is a good enough thrower that you have to stop his throwing, which causes the more dangerous part of his game, his running, to come out. He can spread the field because he can pass. If you just stop him from running, he'll throw it. He made guys miss, and lots of times, miss badly."
Ogallala linebacker/fullback Brody Cleveland, who stands 6-2, 210, also told HuskerOnline.com he has accepted a walk-on offer from Nebraska over scholarship opportunities from Chadron State and Nebraska-Kearney, as well as a preferred walk-on chance from Wyoming.
Last week, Gretna fullback Austin Hemphill announced he will walk-on Nebraska. He's 6-foot, 225 pounds. Here are Hemphill's highlights.
The Huskers already have one fullback from Gretna on the roster in senior Andy Janovich.
Nebraska's new director of player personnel Ryan Gunderson told reporters a couple weeks ago NU would also likely continue to hold occasional tryouts for students on campus, something that was done by the previous staff.