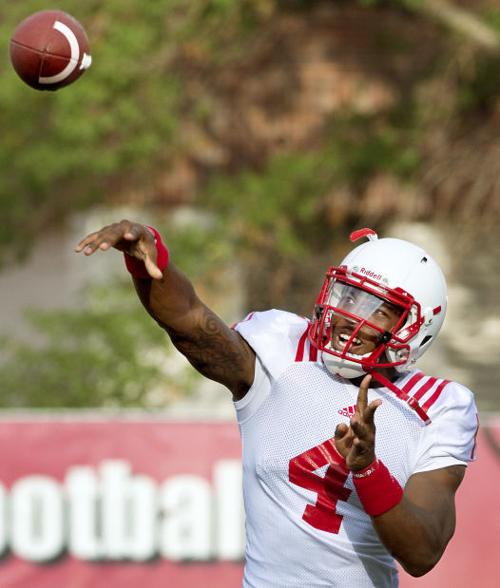 Nebraska coach Bo Pelini shed some light on the quarterback depth chart after Wednesday morning's practice, listing the top three players as sophomore Tommy Armstrong, sophomore walk-on Ryker Fyfe and redshirted freshman Johnny Stanton, "probably in that order," Pelini said.
"I think they've probably all had their good days and their bad days," Pelini said. "I think they're all growing. I think there's a lot more that has to be done right now. We're looking for the guy who can execute consistently in all phases of the game and run the offense.
"I think all of those guys have a little ways to go, but I think they're all making progress."
Pelini had no timetable on officially naming a starter.
"When's the opener, the 30th?" Pelini said. "That's when you'll know."
Armstrong practiced Wednesday without the green jersey he wore earlier in the week, that after he left Saturday morning's practice after taking a hard hit.
Defensively, Pelini said Marcus Newby (BUCK) and Courtney Love (WILL) are "really making some good progress." Both players can play the WILL nickel position, too.
As for back-up defensive ends, Pelini seemed encouraged by the progress of junior college transfer Joe Keels, redshirted freshman A.J. Natter and junior Jack Gangwish of Wood River. He also threw in the names of true freshmen Sedrick King, Mick Stoltenberg of Gretna and Peyton Newell.
"Stoltenberg, he hasn't played a lot of D-end, so he's probably a little ways behind, but I think he's going to be pretty good. But Newell's done a good job over the last couple of days. So there's a lot of good competition."
At nickelback, where Nebraska is looking to replace Charles Jackson after his season-ending knee injury, Pelini said junior college transfer Byerson Cockrell, who was here in the spring, is "looking good," and that true freshman Josh Kalu "has made a big jump" at the position.
"I feel good about our nickel position right now," Pelini said. "Those guys have really learned a lot, and we're throwing a lot at them, so it's good."
While left tackle Alex Lewis returned to practice after sitting out earlier this week, running back Terrell Newby and wide receivers Kenny Bell and Brandon Reilly sat out.