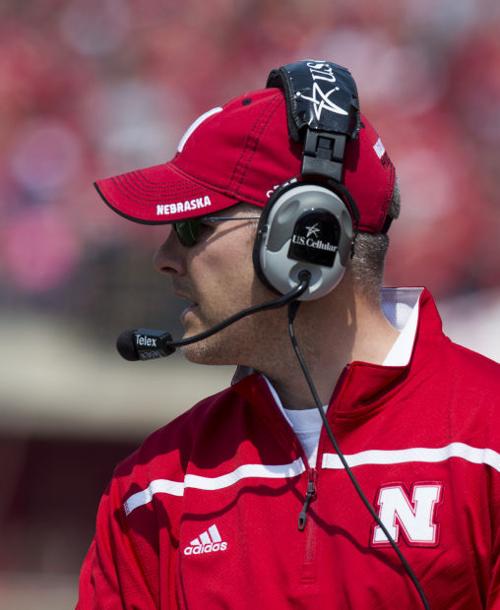 The tight end position, you've perhaps read many times this offseason, is valued plenty in the offense operated by Mike Riley and Danny Langsdorf.
The Husker head coach said near the end of the spring that he was pleasantly surprised at what is already available at the position.
Langsdorf, in an interview with the Journal Star on Tuesday, sees some tools to work with there, too, though he's looking for at least one more to emerge. 
The group is led by junior Cethan Carter, but he also sees potential in Sam Cotton and senior David Sutton.
"Cethan plays that H-back spot. We'd really like to move him around and he's an athletic guy that can run. He can be a great mismatch on linebackers, and safeties. So I like him as a weapon," Langsdorf said. "And I think Cotton and Sutton will be good grinders at that tight end spot, that they can line up and beat a linebacker one-on-one, but they can also bang on a defensive end and give us some lead in the run game. So to have three guys, that's pretty solid.
"Looking for a fourth, and then we'll mix (Andy) Janovich in to that moving role also, so they'll be a lot of use and value for him. Kind of in the same role, similar role as Carter, but more of a fullback position. So we'll be able to be a little bit more multiple going out of some different personnel groups with him."
Sutton's perseverance could now meet its payoff. The fifth-year senior from Lincoln Southeast did not receive a lot of playing time previously, but has kept after it and done well in the eyes of a new staff.
Offensive lineman teammate Dylan Utter tweeted out this the other day:
I swear I can't wait to see @_David_Sutton this season. Can finally show off all the hard work he's put in over the years.

— DUtter (@DylanUtter66) June 30, 2015
Most important, Langsdorf thinks the 6-foot-3, 255-pound tight end "made a lot of strides in the spring."
"And I like what we see out of Sam Cotton too. He's a tough kid," the coach said. "They're just continuing to get better on their technique and pass protection and run blocking and route running. Having those guys be a threat down the field is important just because of the coverages. They can't focus on just the receivers. They've got to put a body and a hat on those big tight ends that are big targets."
So there are some parts to work with. Trey Foster and Luke McNitt the transfer from UNK, are others to keep in mind as fall camp approaches. Also remember that summer arrival Matt Snyder is a player Riley and staff recruited for more than a year.
Whether he can work his way into making an impact sooner than later remains to be seen, but while he gets his feet under him, that veteran trio will need to lead the way.