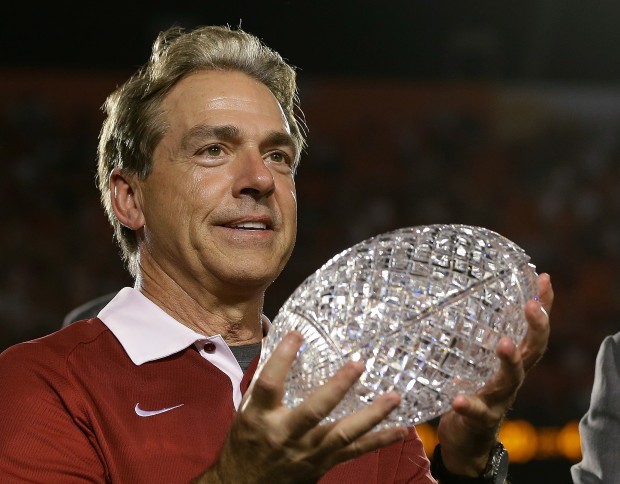 Does anybody have the latest tally on the number of Michigan's satellite camps?
As of late last week, the number was 38.
It's surely risen by now.
The Wolverines' 30-day tour begins Wednesday morning at Indianapolis Bishop Chatard High School. A few of UM's coaches soon will be taking the (far) western swing, starting in American Samoa and heading to Australia in the first three days, according to the Detroit Free Press (click right here).
Don't ask Alabama head coach Nick Saban about satellite camps. Wait, do ask him. He has an interesting stance on the matter. In fact, it's a very reasonable and mature stance.
Speaking to reporters Tuesday on the first day of Southeastern Conference spring meetings in Destin, Florida, Saban became "passionate" about the ongoing discussion on satellite camps and how they are unregulated, according to the Free Press.
After going off on a tangent about how satellite camps are "the wild, wild west," questioning the motivations behind the camps and pounding the lecturn with his hand, Saban was asked this question by a reporter:
"Would your position be different if you were still coaching in the Big Ten? Do you blame (Michigan football coach) Jim Harbaugh for wanting to get outside of that region?"
"I'm not blaming Jim Harbaugh," Saban said. "I'm just saying it's bad for college football. Jim Harbaugh can do whatever he wants to do, I'm not saying anything bad about him. If he thinks that's what's best. There needs to be somebody that looks out for what's best for the game, not what's best for the Big Ten or not what's best for the SEC or not what's best for Jim Harbaugh, but what's best for the game of college football. The integrity of the game. The coaches, the players and the people that play it, that's bigger than all this. That's what somebody should do. Now who's doing that? I don't know. Cause right now, since we have the Power 5, everybody's politicking for what they want, for their conference. That's why I said, there needs to be a college football commissioner."
I'm not convinced there needs to be a commissioner. I am, however, convinced regulation is needed when it comes to satellite camps. Saban is right-on in that regard. There should be limits. There should be some semblance of control. Thirty-eight Michigan satellite camps in 21 states and two countries? Give me a break. If UM were allowed to continue at this rate, other programs around the country would feel pressure to add to their number of satellite camps. And on and on it would go.
From the Free Press: Though Harbaugh has publicly pushed the opportunity angle for kids not to have to travel so far to the camps, there's no illusion what these are about. Nearly all of the camps are targeted at schools with a significant high-ranked recruit enrolled at that location.
I wonder if Michigan will have NCAA compliance officials at each camp. I wonder how much Harbaugh's summer escapade will cost the school. Does anyone at UM even care about expenses when it comes to football?
Does it seem strange to anyone that Harbaugh will be away from the players on his current roster for a month-plus? College coaches are allowed meeting time with current players this time of year.
Does Harbaugh answer to anybody? I mean really answer to anybody?
I hear people say, "Hey, just let the coaches do what it takes to get the best players." Rick Pitino probably can relate to that sentiment.
Saban, by the way, said he didn't have a candidate for "college football commissioner," because he's not into "politics. I'm just telling you what needs to be done."