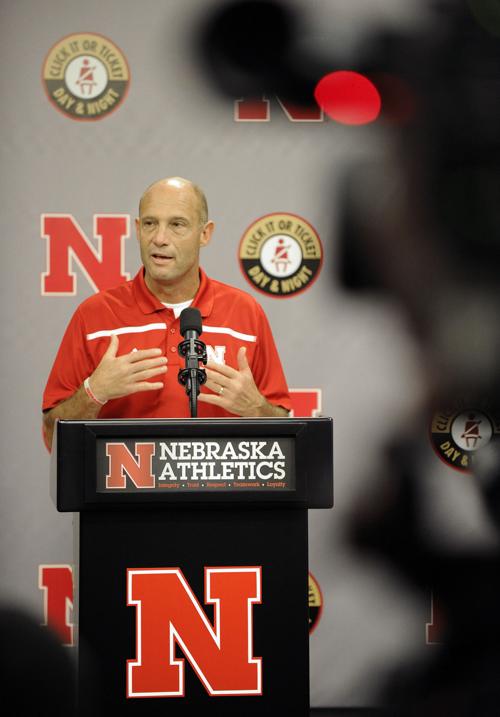 Husker head coach Mike Riley did not name the five suspended players during Monday's press conference.
But he's apparently going to before the game, saying, "I will tell you later in the week."
Riley gave his reasoning for waiting.
"One of my goals here has been to let these guys just practice without getting a lot of questions, attention up to this point. We will talk about that later," the coach said.
Later could mean Thursday. That's when Riley meets the media for a final time before the game.
An updated Husker depth chart was released on Monday, though don't go too far into using that to guess who's suspended.
A few interesting kernels from that depth cahrt:
You have free articles remaining.
* The tight end position is David Suton OR Trey Foster or Cethan Carter or Sam Cotton. Some might be surprised Carter isn't on a top line alone.
* One guy who is on a top line by himself is running back Terrell Newby. Then it's Imani Cross OR Adam Taylor Or Mikale Wilbon OR Devine Ozigbo.
* How about the fall camp of Ryker Fyfe? A lot of us know-it-alls thought he might be fourth going in. He comes out of a clear-cut No. 2 behind Tommy Armstrong at quarterback.
Riley said Fyfe's consistency was the difference, "but I like them all," he said of his quarterbacks.
* Byerson Cockrell is listed at the top safety next to Nate Gerry. Aaron Williams and Kieron Williams have been in the hunt for that job, too.
* Kick returners appear to be Terrell Newby and Mikale Wilbon, with Jamal turner appearing third on that list.
* Punt returner, as expected is Jordan Westerkamp, with Turner the second guy.
* Daniel Davie is one starting corner, with Trai Mosley behind him. The other corner? It's Jonathan Rose OR Joshua Kalu.