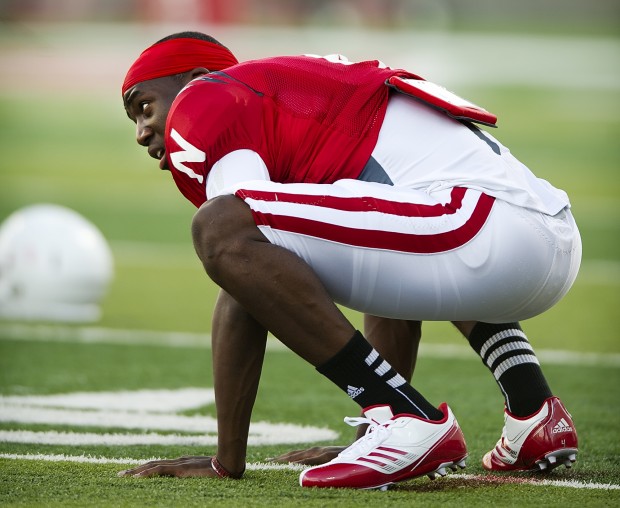 Having spent the past five days with a bad taste in their mouths, you can understand why the Huskers are eager just to see another football game at this point.
"I think our guys are anxious to go out and play," Bo Pelini said after Thursday's practice. "We're looking forward to Saturday."
Most interesting comment? Maybe the one made by Pelini when asked about true freshman wide receiver Jordan Westerkamp.
A night ago I was doubtful you'd see Westerkamp play this year, even with the season-ending injury to Tyler Wullenwaber.
But Pelini definitely isn't shutting the door on that conversation. Not at all.
"Jordan's ready to go," he said.
As in, ready to play Saturday?
"We'll see. But he's ready to play."
The way Pelini said it made me think we just might see him.
* We likely won't see Rex Burkhead.
"I would say right now he's doubtful," Pelini said. "I want to make sure he's absolutely 100 percent before we put him back there. But you know, he's champing at the bit to get out there. We'll just see how the next 48 hours play out."
You have free articles remaining.
* Mohammed Seisay is yet to play, but expect that to change this weekend.
It was thought the cornerback (pictured) would see action against UCLA, but Pelini said Seisay was still hobbling around in the pregame.
"I think Mo's a lot healthier this week than he was last week. I think he is closer to 100 percent. I don't think he was at 100 percent last week."
Because of his improved health, Seisay took "a large amount of practice reps this week, so I think he's a lot more ready to play," Pelini said.
* The talk all week has been that you're going to see David Santos and Zaire Anderson play some linebacker this weekend.
Pelini confirmed the truth to that.
"Depends on what personnel groupings they put out there and that thing, but they had a good week of practice," Pelini said. "And I think you're going to see more of them. That's what we're anticipating."
Pelini does not one player above the other at this point, saying both have grown a lot since the beginning of fall camp.
"But you know what, they have a long way to go," he said. "They're learning. You know, it's a lot harder on guys like that to come along when you're practicing for so much when you don't really have a good idea – which has been the case for three weeks – of what you're going to see (from the offense)."
* Pelini might have a better idea of what to expect from this Gus Malzahn offense than from the offenses he's seen the first two weeks. The two coaches matched wits in a big game in 2006.
Pelini was the defensive coordinator at LSU. Malzahn was the offensive coordinator of Arkansas, which was ranked No. 5 in the country at the time.
LSU pulled out a 31-26 win in Fayetteville.
"I have a little bit of history with him," Pelini said. "And I also know what he did at Auburn. It's a little bit of a mix and match of all those things. We're just going to have to kind of wait and see what they choose to come out and do against us. I'm not real sure what we're going to see. We're going to have to make our adjustments on the run."