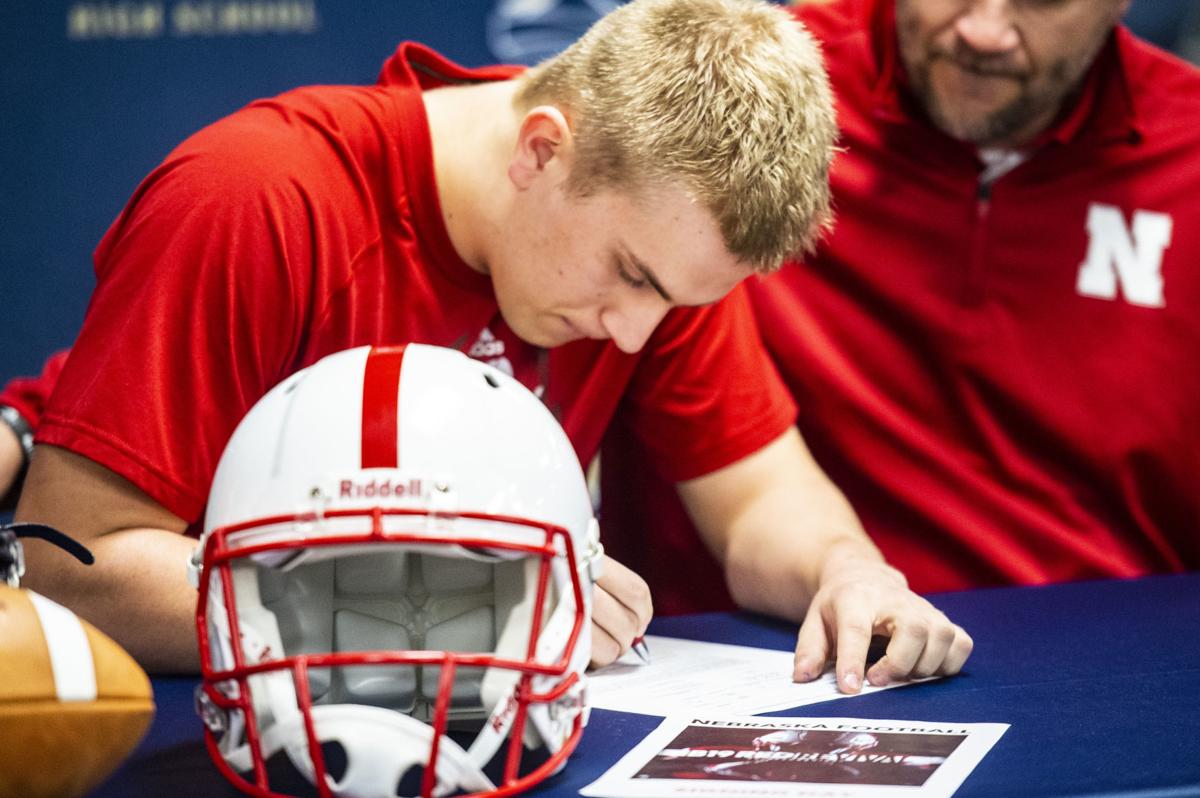 Garrett Snodgrass knew his opportunity might be drawing close when he spotted his name on a special teams depth chart in the Nebraska football offices after the team's first bye week.
Once the Huskers hit the season's final four games and the York native's redshirt for the 2019 season was secured, he made his collegiate debut at Purdue on NU's kick return team.
"It was a lot of fun, I'm not going to lie," Snodgrass said Monday. "I was pretty nervous that first snap. It was kind of weird. I've never played in front of that many people, but after the ball got kicked, it was just like playing football any other time."
Snodgrass, listed at 6-foot-3, said he's up to between 220 and 225 pounds after arriving on campus this summer at about 215. NU's strength and nutrition staff thinks he can get up toward 230 to 240 during his career. In the meantime, the former multi-sport standout at York High has been learning the intricacies of inside linebacker play in Barrett Ruud's room.
"I know personally, I've improved my game quite a bit," Snodgrass said. "That's a testament to our coaches and our strength and conditioning, and senior leaders, just helping me along, giving me great advice on technique and scheme."
You have free articles remaining.
Even a small dose of special teams play is a benefit of the NCAA's four-game redshirt rule in Snodgrass' eyes.
"It's super-beneficial. Already I know what it's like to play in a Big Ten game," Snodgrass said. "I only had a handful of plays, but at least I know what it's like to at least run on the field against another Big Ten team, so it's going to be good for me. Who knows how much more I'll be able to play this season."
Snodgrass is one of three scholarship inside linebackers in NU's 2019 class, along with Nick Henrich and Jackson Hannah. None has cracked the Huskers' rotation on defense — Henrich, according to position coach Barrett Ruud, was positioned to do so before a spring shoulder injury required surgery — but Snodgrass likes the way the group is improving.
"I mean, ask anybody, the adjustment from high school to college is crazy. I heard all the time, 'Oh, it's going to be a lot different' and I was like, 'Yeah, whatever, I'll be OK.' Fall camp came around and I had to look myself in the mirror and I had a lot of things to improve on, so that's good, I guess.
"I'm excited to get to work on my game and to see how much I can improve from my first year to my last year."
Snodgrass is the sixth in-state true freshman to play for Nebraska this fall, joining outside linebacker Garrett Nelson (nine games), tight end Chris Hickman (two), walk-on linebacker Luke Reimer (eight) and walk-on kicker Dylan Jorgensen (two). Before the year is out, it's possible Henrich and/or offensive lineman Ethan Piper will join the list, too.
Watch: Domann on preparation for Wisconsin standout running back Taylor
Watch: Domann talks matching up against a 'big' Badgers offense
Watch: Martinez rehashes Purdue game, takes responsibility for loss
Watch: Taylor-Britt says there is "new spirit" in the locker room after second bye week
Watch: Frost looking for more consistency, decision-making from Martinez
Watch: Frost on awarding final scholarship to Mazour