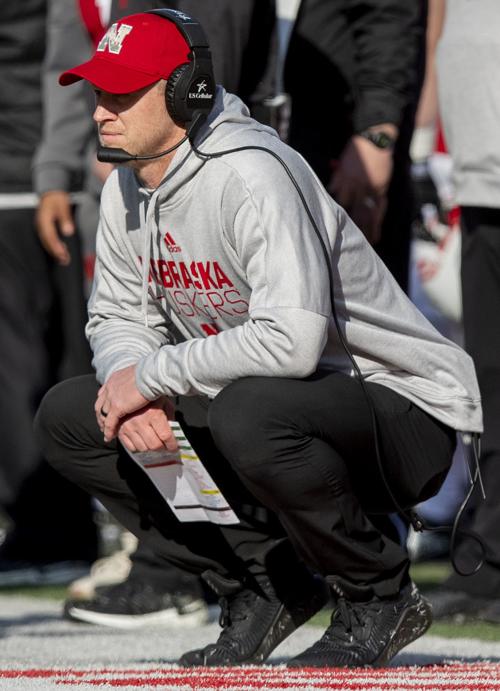 Nebraska football coach Scott Frost doesn't talk about day-to-day injuries, but he did say Thursday that he's hoping talented freshman receiver Wan'Dale Robinson will play again before the regular season is over.
"We're hopeful that we'll get Wan'Dale back on the field for us before the year ends," Frost told reporters Thursday.
The end of the regular season is only a week away with NU's game Saturday at Maryland and then a short turnaround against Iowa on Nov. 29 at Memorial Stadium.
Robinson was injured late against Purdue on Nov. 2 and did not play against Wisconsin last week when the Huskers came off their second bye of the season.
Robinson has already become just the fourth freshman in NU history to compile more than 1,000 all-purpose yards.
Losing skids: Maryland is coming off a bye week and, like Nebraska, is trying to end a losing streak (four games for Nebraska, five games for Maryland). Even though the Terps have been bad defensively most of the season, Frost said Thursday they're not a group to take lightly.
"They're athletic, they're talented," Frost said of Maryland. "I think both teams are desperate for a win. They're well-coached, so, just like any other Big Ten team, we're going to have to go play well if we expect to have a chance."
Getting over the hump has proved difficult for the Huskers even though Frost and many players have insisted to reporters in recent weeks that progress is being made. 
"They believe in where they are and what they're doing," Frost said. "It's just, until you get over the hump and get those wins, you can still see guys wondering when it's going to happen instead of expecting it to happen or making it happen. This team needs to win one of these close games and get over the hump. They're doing everything right. I just think winning breeds more confidence and confidence breeds more winning."
Rain in the forecast: Saturday's forecast calls for some rain and Frost said that only adds to the need to take care of the football.
"We talk about those things every week, and really those things don't change," Frost said. "Those things are to continue to get better, try to win your individual battle, play as hard as you can, play for the brother to your right and your left. Obviously, there are some other things. We're still putting the ball on the ground too much, we're still turning it over too much. We're not creating them well enough on defense.
"Usually, a game like we're going to play, where there's supposed to be rain, those games come down to turnovers. So we have to do well on that category."
Rhythm for Martinez: Frost reiterated Thursday that he was pleased with the way sophomore quarterback Adrian Martinez played against Wisconsin.
"I think with a lot of quarterbacks, it helps if you get them a completion early, just like a shooter in basketball making a shot early and then the basket starts to look bigger. I think with some quarterbacks, calling a designed run for them early and getting them hit once helps, too. Adrian's probably like that in both counts, so we've got to get him off to a good start."
Welcome to the Husker Extra Podcast, a weekly production of the Journal Star that covers the latest in Nebraska football and athletics. 
Be the first to know
Get local news delivered to your inbox!