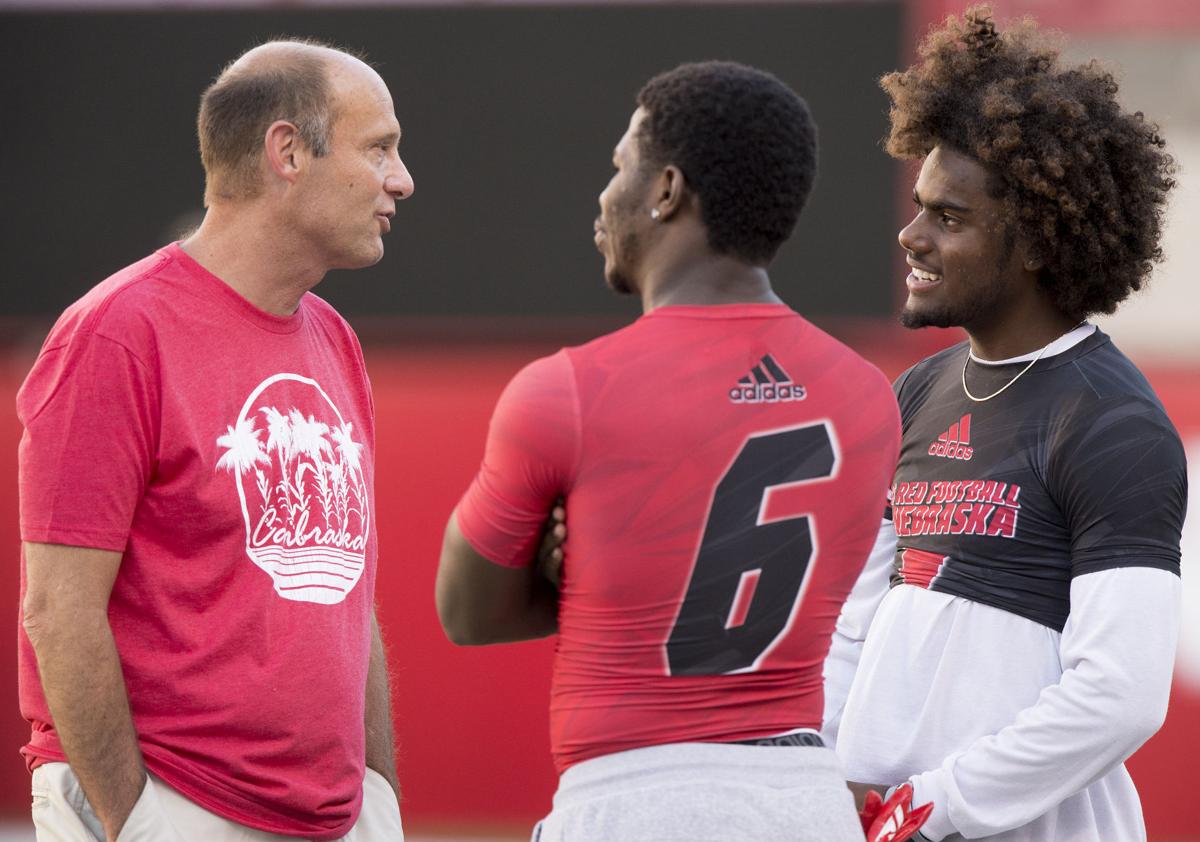 Nebraska's new assistant coach Donté Williams was already taking to the road to recruit on behalf of the Huskers on Monday.
And it appears some key recruits have taken keen interest in Williams' move from Arizona to Nebraska.
Like Brendan "Bookie" Radley-Hiles, the talented cornerback from Calabasas, California, who is in the 2018 class.
As for the top targets in the current class who Williams might possibly help move the needle Nebraska's way?
National recruiting analysts Greg Biggins (Scout) and Ryan Bartow (247Sports) gave their input to that question Monday night as I talked to them about what the Williams hire means for Husker recruiting.
Here's some recruits from California to keep close watch on.
* Elijah Blades, four-star cornerback, John Muir High in Pasadena: Blades is committed to Florida, but both Bartow and Biggins mention him as a recruit they still think the Huskers could pull away late in the recruiting process.
* Greg Johnson, four-star athlete, Hawkins High in Los Angeles: He was committed to Arizona ... until Sunday night.
That's certainly an interesting development, but not just to Nebraska. Some nearby Pac-12 schools will be hot after Johnson too. But Williams' connection with Johnson sure has Husker recruitniks hopeful.
"I don't want to say it's a done deal because at the end of the day Greg could decide that he wants to stay local, and both USC and UCLA are recruiting him hard," Biggins said. "But remember, he took a visit to Nebraska before Donté even went over there. And that was largely because Joseph Lewis likes it a lot and they're best friends. So it's only going to help them with Greg.
"I can't overstate it enough, Donté is extremely tight with the Hawkins coaching staff. In fact, they were actually running Arizona's defense just to get Greg get ready to go to U of A."
Also consider that Johnson originally picked Arizona, led by the recruitment of Williams, over the likes of USC, UCLA and Notre Dame.
"Arizona doesn't win too many battles with those schools, but it was because of Donte's relationship with the Hawkins coaches," Biggins added. "So having Donté at Nebraska, they already liked the staff there, they already liked it for Joseph. Now with Greg looking even harder at them, I think it puts Nebraska in a really good spot."
Bartow said he thinks Johnson's recruitment is "wide open." He also mentions USC and Arizona State as possible contenders along with Nebraska.
Joseph Lewis, five-star wide receiver, Hawkins High in Los Angeles: He's liked the Huskers a lot throughout the recruiting process. Keith Williams has put the time in on this one and built a good relationship. Donté Williams' close connection with the Hawkins staff should only help.
Of course, USC is just a few miles down the road. That's how it seems to be shaping up: Nebraska and USC on this one.
Thomas Graham, four-star defensive back, Rancho Cucamonga: Biggins felt Graham was an Arizona lean at one time while Williams was coaching there. That doesn't mean he'd go as far as to say Nebraska automatically assumes the lead now that Williams is in Lincoln. But Biggins could see the Huskers and UCLA being Graham's final two.
Rahyme Johnson, four-star linebacker, Salesian High in Los Angeles: He has had Nebraska as one of his possibilities all along. And Biggins points out, "The whole Salesian staff loves Donté and is extremely tight with him."
Deommodore Lenoir, four-star cornerback, Salesian High in Los Angeles: He was committed to Oregon. That changed on Nov. 28 for obvious reasons given the Ducks' coaching shakeup. Doesn't mean Oregon can't come back in the picture after a new head coach is hired, but right now Lenoir is looking around. And, as the quote above shows, Williams knows his way around that school.
Jaylon Redd, four-star athlete, Rancho Cucamonga: He's committed to Oregon, but the Ducks also don't have a head coach at the moment. And, speaking of Nebraska's new hire, Redd told HuskerOnline.com: "Him being there makes me more interested in Nebraska because I have a great relationship with Coach Donté."
Jamire Calvin, four-star receiver, Cathedral High in Los Angeles: Nebraska's believed to have a real good shot here, though Calvin isn't announcing until the U.S. Army All-American Bowl on Jan. 7.
Darnay Holmes, five-star athlete, Calabasas: Bartow still thinks UCLA is the team to beat for Holmes. Others do as well. Of 22 "crystal ball" picks on the 247Sports site regarding where Holmes will choose, 78 percent say UCLA.
But Holmes certainly has some people around him always reminding him about Nebraska. And for a guy who can play both corner and receiver, the Williams & Williams recruiting duo seems like it'd be pretty potent if they were sitting across from you.
A couple things worth pointing out:
* Don't sell short the work done by others on Mike Riley's staff to lay the groundwork to have the Huskers on the mind of some of these recruits before they even knew Donte Williams was coming to Lincoln. Certainly the recruiting work of Keith Williams has been well-documented, but Brian Stewart is another position coach who has been going hard in Cali after some of the recruits named above.
Here's Stewart with Elijah Blades this past week:
* Southern Cal righting the ship makes the test of recruiting the top dogs out of the Los Angeles area all the more challenging. There was a point early in the season when it looked like USC was headed for a big ol' mess. Now the Trojans are headed to the Rose Bowl.
Nebraska's got some reasons to think it can win some key recruiting battles in California late, and obviously the new hire was brought aboard to help do just that. But don't underestimate the challenge of getting four- and five-star West Coast kids to leave the West Coast.