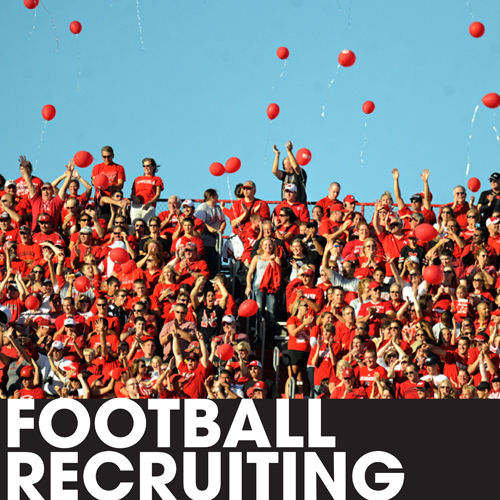 The quote was delivered by Farmer's quote, Jimmy Warnecke, who was actually quoting something he recalled Husker O-line coach John Garrison saying to him.
According to Warnecke: "(Garrison) said, 'Hey, if Tanner were at a school in Texas, he'd be recruited by everyone in the nation.'"
At the time of his commitment, Farmer had fallen mostly under the radar to some of the bigger programs in the country.
He had other offers from Illinois, Missouri, Minnesota, Illinois State and Western Michigan, but even most of that that attention didn't come until he won an O-line MVP award at a Rivals camp around Saint Louis in mid-April.
"When he started going to Rivals' camps and putting those so-called four-star and five-star guys on their butts, it really started turning some heads," Warnecke told the Journal Star.
Among other things, it helped him earn an invite to "The Opening," a camp for a select 162 prospects at the Nike headquarters in Oregon going on this week.
According to the reports coming in, Farmer is giving people even more reason to look his way.
There's this from HuskersIllustrated.com of 247Sports: According to Midwest analyst Steve Wiltfong, Farmer stonewalled Joshua Frazier several times on the day. Frazier is the No. 75 player in the country and the No. 7 defensive tackle according to 247Composite.
Farmer also got the best of Washington State commitment Marcus Griffin, a three-star as ranked by 247Composite. The offensive guard didn't bowl over everybody, he lost a rep to elite four-star defensive end Solomon Thomas.
But the reviews of the offensive guard prospect have mostly positive. Farmer measured in at 6-foot-3, 302 pounds, running a 40 time of 5.27 seconds and a shuttle time of 4.78 seconds, according to HI.
His SPARQ number -- tests for Speed, Power, Agility, Reaction and Quickness -- was 96.45, which ranked him third among offensive linemen.
Without a doubt, he's an incredibly strong kid, strong enough to recently bench press 225 pounds 33 times.
That's even more impressive when considering he just turned 17 in March.