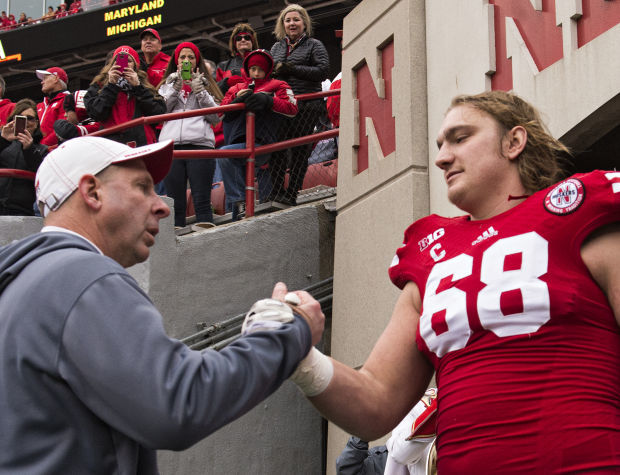 Former Nebraska head coach Bo Pelini and Husker players met for a final time Tuesday night off campus in Lincoln North Star High School's auditorium.
Many players posted messages about Pelini on Twitter after the meeting, with some including pictures of hugs with their coach before they parted ways.
Whoever the next head coach is, there's clearly going to have to be a healing process.
A sampling of players' tweets:
"Great meeting with Coach Bo tonight. Love you and will miss you. Thanks for everything." –Tommy Armstrong Jr.
"Good to see the real head man regardless of current title, forever thankful and grateful for Coach Bo, great talk tonight!" –Givens Price
"Loved meeting with coach Bo tonight, he's a great man with a great spirit. He's done Nothing but teach me how to be a better person. #GBR –Charles Jackson
"We no longer have Bo, but we got what we wanted tonight. Real insight on everything that has happened, and a chance to say bye w/o any media" -Sam Hahn
"Man…Coach Bo is the realest I've been around. Nothing but love for him and it was great visiting tonight." –Brandon Reilly
"Good seeing Coach BO tonight. The man loved the game but loved his players more and that's what made him so special to play for #BOknows –Peyton Newell
"Great meeting with coach Bo. Love the guy. Always has our backs. Thanks for everything coach!" –Jordan Westerkamp
"If you guys only knew how bad our admin. messed up. If you only knew our coach like we did." –Matt Finnin
"Bo talks to us like we're his own kids and Eichorst talks to us like we're in the media. Coach Bo is a man and a father figure! Thanks coach" –Mauro Bondi
"Great talking with coach BO and gaining his insight on this whole ordeal. Nothing but love and respect for that man." –Zach Sterup