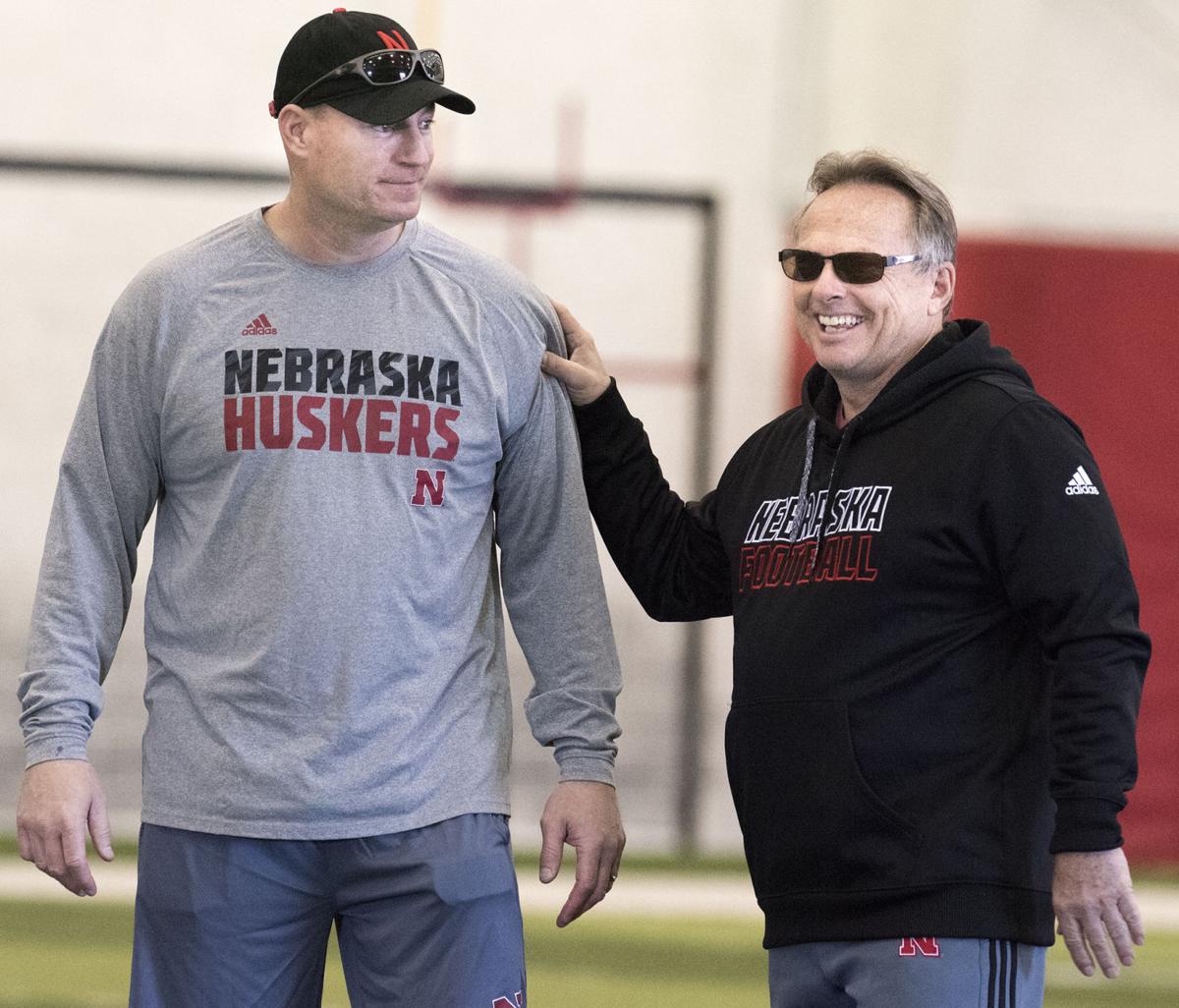 They've got the right approach at least.
Whether the rest will all come together remains to be seen, but defensive line coach John Parrella seems to have no complaints with the mindset his new players have taken into this spring.
"The guys on our defensive line, I think they love the game, I think they're playing for each other," he said after Tuesday's practice, the fifth of the spring. "And I think they realize that this is bigger than themselves. And the guys that played before us are guys that they are trying to honor. I'm proud of them. Kids are getting better. Who can complain? I think they continue to grow everyday."
Plenty of room to grow, though.
Husker coaches have changed the stances of the D-linemen in certain situations. And defensive coordinator Mark Banker said he wants to see more consistency from the D-line as a whole. "We got to be able to get off, get two feet to the ground, strike a blow, gain the offensive ground, be able to play off blocks and things of that nature. We just need to see, at this point in time, more physicality out of that group."
With that in mind, here are a few more quick hits from Parrella.
>>> How is that defensive end position developing through five practices?
"The biggest thing was to get them to understand the concepts of how we pass rush," the coach said. "Today, a couple of them, had the best day they've ever had. As a coach that's all you can ask. Truly, I keep saying it over and over. But for me, as long as we're getting better, I'm a happy guy. When they're not and we got to hit the gas pedal hard on them, we will. But at this point we continue to get better."
You have free articles remaining.
Freedom Akinmoladun and Ross Dzuris have started the spring working as the top D-ends. Parrella cited sophomore Sedrick King as one player who is also trying to break through there.
Another young end, redshirt freshman Alex Davis, feels there's good communication going on in the room as players try to get better. "Any time I have a question, I ask one of the boys ... Every day I'm learning, honestly," Davis said. "I just learned something new today. Every practice I can honestly say I learned something new."
>>> Parrella said it's a good O-line Nebraska is going against, "giving us fits." But he's happy for that competition, especially for the young guys. "You need great players to hammer on you every day."
>>> Unsolicited, he brought up the improvement of the twins, Khalil and Carlos Davis, who are working at D-tackle.
Could the Davis twins move outside at all? "Right now, let's get them to play inside. Let's get them to understand that and how to play it, and the concepts of what we have going on here. Eventually the light will turn on and I think you'll see two pretty special players."
>>> Parrella said it's a blessing to have a senior like Kevin Maurice at D-tackle. "He's almost there, where he can take a big step and hopefully have a great year."
>>> He said a veteran like Greg McMullen "can be the anchor of a front" if he does it right. "You only get one senior year .... I think he realizes that and he's trying to get himself prepared for the Big Ten schedule."
>>> It's been a whirlwind for the new coach, hired just a week-and-a-half before spring ball. But he seems to be fine with the fast pace. Parrella works fast and speaks fast as he talks to reporters. He likes the challenge.
"Let's hold our part of the deal. Let's get this group better and better and better to the point they can be a great group. And they're on their way."