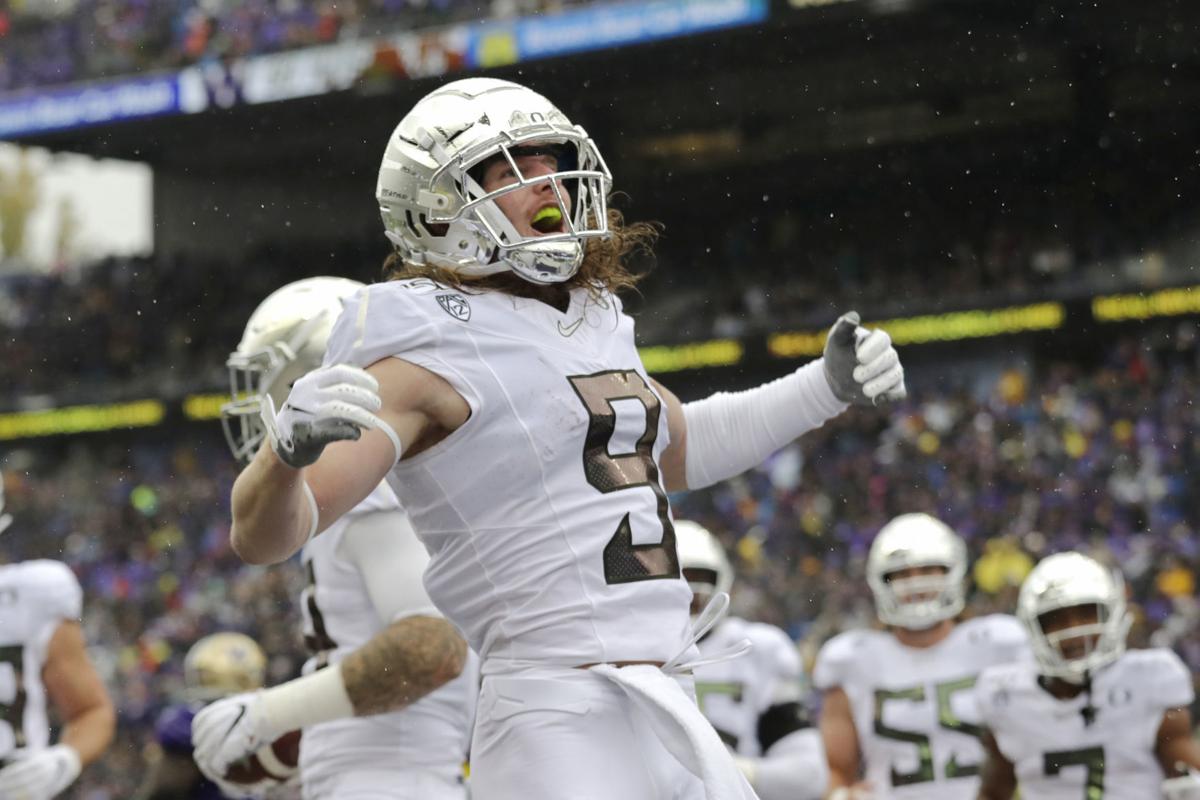 Nebraska is exploring multiple avenues as it attempts to fortify its wide receiver ranks for 2020 and beyond, and a familiar face to some on the coaching staff could be in play via the transfer portal.
Former Oregon wide receiver Brenden Schooler, who announced his intentions to grad-transfer from the Ducks in October, told the Journal Star he's been in contact with head coach Scott Frost since leaving UO.
"I definitely am keeping them open as a school to go to next year," Schooler said in a message.
Schooler, listed at 6-foot-2 and 193 pounds, had 21 catches for 203 yards as a junior. He missed the Ducks' first four games this fall due to an offseason foot injury and had just two catches for 44 yards before deciding to transfer. He's been recognized repeatedly in his career as a special teams standout, earning first-team All-Pac-12 honors as a special teams/all-purpose player, and was listed as a co-starter at receiver before leaving the program, according to Oregon Live.
"Anytime you lose a guy like Brenden Schooler, because he's obviously a huge piece of our team, he's a leader in my group," Ducks wide receivers coach Jovon Bouknight told Oregon Live early in camp after Schooler's injury. "You talk about special teams, the value that he brings to this team is monumental. Losing him and his presence, that obviously hurts."
You have free articles remaining.
NU last year focused on players in the transfer portal that had some connection to the program — Darrion Daniels had his brother, Damion, and Kanawai Noa had connections to multiple staffers — and Schooler fits a similar mold. Frost and defensive coordinator Erik Chinander were both gone from Oregon by the time Schooler committed to UO out of Mission Viejo, California's Dana Point High, but they're obviously familiar with the program. 
Schooler signed with UO originally in the summer of 2016, several months after Frost had taken the UCF job. 
Schooler has a brother, Colin, who is a linebacker at Arizona.
There will be many more names that pop up as the Huskers look to infuse its wide receiver group with talent. They're after high schoolers like Justin Robinson, junior college players like Omar Manning and Xavier Hutchinson, and will likely look at several more between now and the beginning of the 2020 season.
Bryant transferring: An in-state walk-on is leaving Nebraska's football program.  Running back Moses Bryant intends to transfer and is entering the NCAA's transfer portal, an NU spokesman confirmed to the Journal Star on Wednesday afternoon. 
Bryant, a redshirt freshman, never appeared in a game for the Huskers.