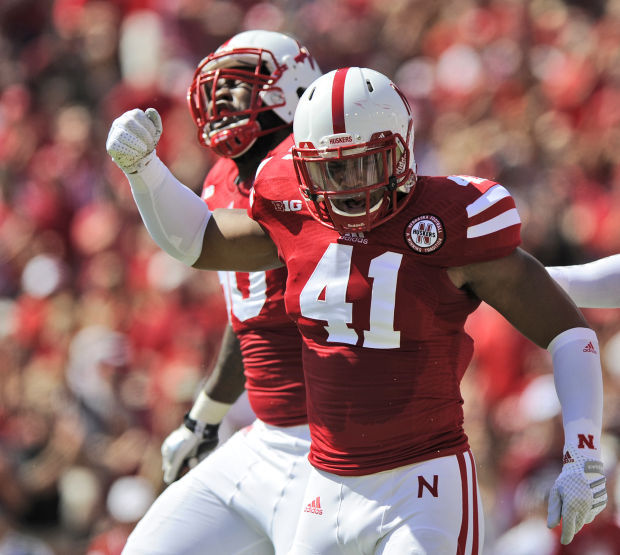 The Husker football team has subtracted three.
In what had been an offseason notable for its lack of roster attrition, especially after a coaching change, Mike Riley announced on Thursday morning in a brief, two-paragraph statement that two players are transferring, and one senior linebacker "will not be with the football team in the fall."
The latter, David Santos, may be seen as the biggest immediate loss, given his starting experience and NU's lack of depth at his position.
But transferring safety LeRoy Alexander and wide receiver Jariah Tolbert, who both have had recent off-the-field missteps, were also positioned to contribute to the Huskers in 2015 -- perhaps quite significantly in the junior Alexander's case.
No specific reasons were given in regards to any of the players moving on. All were on scholarship.
Tolbert, a native of New Orleans who never played in a game for the Huskers, has already signed on with Arizona Western Community College, according to the Twitter account JuCoFootballAce, which covers recruiting movements in the junior college ranks.
Arizona Western is the same junior college that produced Randy Gregory, and also current Husker linebacker commit William Johnson.
The next step for the safety Alexander is not yet known. He was suspended for the 2014 season last August by Bo Pelini for a reason undisclosed, but was allowed a chance to return this spring. Riley told the Journal Star before it began: "It's kind of up to him right now. He's got to make those good choices and take advantage of it. I'm looking forward to seeing him succeed."
Alexander was impressive on the field in his return, though not necessarily a given to start at a position that features Nate Gerry and Byerson Cockrell, who got the majority of work the 1s. Sophomore Kieron Williams and true freshman Aaron Williams also are in the mix there.
The redshirt freshman Tolbert was one of the pleasant risers of the spring on the field. Standing 6-foot-3, 190 pounds, the big-bodied target from New Orleans had the look of a player who could at the very least be an impact reserve player early in his career.
But Tolbert has had some documented legal issues since arriving to campus. In late April, he was cited for possession of drug paraphernalia. That followed up an incident last June when UNL received a call of someone smoking marijuana near the athletic fields at 19th  and Vine streets. According to the police report, Tolbert tried to run before he was caught and ticketed.
He pleaded guilty to the marijuana charge and not guilty to obstructing an officer in that case. He was ultimately fined $300 for possession of less than an ounce of marijuana.
While Tolbert had no college game reps to his name, Santos had plenty.
The product from Klein, Texas, played in 36 games for Nebraska and started 19. As a sophomore in 2013, he had 87 tackles, including 16 for losses. He had 50 tackles a year ago, with three for losses. Santos also made a diving interception early against Miami that was important in swinging the game Nebraska's direction in a 41-31 win last fall.
Santos did miss spring ball with a knee injury, though this news is not believed to be related to that.
Coaches said all spring that at least one or two true freshman linebackers may need to play immediately. Dedrick Young, an early arrival, has already been participating in spring drills. And summer newcomers Tyrin Ferguson, Adrienne Talan, Antonio Reed and Mohamed Barry now join the mix with bigger opportunities than usual at their position. Barry is not yet on campus, still finishing a final class, but has said he plans to get here in time for the summer's second session and fall camp.
There is Josh Banderas and Michael Rose-Ivey, and basically nobody with college linebacker experience after that, including sophomore Marcus Newby, who was used more as a third-down rush end option than a linebacker a season ago.
One of the incoming summer arrivals, Ferguson, comes from the same Edna Karr High School in New Orleans that produced the outgoing Tolbert.
Prior to showing up in Lincoln, Ferguson told the Journal Star that when he signed with NU he had the mindset he would likely redshirt. But he quickly changed in that thinking, now hoping to play right away for linebackers coach Trent Bray.
"He needs some freshmen to play," Ferguson said then. "He was like, 'I don't know if it's going to be you or not, but if you come ready to play, I'm going to play you.' He kept it real with me. He didn't make any promises about a job. He said you could play if I stepped my game up."
Greeting Ferguson and his fellow freshmen upon their arrival is a door wide open.