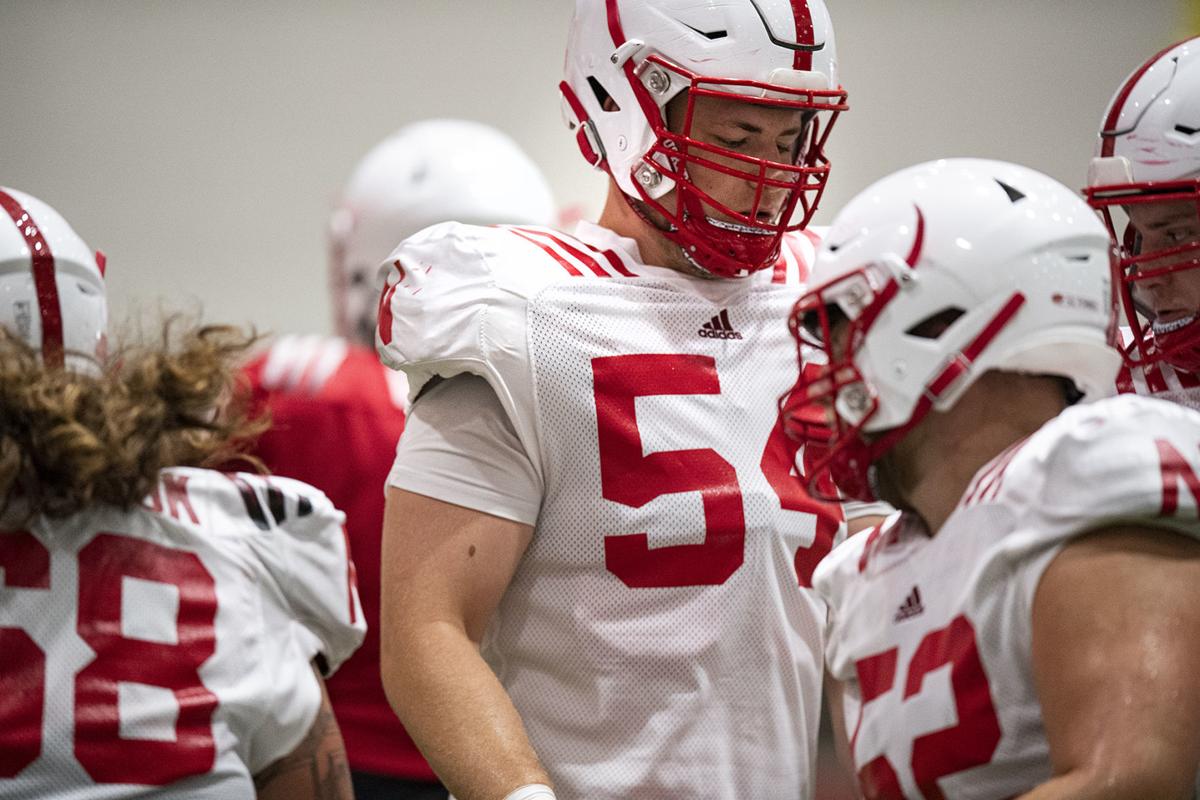 Young players always produce a fascination among fans and reporters alike. Particularly in the past two seasons, since the NCAA adopted a rule that allows freshmen to play in up to four games while still retaining a redshirt, there is a continued interest in who might play when and who might be able to provide what.
Nebraska coach Scott Frost hears a lot of these questions, and he answered another, this one about freshmen offensive linemen Ethan Piper and Bryce Benhart, on Monday afternoon.
"You guys keep asking me," Frost began. "We're going to play guys when they're ready. All those young guys keep improving."
Ready, of course, is the operative term in the beginning of Frost's answer, more of which we'll get to in a minute.
The reality, which some fans, frustrated with a lack of consistent offensive line play this fall from Nebraska, don't want to accept, is that the conversation about "ready" is different for linemen than it is for others.
Offensive line coach Greg Austin said Wednesday he thinks Piper, a guard, and Benhart, a 6-foot-9 tackle, are ready to see some game time.
"Hopefully we can get them in this game," Austin said. "Hopefully we can get both of those guys in and get them some meaningful reps in this game. I always look forward to trying to get those guys in. And I think they're ready, but you don't know until you're out there."
"Ready," though, as it pertains to freshmen offensive linemen, is a relative conversation.
"They can only be so much physically ready right now," Austin said. "When you talk about a young guy coming in who's been on a high school eating plan and a high school weight room plan, they're not going to be as developed as some of the guys that they're playing. The typical guy is going to be in the program for two or three years, the weight room for two or three years, the eating plan for two or three years.
"Our young guys, dang near any lineman that's coming to a program of this magnitude, is not going to be physically ready."
You have free articles remaining.
It is easy to gloss over that line, "two or three years," but it matters. Piper and Benhart have each been on campus for approximately five months.
In a scan of the 14 Big Ten teams' most recent depth charts and game notes, the Journal Star found only one instance of a true freshman offensive lineman starting a game this year: Indiana's Matthew Bedford, who replaced injured Coy Cronk the past three games along an injury-ravaged Hoosier front line. After Bedford, only seven redshirt freshmen listed atop a depth chart, including Nebraska center Cameron Jurgens.
No team had more than one redshirt freshman starter. Purdue has had two different redshirt freshmen start games at different times this season. Iowa, like Nebraska, has two redshirt freshmen at center, led by Tyler Lindenbaum, who checks in at almost exactly the same height/weight combination as Jurgens (6-3, 286). Wisconsin has the highest-rated freshman in the league based on recruiting profile in five-star Logan Brown, and he's not on the Badgers' latest two-deep.
It's clearly not impossible to start a true freshman — Husker left tackle Brenden Jaimes started nine games when forced into the lineup because of injury in 2017 and Minnesota right tackle Daniel Faalele (a 400-pounder) started the Gophers' final eight as a rookie last year — but it is not at all normal.
When Jaimes made his debut in 2017, he became the fifth true freshman to start a game in Nebraska history and just the 11th true freshman to play at all. Benhart became No. 12 earlier this year.
"One thing you learn about this league pretty quick is this is a grown-man's league, and guys have to be ready," Frost said Monday. "It's probably hard to win in this league, particularly in the trenches, with 18- and 19-year-olds. We're expecting help out of (Piper and Benhart). I think they're really close to helping us.
"But they're also first-year guys, and when you throw them in, you can expect some first-game mistakes and first-year mistakes."
That's why Austin's prerequisite for a true freshman even getting in position for a chance on the field is more mental than physical.
"Their maturity is what leads to them being able to connect the dots and dial into the plays and not have the situation to be too big for them," Austin said, talking about Piper and Benhart. "Both of those guys are mentally mature and ready from that standpoint."
Then, it's just about finding spots for them to get snaps. Benhart got a bit of time at the end of a 44-8 win against Northern Illinois last month.
"I think they're ready, but you don't know until you're out there," Austin said. "The guy will either piss down his leg or he's actually a real dude. When I was a true freshman, I pissed down my leg my first game. I was like, 'Oh, God, what am I doing? There's all these people out here.' You fall on the ground, you get back up and say, 'Oh, OK, I can actually play ball,' and you move on."
Now, like then, "ready" is a relative term when it comes to freshmen linemen.