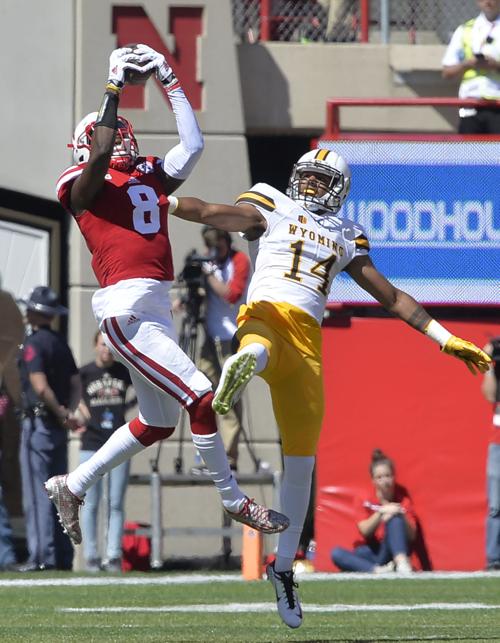 They come in bunches. That's what coaches like to say about turnovers.
Sometimes it feels like they won't come at all. Last year they didn't come near enough for a Husker team that had just 15 takeaways all season.
Yet here they are after two games in 2016 halfway to topping that. NU has eight takeaways. Sure, it's thanks somewhat to a fourth-quarter meltdown by Wyoming -- four turnovers in that period alone, a couple of them you might label as unforced errors.
But it hasn't just been fairy dust or luck that suddenly has the Huskers tied for tops in the country in takeaways early in the season.
Ask senior linebacker Michael Rose-Ivey about it. It's a not a complicated answer. A lot of turnovers simply come from just knowing what you're doing, which puts you in the right position to make a play.
He pointed to Chris Jones' interception (pictured above) in the fourth quarter Saturday. "He's literally right on the receiver. He's playing exactly the right technique, outside leverage on the corner route with the safety up top. ... Where's the quarterback got to throw it? He's got to throw it outside. So that's a pick."
Point being, the Huskers being in the right position to make plays so far has been a product of offseason studying.
"The cut-up we watched of all our mistakes as linebackers (last year), we just watched it constantly, constantly, constantly," Rose-Ivey said. "And if you guys look at the film, and look at our depth (in the passing game), that was one of the main things we talked about in the spring was getting better depth and helping those safeties out. It's definitely improved.
"We're on the right track, but like I told the guys today, 'It's only a start.' We have to build upon that start and hopefully finish a lot better."