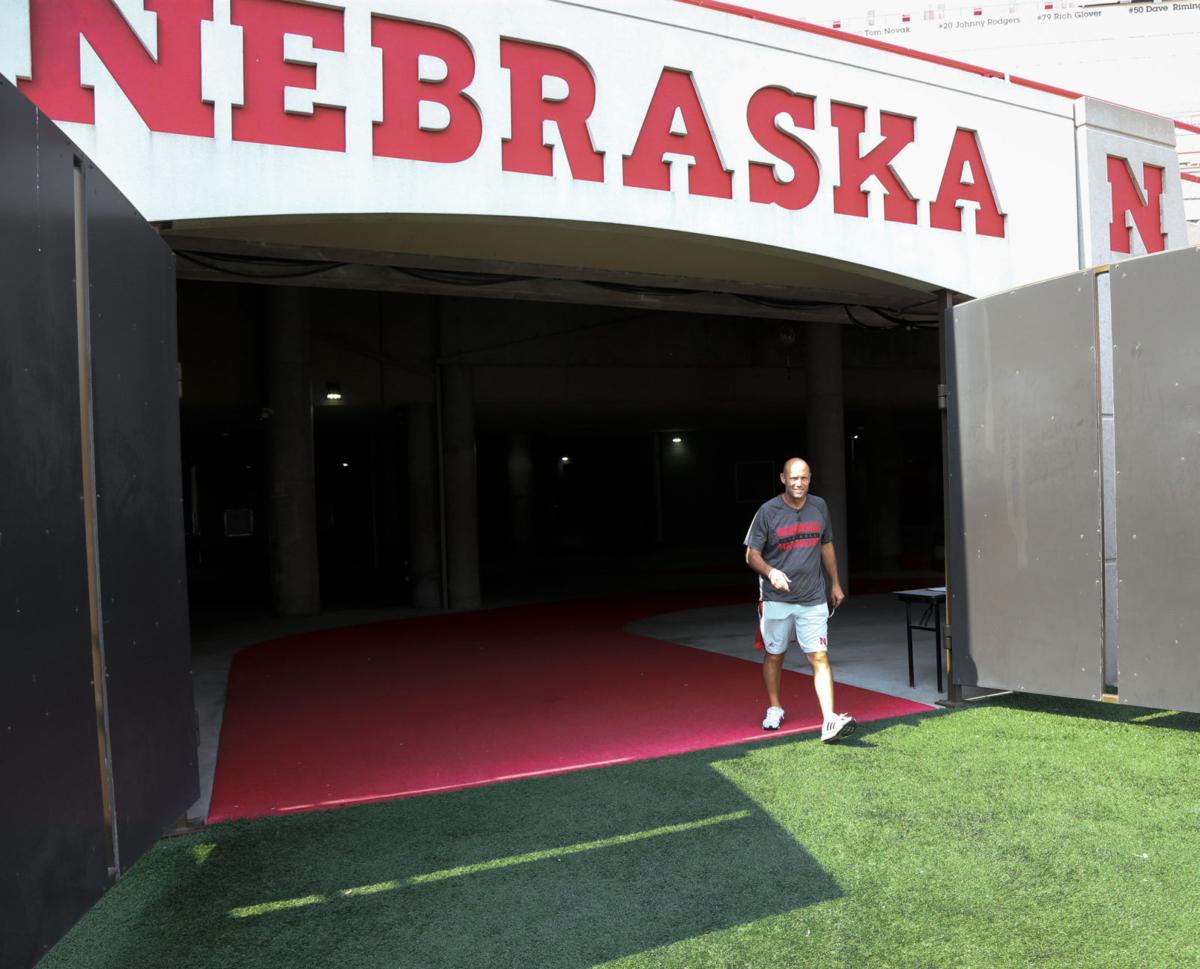 The focus point of Husker summer camps, from a media perspective, is usually on the select few that earn offers. Like this story last night.
But 99 percent of these kids aren't going to get a Nebraska offer. A good share won't play behind high school. For those kids, these camps are more about learning a few tricks from Husker coaches and players to get better and help their teams on Friday nights.
To that end, I'll bring up a play from Tuesday's Skill Positions camp by Cade McNicholas. He's entering the 10th grade at Platte County High School in Missouri. He stands all of 5-7 1/2, 136 pounds. No, he doesn't have offers from Nebraska or Ohio State.
But he had an interception at the Husker camp he'll probably remember for a long time.
After listening to the instructions of NU secondary coach Brian Stewart, he broke quickly on a pass, stepping in front of the receiver, picking it off as Stewart and a few Husker DBs looking on went nuts.
"That's what I'm talking about!" one of them shouted. McNicholas played it as cool as he could, but you couldn't miss the grin.
That's camping done right is what that is.
>>> Speed will always get your attention.
Wide receiver Dylan Reynolds of Broken Bow has it. The 6-foot, 162-pound senior-to-be was said to run a 40 time of around 4.4 seconds on Tuesday.
>>> Former NFL quarterback Trent Green's son, Derek Green, was among those at the camp throwing as NU offensive coordinator Danny Langsdorf looked on.
Green is a junior at Rockhurst High School in Kansas. He measured in at 6-2 1/2, 166 pounds.
>>> Younger brothers of current Huskers were all over the place at Tuesday's camp.
For the second straight year, Tommy Armstrong's bro, Trai, was here. Trai Armstrong is listed as a 5-11, 226-pound running back from Steele High School in Texas.
Josh Banderas' younger brother, Anthony, was also at the camp. Anthony is a 6-1, 199-pounder from Lincoln Southwest.
Kieron Williams' brother, Khalil Mester, a sophomore defensive back from Louisiana, also participated.
Also there was freshman quarterback Justin Bubak of Lincoln Christian, whose brother Jared Bubak signed with Arizona State after first committing to Nebraska.
>>> The Hawks Championship Center football field is off limits for the time being. It's concrete right now. New FieldTurf is on the way.
Strange sight for the moment.
>>> Michael Rose-Ivey, Brandon Reilly and Kieron Williams were a few of the Huskers seen giving tips to campers. There have been plenty others involved in teaching this week. Tommy Armstrong and Patrick O'Brien were also watching the action.
As Rose-Ivey gave some instructions to a circle of about five campers, it was clear he had their full attention.
>>> Husker coaches will hold youth camps for those grades 3-8 the next couple days. Still two more Friday Night Lights camps to go. We'll have updates on those as they come.