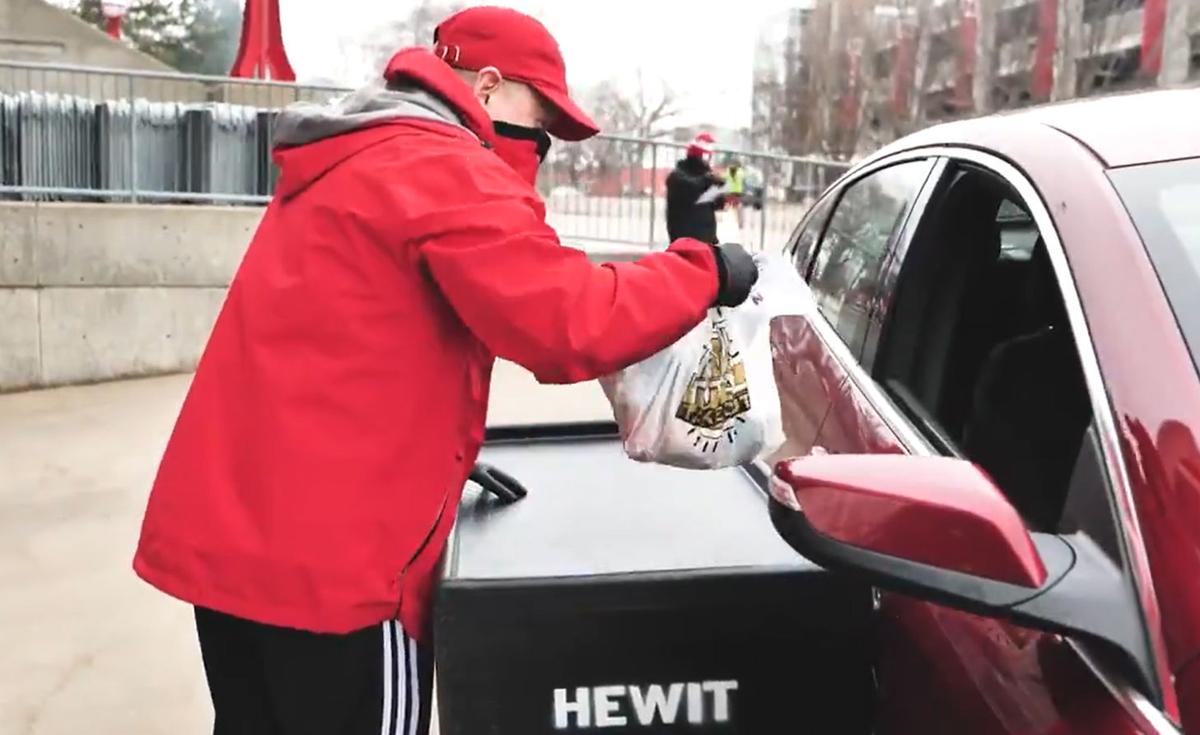 Dave Ellis is running one of the more complex curbside food operations around these days.
This isn't exactly a city-corner hot dog stand.
The Nebraska athletics director of performance nutrition has overseen moving the athletic department's food service setup out of the normal Memorial Stadium complex and onto the sidewalk in order to maintain nutrition options for the NU student-athletes on campus while also practicing safety during the coronavirus pandemic.
"It's been fluid to say the least," Ellis told NU's Greg Sharpe on Sunday night's "Husker Football Show." "We've been following federal and state guidelines on precautions that need to be taken during the (COVID-19) crisis."
That means preparing a full day's worth of food for any student-athlete who puts in an order — Ellis said the number is fluctuating between 100-200 per day — tailored to that specific person's nutritional needs and delivering it through a car window.
"They really appreciate what we're doing for them, but it's quite a production to pull this off seven days a week," Ellis said, noting that they're also doing what they can to answer questions for student-athletes who are not on campus.
Considering there are no organized workouts through at least May 4, per guidelines put in place by the Big Ten, almost nobody is training exactly the way they would have been under direct supervision from strength staff. That's taken into consideration, too, when putting together the grab-and-go meals.
"There are some athletes that are always conscious on their body mass, so we actually have less or more meals for different individuals when they drive through," Ellis said. "We're in a constant state of communication when they pull up if they're doing fine or if things are accumulating and they don't need as much, and that allows us to dial it in.
"But I would tell you, we still see our athletes running around the stadium for a jog and we're still a very healthy, pretty safe state right now. Certainly Lincoln is just starting to feel the effects of this. We've just simply asked our athletes not to congregate. Going outside for a walk or a jog is not really a bad thing right now, but they do not have their normal resources available to them in terms of working out on their apparatus if you're a gymnast or lifting weights if you're a football player."
Ellis said the school's had a consistent food supply so far, but that they've also taken proactive steps in protecting against a shortage.
"We immediately secured some extra freezer space here in the stadium to start building some inventory, non-perishable items, anticipating a disruption in the supply chain at some point," Ellis said. "We haven't seen it yet. A lot of the purveyors that deliver to your back door usually sell to restaurants and they're closed, so there's really not a shortage of food yet.
"It would really come down to if and when their trucks quit running because they're struggling with healthy personnel, but we're not there yet. As a contingency, we built some inventory for if that happens."
The scene in Lincoln with much of city shut down
Concerned about COVID-19?
Sign up now to get the most recent coronavirus headlines and other important local and national news sent to your email inbox daily.