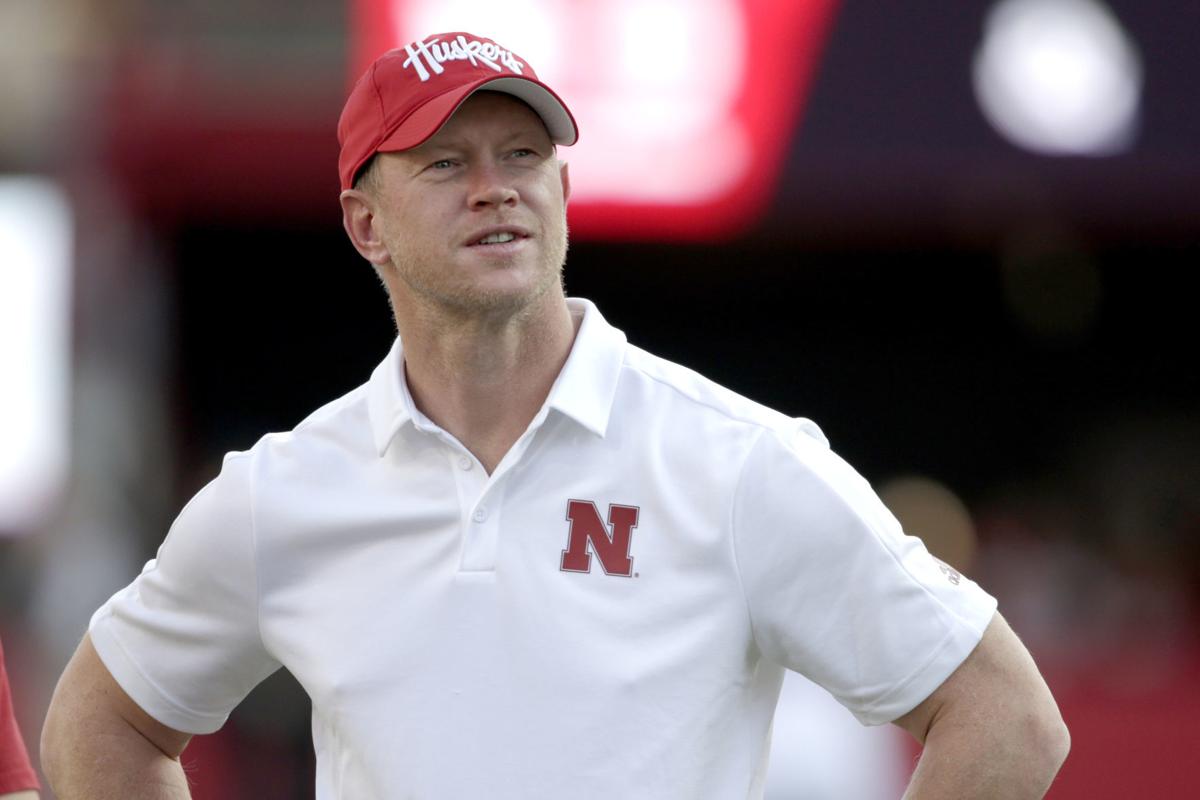 Scott Frost on Thursday night said the Huskers are excited about their crop of freshmen offensive linemen and that some of them could help as soon as next year.
"I know there are several of them that are going to help us be better next year," Frost said during his monthly appearance on the Husker Sports Nightly radio program. "It's tough to come in as a freshman, particularly in the trenches, in the Big Ten. When you're bigger and stronger than people in high school, you can just kind of lean on people. That's different than coming off and trying to dominate a 21- or 22-year-old in this league. Plus we get a lot more looks and they have to be dialed in on assignment and technique."
Among the six scholarship freshmen offensive linemen, the three closest to being ready to play appear to be tackles Bryce Benhart – he's played in one game this fall and has been listed at the No. 2 right tackle all season – and Brant Banks and guard/center Ethan Piper.
Frost, interestingly, also said that the staff is happy with the way right tackle Matt Farniok has played this year but they think he might move positions next year.
Head football coach Scott Frost talks about Wan'Dale Robinson's status for Saturday during a news conference on Nov. 14, 2019.
"We're really happy with Matt Farniok, and in a perfect world, I think, and, hopefully, next year we'll be able to move him inside," Frost said. "He'll probably be better there, but he's been really good for us. Brenden Jaimes is really talented and has been solid for us. We're just kind of young in the middle. …
"That group has got better, but I think it's going to improve by leaps and bounds down the road."
* Frost was also quite complimentary of sophomore quarterback Adrian Martinez.
You have free articles remaining.
"I really admire him," Frost said of Martinez, who missed two games with a left knee injury and was up and down in a Nov. 2 loss at Purdue, the last time Nebraska played. "He's still not playing 100% healthy, but he's courageous and he's tough. It's tough to be at your best when you're not feeling at your best, but that's kind of football, too.
"I think there was a little rust to shake off, but he did a lot of good things in the Purdue game and obviously there were a few plays here and there that, if we would have made, it would have changed the outcome. But I feel great about him making those plays going forward."
* Frost talked extensively about recruiting over the course of his time on the radio, making a couple of interesting points. Namely, NU thought at the outset of the recruiting cycle that it would be taking about 17 players for the class, but that number has swelled. Nebraska's maximum number now is 26, meaning the Huskers are about halfway done with their class, including high school players and transfers alike.
"We feel like we're real close with a few guys and every time you get a commit or two, it really helps you then focus your attention on the reminding guys you're looking at and trying to get into the program," Frost said. "We'd probably like to be in a place where we have a few more commitments than we have right now."
* Frost said freshman defensive back Noa Pola-Gates suffered an injury similar to Kansas City Chiefs quarterback Patrick Mahomes, who dislocated his kneecap recently. Pola-Gates will miss the rest of the season but will be ready for spring ball.
Frost said with that type of injury, a player can either rehab or elect for surgery and Pola-Gates opted for surgery to maximize his long-term health.
* NU would like to get freshman inside linebacker Nick Henrich on the field over the final three games of the season as he gets further and further removed from a spring shoulder injury.
Frost said he thinks Henrich would have helped the Huskers on defense earlier in the season had he been healthy, adding the staff is excited to see him on the field down the stretch.