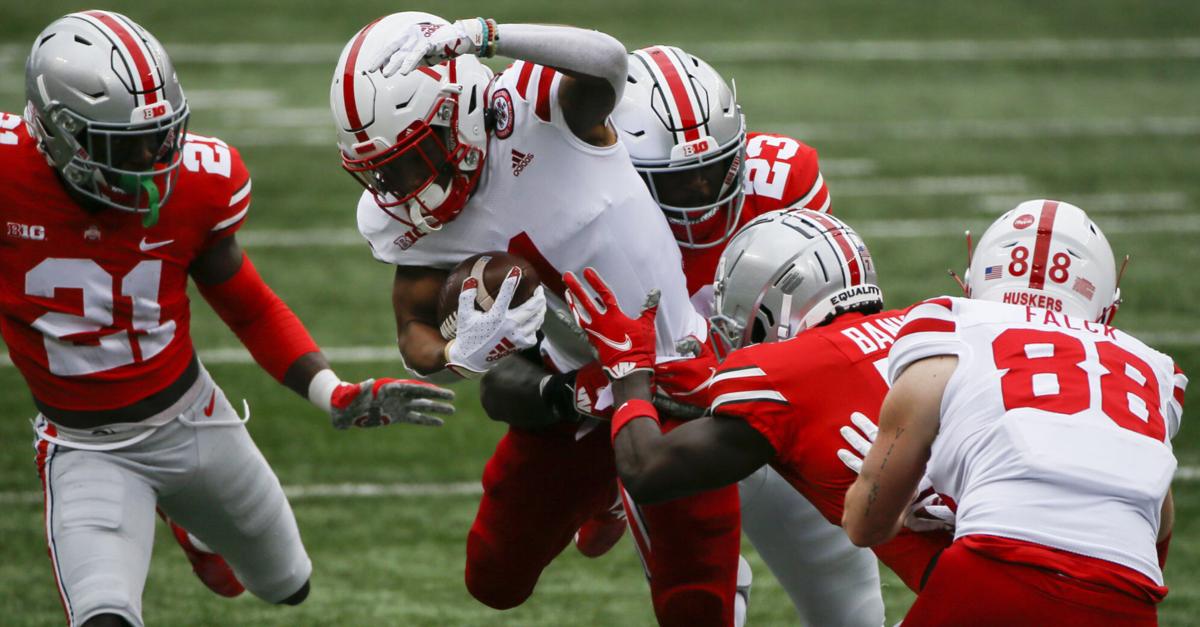 Wan'Dale Robinson knows all about the challenges of getting on the field as a freshman. 
The Nebraska wide receiver did it with aplomb in 2019, playing not only in the slot but also extensively at running back and topping 1,000 all-purpose yards in a 10-game introduction to college football. 
The 5-foot-10, 180-pound do-it-all threat for the Huskers now has an even bigger task on his plate: In addition to progressing in his own game, he's trying to make sure NU's next wave of receivers is ready to get on the field sooner rather than later.
"We know that we can compete and the young guys know that they have to do the things in practice just to get on the field and compete on the field," Robinson said. "I've kind of taken it up on myself to let them know, 'If you want to play, you've got to show it in practice and show that they can trust you out there on the field by yourself without everybody else and that you're going to go full speed and do your job." 
NU coach Scott Frost has said since National Signing Day in December that the Huskers' 2020 receiving class was going to have to contribute right away. And while freshmen Alante Brown (one catch for 16 yards) and Marcus Fleming got on the field late in the Huskers' 52-17 loss to Ohio State on Oct. 24, their continued growth — along with getting junior college transfer Omar Manning ready to contribute — are going to be focal points in offensive coordinator Matt Lubick's room. 
Overall, Nebraska receivers had eight catches on 10 targets for 73 yards against Ohio State. Robinson accounted for six catches (six targets) for 49, with Brown and senior Levi Falck each also logging a catch each. 
"We can definitely get better in all areas," Robinson said. "Just getting open on more routes and obviously them letting us doing a little bit more in the passing game." 
Watch now: Frost, Huskers react to losing a game to COVID-19
Watch now: Frost and the Huskers react to losing a game to COVID-19; look ahead to Northwestern
Watch now: Frost addresses fallout from canceled game; looks ahead to Cats
Watch now: Martinez talks about Huskers adjusting on the fly
Watch now: Robinson says NU preparing 'like any other weekend'
Watch now: Bootle talks about tight games against Northwestern
Watch now: 'It's just a crazy year,' Matt Farniok says
Watch now: Daniels talks about team adjusting after canceled game